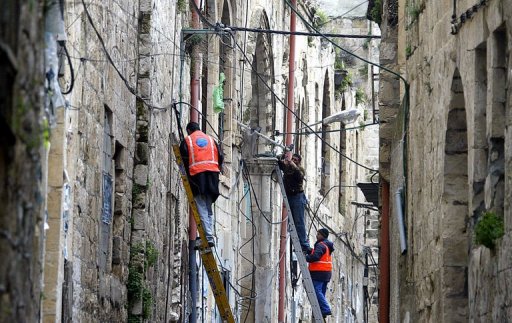 Last updated: 14 August, 2012
West Bank faces Israel power cut threat over debts
The east Jerusalem power company that supplies electricity to parts of the West Bank on Tuesday warned that its Israeli partner has threatened to cut supply over unpaid debts.
"The Israeli national electricity company informed us that it will begin measures including cutting the supply of electricity to any area at any time," said Ali Hamuda, deputy director-general of the Jerusalem District Electricity Company (JDECO).
JDECO, which distributes power purchased from Israel, supplies Palestinian homes in east Jerusalem, as well as the West Bank cities of Jericho, Bethlehem and Ramallah.
"There were threats over a week ago, but yesterday they informed us of their intention to take measures, including cutting power supply and seizing the company's funds and its headquarters in Jerusalem," Hamuda said.
He said Israel Electric Corporation was seeking payment of debts totaling 421 million shekels ($104 million/84 million euros) of which a third is money owed to JDECO by the Palestinian Authority.
The largest portion of the debt, some 201 million shekels, is the result of unpaid bills from homes of Palestinians living in refugee camps, as well as residents of Area C in the West Bank, which is under full Israeli administrative and military control.
Palestinian government spokesman Ghassan Khatib acknowledged the issue, saying it was "a real problem, with political, economic and cultural dimensions."
"Three quarters of the debts owed by the Jerusalem District Electricity Company is the result of theft of electricity and unpaid bills in areas surrounding the city of Jerusalem and in refugee camps," he said.
And he added that the PA's failure to pay its portion of the outstanding debt to JDECO was the result of a crippling deficit that the government says is due to undelivered aid pledges.
The Palestinian government has in recent months struggled to pay its employees on time and warned that it faces a major crisis as donor countries fail to make good on pledged funds.