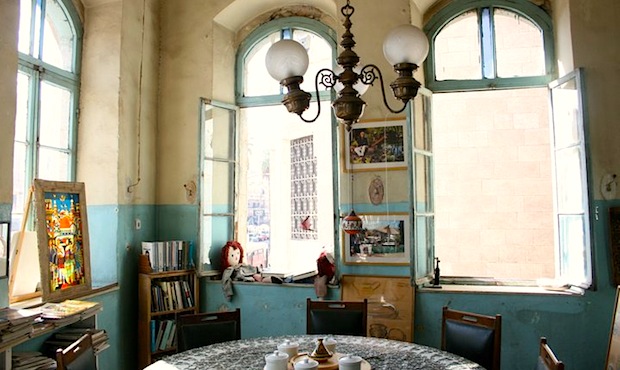 Last updated: 20 August, 2012
The Duke's Diwan – an Arab house for the soul
Amman is hardly the most beautiful city in the Arab world. But it has charm, great street food, historic sites, vicinity to water you can float on, and let's not forget: the Duke's Diwan.
When I spoke to a Jordanian friend a few days ago, he had never heard of the Duke's Diwan. That was quite strange to me as it had quickly become my favourite place in Amman. Located on King Faisal Street, next to the Arab Bank, the building now known as Duke's Diwan was originally raised in the 1920s. It continues to stand out, perhaps mainly because of the rather dull concrete creations that surround it.
I fell in love immediately during my first visit. And in many ways, it reminded me of traditional Levantine architecture, combining the very best from Damascus and Beirut. The arched windows, tiled floors made out of chequered black and green ceramics, and of course the balcony overlooking the downtown area. There were books everywhere, old ones about anything really, and photos from a private collection.
The house was built by one Abdul Rahman Madi, who then leased it to the Emirate of Transjordan, which in turn used it as Central Post Office. The building then became the Haifa Hotel for roughly five decades, and in 2001 it caught the attention of Mamdouh Bisharat, also known as the Duke of Mukheiheh – a title bestowed by the late King Hussein for his philanthropic work.
Bisharat set out to save the house from the wave of modern buildings that emerged in the Jordanian capital. It is now a place of culture; films have been shot here, writers read their work and artists continue to showcase in these rooms. "Signing books, hosting lectures, filming and everything," the Duke says proudly.
When I asked him if he wanted to renovate the house, he was clear about his intentions. "I will try to keep it with its soul, because when you work on a house it might loose its soul," he said. In Arabic, diwan refers to the section of a house that is always open to guests. And this is certainly true of the treasure on King Faisal Street; when you're enjoying the wonderful salons you get the feeling that this is your home. Or at least you wished it was.
If you are in Amman and want to experience the genuine feeling of a traditional Arab house, away from the glossy malls with imported fashion brands, the Duke's Diwan is the perfect spot. You might even bump into the Duke himself. Last time I checked, tea was on the menu.