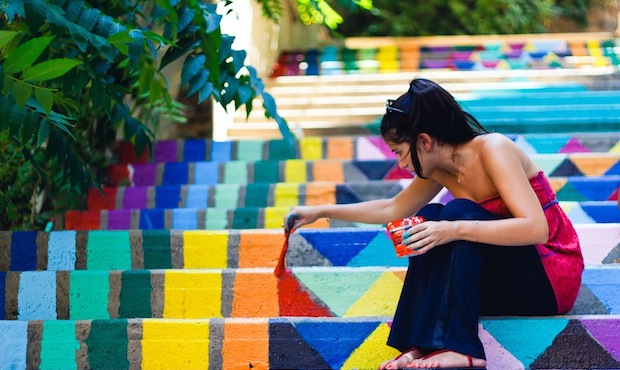 Last updated: 21 August, 2012
Saving Beirut with paint – not politics
"The entire point is to get everyone involved and to take on our passion to paint up Beirut."
Those are words from the DIHZAHYNERS, a group of people in their 20s seeking to transform the Lebanese capital. Founded in April this year as a collaboration of mostly Graphic Design students at the Lebanese American University, the collective has set out to bring colour to Beirut by painting the nestled stairs in neighbourhoods such as Ashrafieh.
"This idea was born from the inspiration and aspiration of wanting to brighten up the streets of Beirut," the group said, refusing to give out individual names as they believe it all comes down to teamwork.
"In hopes that by doing so, with colour, this would help move and change the behaviours and attitudes of the community and society. It was born to show people that someone cares, about them, about the atmosphere. It was born from the need to get involved and do something productive and touching for the beautiful city we live in."
Rather than protesting against demolitions or fighting municipal laws, DIHZAHYNERS are taking a more organic approach. Through their art and urban interventions, they want to shift the perspectives of Beirut's citizens.
"By helping them feel that we can all take part in changing things around, freshening things up, and to move them to appreciate the city and country we live in, as we do; and in-turn, by getting involved, we should all care about Beirut, and about each other! We should all spread this spirit. We're just doing it through paint."
The latest project they initiated was a gathering of around 20 people who set out to paint a staircase in Mar Mikhael, a trendy neighbourhood emerging nearby the popular Gemmayzeh district.
"Mar Mikhael was a very underrated area, sort of an underdog in Beirut, that we feel now is up and coming, and becoming more and more vibrant as the months pass. Not only was it a great venue for us to create more initiatives as they provide beautiful spots to brighten and freshen up, but even the people are so welcoming and inviting and want someone to take notice to those small urban locations and staircases that otherwise were going unnoticed. It is definitely becoming a hotspot in Beirut, so let's show it the appreciation it deserves!"
It is hardly surprising that Beirut is in dire need of a face-lift; a city often labelled as the Paris of the Middle East is increasingly loosing track of its architectural legacy. While pockets of historic Beirut have survived destructive earthquakes and wars, it now faces a different threat: politicians and real estate laws that value profit over heritage.
"Beirut is losing its character. The Mediterranean city has disappeared. Green areas have been replaced by high-rise buildings," says Fadlallah Dagher, a former executive member of The Association for Protecting Natural Sites and Old Buildings in Lebanon (APSAD).
So what do the people at DIHZAHYNERS think of Beirut and its future?
"Beirut is in definite need of a face-lift, and a spirit-lift. It is a need of a lot of things that maybe we may not have control over, as the youth, or that we may feel helpless about, in terms of politics or society. But we can at least try the best way we know to take a stand for what we love and the city we love, and try to make a difference to bring about this change of behaviour, perspective and general feeling towards where we live and work. If each one of us takes the initiative to get involved, then we can really bring about a sea of change that our city needs, and deserves."
More info about DIHZAHYNERS and upcoming activities can be found on their Tumblr page or on Facebook.