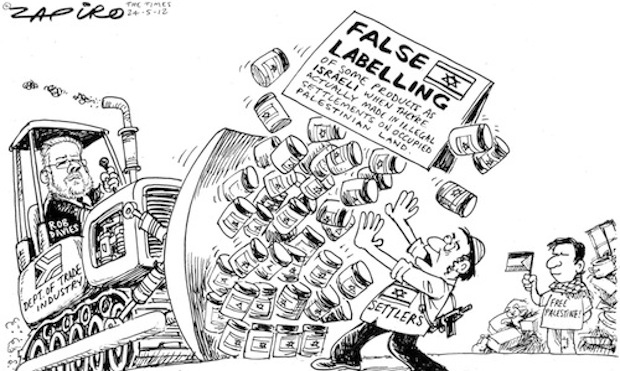 Last updated: 10 September, 2012
BDS: Growing out of the fringe
The Boycott Divestment Sanctions (BDS) movement is putting an increasing amount of pressure on Israel, thus providing a potential alternative to stagnant negotiations.
Seven years ago, Palestinian civil society let out a call for nonviolent resistance through Boycott, Divestment, and Sanctions against the Israeli state. Signed by 108 organizations and bodies, it represented the largest consensus within Palestinian civil society in recent history.
This year, on the movement's seventh birthday, it can no longer be considered a "fringe" movement. While backs have been turned, this grassroots initiative seems to be the only movement garnering support amongst international activists on university campuses worldwide.
The BDS National Committee, on its website, endorses various forms of boycott until Israel complies with obligations under international law by:
"1. Ending its occupation and colonization of all Arab lands occupied in June 1967 and dismantling the Wall;
2. Recognizing the fundamental rights of the Arab-Palestinian citizens of Israel to full equality; and
3. Respecting, protecting and promoting the rights of Palestinian refugees to return to their homes and properties as stipulated in UN Resolution 194."
From Toronto to Sao Paolo to London, branches of the movement are springing up faster than they can be counted. This is due mainly to the structure of the movement. It is a decentralized initiative where any and all are invited to become supporters. The virus spreads easily amongst activists, and the movement has only been facilitated by the Arab Spring and Occupy.
Perhaps the most symbolic divestment in the movement's short history was the University of Johannesburg, South Africa, when it severed ties with Ben Gurion University in Israel. The decision came following a campaign led by Nobel laureate Reverend Desmond Tutu, Archbishop Emeritus, that had 400 South African academics signed on to discontinue "business as usual" with Israel until it met certain demands. It did not.
While it took a sustained thirty years of campaigning before students saw results in South Africa, BDS is a relatively young movement. Celebrating its 7th birthday, the movement's website published a list of its accomplishments thus far. It shows statistics of negative perceptions of Israel dramatically increasing since the movement's inception.
But that is only the tip of the iceberg. The real pressure the movement has exerted has been applied to companies that are deemed "complicit in maintaining the apartheid". Student groups all over the world have launched campaigns attacking Veolia, Elbit Systems, Alstom, Caterpillar, and Group 4 Secuiricor (G4S) that have ultimately been devastating for their PR. Almost every company targeted so far has lost contracts, investors, or customers for their involvement in the occupation of the West Bank.
Although the movement has seen snowballing success, there are still some major obstacles for it to overcome before it can achieve its ambitions. The first of these is the American Israel Public Affairs Committee, arguably the strongest and most entrenched lobby in America. Since the United States funds Israel with $3 billion of annual aid and has sworn to veto any "anti-Israel" resolution that may arise in the Security Council, the lobby plays a large role in maintaining Israel's military superiority.
For every supporter of BDS, there is at least one critic itching to vocalize their dissent. A common criticism of the movement is that meeting the three demands would mean that Israel would lose its Jewish character. While some see this as a problem, others believe that for equality to be achieved no race or ethnicity can be preferred by the state.
Another argument is that targeted boycotts aimed directly at the settlements would be more effective, hinting that holistic boycotts are "anti-Semitic". BDS activists have responded to these accusations in a number of ways. Omar Barghouti, for example, points out that nothing about BDS is opposed to targeted boycotts. Dalit Baum and Merav Amir, two Israeli feminists and coordinators of "Who Profits?", a project that traces corporations involvement in the occupation, state that "The Green Line border has all but disappeared from the corporate activity map, even if we consider only the Israeli settlements, and then again focus only on settlement construction, we discover that the major players in the Israeli economy are deeply complicit with the occupation." Their statement reflects the reality that there are both Israeli and Palestinian activists invested in this movement.
In addition to the economic boycott of Israel, there has been a recent cultural boycott that pushes musicians and artists to refuse to perform or publish their work in Israel until the demands are met. Artists like Carlos Santana and Bono have all refused to play in Israel. Recently, Alice Walker, author of The Color Purple, wrote an open letter refusing to publish her book in Israel citing "apartheid and the persecution of the Palestinian people".
With a peace process that is past reconcile, more and more Palestinians are looking to BDS to nonviolently accelerate their battle for civil rights. Activists from all over the world including Israel are adding their voices to this growing movement.
The views in this article are the author's own and do not neccessarily reflect those of Your Middle East.