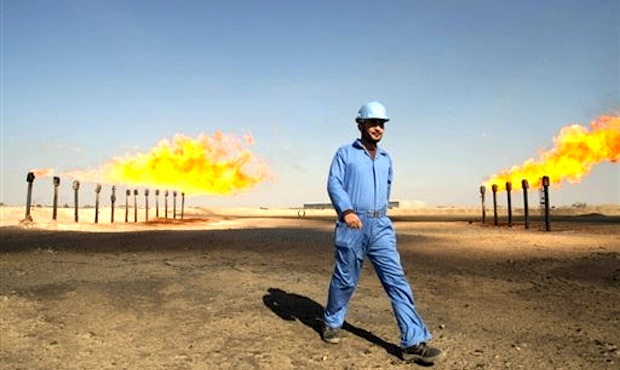 Last updated: 16 September, 2012
An Iraqi oil executive's perspective on bureaucracy and paranoia
Hayder Aziz is the CEO of Modern Eco Tech, which conducts environmental impact assessments for the oil industry in Iraq. Here he gives Robert Tollast an on-the-ground perspective of Iraq's "energy revolution," with some surprising revelations.
Oil revenues comprise 70% of Iraqi's GDP, hitting $8.4 billion last month alone. But the oil sector typically employs very few people – roughly 10,000 for every million barrels produced. Meanwhile, unemployment in Iraq is still huge, something the state tries to remedy by employing lots of people, including over 1 million in the security forces. Oil multinationals have various schemes to train Iraqis, but are they doing enough?
"No, they rely mostly on foreigners for the 'real work' whilst hiring a lot of Iraqis as gate guards!" Aziz says. "Can't blame them in the short term since Iraq's education levels are far lower than what they need, but now the companies are hiring more Iraqis for technical tasks purely because the Iraqis are not giving their foreign workers visas and they have to get stuff done. This has been a boon for Iraqis who were trained abroad like me."
For countless other Iraqis, a lack of required skills means there's a slim chance of working in the energy sector, or even getting local work as a security guard. Many workers are brought in from other provinces, a bitterly ironic hangover from the Saddam era.
"These people are hired by the hundreds of sub-contractors working in Iraq. Many of the jobs at the new sites in Basra, Nassiriya and Amara are being taken by workers from Baghdad and the 'Sunni triangle' and the locals want the jobs for their own province's unemployed. The real issue is that due to Saddam's rule, people in the Shia south have lower education levels and work experience than people from central Iraq (both Sunnis and Shias). The southerners of course are bitter as they consider it adding insult to injury."
If failure to alleviate unemployment isn't bad enough, the dramatic increase in oil production also comes with more environmental hazards, despite tougher regulations. Last year in Basra (a city of 2 million people) a pipeline broke and almost contaminated the city's drinking supply. The oil boom has also raised difficult questions regarding how oil revenues are divided within Iraq, not just among the main ethno-sectarian groups (as often reported) but also among regions.
"Locals certainly demand more of the oil revenues, but since the main political parties are centralist, nothing much apart from a few 'symbolic' things will really happen," Aziz warns.
Despite the problems outlined above, Iraq's energy revolution still carries great promise. Revenues are paying for a colossal amount of reconstruction such as the al-Faw port near Basra, which will be one of the largest in the Middle East when completed. Countless other projects mean that when cement production near Karbala reaches 2 million tonnes next year, most of that will be for domestic consumption, which will hopefully lower unemployment. But therein lies the problem.
"The only positive impact so far is increased consumption. Most of the state jobs are really non-jobs."
But what about the news reports we hear of Iraqis buying cars and visiting brand new shopping malls? Aziz is incredulous.
"The people in Sadr City and Falluja are buying lots of cars and building new houses, going on foreign holidays etc. It's just that they're not producing anything tangible in return, just consuming oil cash."
Despite this danger of a "resource curse" paradox where resource rich developing countries become addicted to easy revenues, Aziz feels that Iraq has got a good deal from auctioning off its oil fields to foreign companies. Could Iraq have used oil revenues to build a totally nationalised industry, free of foreign involvement?
"To think that an Iraqi national oil company would have managed to increase the production at existing fields efficiently and cheaply is nonsense. We needed the supermajors to bring in their project management and quality control expertise as well as updating Iraqis on modern sub-contracting R&Rs and procedures. Yes, Iraq is paying them a price for this, but there was no other way. Also now the Iraqi Drilling Company is in a 50/50 partnership with Schlumberger which means that most of the EPC/drilling work is actually carried out by Iraqi state employees under Schlumberger
supervision, something that shows the increase in professionalism within the oil ministry as a result of their closer collaboration with IOCs."
Despite substantial involvement in Iraq, foreign companies often complain about how difficult it is to do business there, and for a while now some even say the issue is not security, but bureaucracy.
"The oil ministry try their best. But the problem is importing materials, exporting materials and getting visas, all of which is under the direct control of the prime minister's office, who are concerned with politics much more than speeding up Iraq's economic development," Aziz points out.
"Yes it's quite horrendous. Stuff does get done eventually, but not without a massive amount of headaches and wasted weeks waiting and running around."
Despite the horrific surge in violence across Iraq in the past couple of months, the vast majority of security incidents occur in the centre and north of the country, well away from most of the crucial infrastructure in the south. To underscore how much has changed, Aziz tells me an amusing anecdote about the security situation. Don't the foreigners drive around in four-wheel drive vehicles with sinister, heavily armed private security?
"Yeah, most of the 'Westies' use armoured 4×4 convoys mostly because they listen to 'security reports' made by those companies who want to keep the good times rolling. I forced our team of foreigners to travel around without any security for months, and though they were scared for the first few days, eventually they realised what a complete scam the 'security companies' are. I wouldn't be surprised if they pay some Iraqis to shoot a few bullets at them to maintain the charade, so to speak."