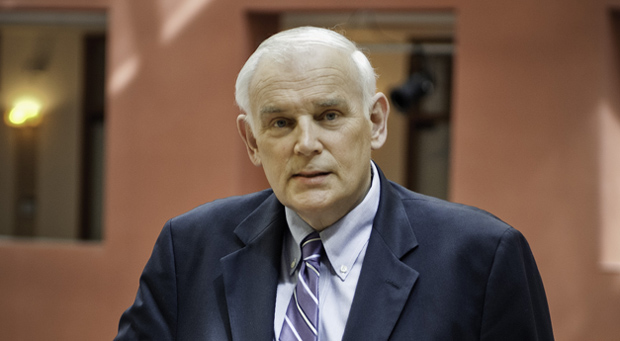 Last updated: 17 September, 2012
Q&A with the Dean of Northwestern University in Qatar
In 2008, Northwestern University, one of the top universities in the United States partnered with Qatar Foundation to open the University's first international branch campus in Qatar's Education City. Everette E. Dennis, Dean and CEO of Northwestern University in Qatar (NU-Q), explains the rationale behind the establishment.
Why did Northwestern decide to make Qatar a second home?
The invitation to develop a branch campus in Qatar came just as the university was expanding its Middle Eastern studies program and ramping up global efforts generally. In a post 9/11 world, it was also felt that greater understanding of the Middle East and Islamic world was critical – and this was a readymade opportunity to come to the Middle East and showcase one of Northwestern's great strengths, that of journalism and communication, both of which have world-famous programs in Evanston, Illinois. Additionally the Qataris and the Qatar Foundation specifically wanted to develop a talent bench to support their desire to excel in knowledge-based industries.
How has the progress been so so far?
Northwestern University in Qatar began operations in fall 2008 with our first class of undergraduate students and next year, we will graduate those students with an undergraduate degree. This trajectory involved establishing our presence here, developing staffing and operational infrastructure, recruiting and hiring a faculty – and most importantly, identifying highly qualified students who could matriculate here. All that has happened as we have also worked with architects to design our new building that will open late in 2014. And in the interim while we live in handsome borrowed space in Carnegie Mellon University-Qatar's building, we have just opened an offsite electronic and digital media studio with the latest equipment and facilities. We've also worked collaboratively with the other universities of Education City and now see a flow of students from those schools into our classes as our students also draw on their faculties and courses.
Has your collaboration with Qatar Foundation been a fruitful one? Any obstacles?
The Qatar Foundation sponsorship and vision for NU-Q and the rest of Education City has been extraordinary and gratifying. They've provided essential support for all operations and have offered assistance in many areas from academic program planning to student affairs, and other needs and concerns. They've also helped us through our Joint Advisory Board, which brings our leadership and theirs' together twice a year with much individual contact. Most importantly, the Qatar Foundation has helped us know and understand the needs of Qatar and the region for the ultimate product of our university – the students we graduate who are connected to our academic program, related intellectual and social traffic and more. QF's ambitious array of programs from an Academic Bridge Program that prepares high school students for admission to world class conferences on educational innovation to others touching on science journalism, film production and others. QF funds a variety of organizations with whom we work collaboratively when it makes sense for them and us. If there is an obstacle, it is that the QF vision is so ambitious that it is sometime difficult to take full advantage of opportunities that await our interest and involvement. For example, there is a substantial research program that we are only beginning to connect with. If anything, amid so many possibilities it is an agony of choice to determine which priorities come first. We're all on a fast track here.
Will you take a different approach in the future?
Yes and no. We will continue to build and strengthen our undergraduate program in communications and journalism, but also build a bridge to the digital and global media world. We will expand our outreach and develop a more robust research program. We have already initiated new signature programs involving global digital media leadership and another called The Evanston Experience that better connects our students to the home campus in the U.S. and affords opportunities that strengthen our overall program. We have future plans to develop graduate studies and executive education. Beyond supporting and developing our media industries school with strong liberal arts connections, we are also a platform for other Northwestern collaborations across Education City in the sciences, medicine, social sciences and other fields, though this is incremental.
Tell us a bit more about the new NU-Q campus. How does it compare with Northwestern's main campus in the US?
The planned NU-Q campus in Doha designed by the American architect Antoine Predock is deemed appropriate for its setting and use. The building's striking multi-story cantilevered "beak" at the entrance is an exterior focal point for a structure with sweeping curves, terraces and an oasis like courtyard. Inside there will be a giant video wall, an exhibition space reflecting the past, present and future of communication as well as classrooms, gathering places, a library and extensive studios for radio, television and digital media. Equipment will be on a par with commercial media and will likely exceed that of nearly any media education program in the world. Why? The Qatar Foundation intends that Education City facilities and programs set a global standard and the challenge will be to assure that what goes on inside the building is worthy of that expectation. This fits with the rest of Education City where five other U.S. universities also have bold and impressive buildings often more elaborate than their quarters back home, thanks to the generosity of the Qatar Foundation. Here the entire focus for Northwestern is on media, communication and journalism rather than meeting the demands of a comprehensive research university across many fields.
What are the competitive advantages for your students and graduates? As a university focused on journalism and communication, have you established close links with this particular industry?
Students at NU-Q have small classes with a talented faculty in a well staffed and equipped facility. They have the advantage of taking classes in their majors at our school and cross registering for other courses at five other first-rate institutions just down the street. On top of that there are internships, professional residences and a robust of student travel of venues where their educational experience is enhanced. NU-Q and its parent institution and its two world class media schools (Medill School of Journalism and School of Communications) have broad contacts across all media and communications industries and deep relationship that benefit the students. We also continue to strengthen our network through personal contracts, research and regular consultation with media in the Middle East, the U.S. and Europe. On site professional residencies and internships burnish and extend these relationships too.
Why should you come to study in the Middle East and at NU-Q?
There is a pioneering spirit in Qatar and students who come here are clearly not only studying diligently and getting professional experience, but also living through a dramatic period of change. For anyone who wants to live and work in the region, this is the best of both worlds – an American style institution with an Arabic accent and sensitivity to the country and region. Students who study here may very well end up working elsewhere and they surely can, but the benefits of staying in Doha or the Middle East and being part of revolution and incremental change is enormously exciting. At the moment, we only enrol our own students and those in Education City. An exchange program for students from our home campus will begin in 2012.
Do you expect the trend of foreign universities establishing branch campuses in the Middle East to continue?
Yes, the six U.S. schools have been followed by French and British universities and others could follow. The wealthier nations of the Middle East are among the few places in the world with the will and wherewithal to create new educational institutions. They are by no means alone, as new universities emerge in India, Africa, Central Asia and other places that are seeking help from educational institutions and leaders from the U.S. and Europe, for example. With the worldwide financial crisis, this is a good time for nations and regions with resources to attract experts and expertise from abroad
Have you seen any effects of the Arab Spring? Do you have concerns with regard to the revolutions?
Yes, clearly, it dramatized the importance of media and freedom of expression. New media are rising and traditional outlets are also undergoing change. Our students and faculty see this as a great opportunity part of a new and transformed media scene in the region. Opportunities for entrepreneurship with digital media ad social networking abound. The Arab Spring struck a blow for change, not just in governments, but in media industries too, and we are all part of historical change.