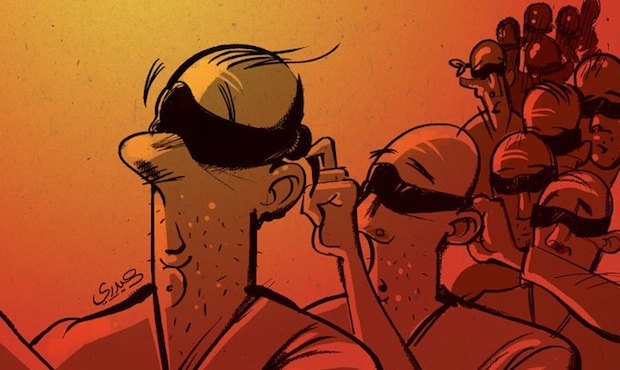 Last updated: 26 September, 2012
Controversial cartoon led to ban on reformist Iranian newspaper
A cartoon demonstrating a group of people closing each other's eyes by ribbons has led to the closure of Shargh, one of the most popular reformist newspapers in Iran. Its Managing Director, Mehdi Rahmanian, is heading to Evin prison, Fars news agency reported.
Shargh newspaper, one of the few remaining dailies close to the reformists, published the cartoon on Tuesday and provoked anger among Iranian lawmakers as well as officials, who said the cartoon insulted Iranian fighters in the Iran-Iraq War (1980-1988). Iranian soldiers usually had ribbons reading holy words on their foreheads during the war. However, the cartoon by Hadi Heidari, a well-known cartoonist, doesn't display any armed person or military-related object.
Hadi Heidari, a member of the international federation of journalists, wrote a short text on his Facebook account after the controversy surrounding his cartoon.
"Those who know my past and my family are aware of my strong devotion to the gallant fighters of the war," he said. "In no circumstances, I would insult these honorable , who all of us are indebted to their sacrifices."
The intention of drawing this cartoon was to demonstrate "ignorance" through a group of people closing each other's eyes in a bright day to avoid seeing the sunlight, he argued.
150 members of the Iranian parliament signed a statement, protesting against the Shargh newspaper's cartoon, the semi-official Fars news agency reported Wednesday afternoon.
Iran's minister of culture and guidance gave his support to the closure of the paper which he labelled a propagator of western culture, and said to Fars that he has negotiated the issue with the minister of justice during a cabinet meeting.
The Iranian minister of justice expressed regret that the cartoon was published and said the attorney general has backed the case strongly and would certainly not forgive the insult against the "sincere members of basij", a paramilitary volunteer militia.
The closure of the daily is the minimum of what people expect, former deputy envoy of the Iranian supreme leader to the revolutionary guards, was quoted as saying. Mojtaba Rahmandoust, who represents the people of Tehran in the country's legislative chamber (Majlis), said freedom doesn't mean insult.
One staffer at Shargh newspaper told Your Middle East that he anticipates the daily to be temporally closed for three months.
Shargh has been shut down several times before, including once in 2004, one day ahead of the parliamentary elections. Nearly three years later, a temporary ban was issued over a another controversial cartoon. Hadi Heidari was also arrested in 2010, in the wake of widespread protests following Iran's disputed presidential elections.