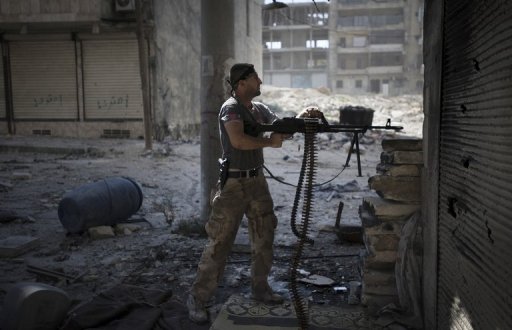 Last updated: 27 September, 2012
Arab military intervention in Syria unrealistic, analysts say
Qatar's call for Arab military intervention in Syria would be difficult to achieve practically and politically, and would risk dragging the region into an all-out conflict, analysts say.
Qatar's emir Sheikh Hamad bin Khalifa al-Thani on Tuesday urged Arab action over war-torn Syria because of the failure of the UN Security Council and other international efforts to end the conflict.
Because of this failure, "it is better for Arab countries to intervene themselves out of their humanitarian, political and military duties and do what is necessary to stop the bloodshed," Sheikh Hamad told the General Assembly.
But according to Mustafa al-Ani of the Gulf Research Centre in Dubai, "Arab countries do not have the military capabilities to act as deterrent forces and do not have a united leadership or coordination."
"An Arab intervention would also open the door for a counter intervention by (Syria's staunch ally) Iran, and eventually a regional conflict," said Ani.
Qatar's emir cited the precedent of an Arab intervention force sent to Lebanon in the 1970s in a bid to halt that country's civil war. He called the 1976 Arab League-backed operation "a step that proved to be effective and useful."
But for Ani, the Lebanon intervention, as well as a similar Arab intervention to counter Iraqi forces in Kuwait based on a decision by the Arab League in 1961, "failed politically and militarily."
In October 1976, a 30,000-strong predominantly Syrian Arab Deterrent Force was sent to Lebanon.
Three years later, Arab troops withdrew, except for the Syrians who stayed on until they eventually pulled out under international pressure in 2005.
Yezid Sayigh, an expert at the Beirut-based Carnegie Middle East Centre, agrees that Qatar's proposal is "impracticable."
"There is no diplomatic consensus among Arab countries, so how could they agree on military action?"
So far, only Tunisia's President Moncef Marzouki has said his country could support an Arab peacekeeping force in Syria.
Military intervention also requires "strong involvement from neighbouring countries — Iraq, Lebanon, Jordan and Turkey," says Sayigh. "Lebanon and Iraq are not prepared for such an intervention. And even Jordan might not be."
Neil Partrick, a London-based Middle East expert, also agrees that the proposal is not feasible.
"Qatar is unlikely to get UN blessing for an Arab force that does anything more than observe," said Partrick. "Without UN Security Council authorisation, not many Arab states will rush to join this army."
He dismissed the idea as "perhaps just a reflection of the need for leaders to be seen to be doing, or more appropriately, saying something."
Sheikh Hamad, once a major ally of embattled Syrian President Bashar al-Assad, has become one of his fiercest critics as Damascus accuses Qatar and Saudi Arabia of arming Syrian rebels.
The Qatari emir said on Tuesday the 18-month-old Syrian conflict "has reached an unacceptable phase" with a government "that does not hesitate to use all sorts of weapons against its people."
He said intervention was needed because all efforts to "get Syria out of the cycle of killing" had been in vain and the UN Security Council has "failed" to take a stand.
The 15-nation Security Council is deadlocked over the conflict that began in a March 2011 uprising and which the Syrian Observatory for Human Rights says has left more than 30,000 dead.
Russia, Assad's main ally, and China have vetoed three Security Council resolutions which could have led to sanctions against Damascus.
US Secretary of State Hillary Clinton on Wednesday appealed for the "paralysed" Security Council to make a new attempt to reach an accord on Syria.
Earlier, Qatar's prime minister, Sheikh Hamad bin Jassem al-Thani, told CNN there was a "Plan B."
"You need to make safe haven areas, first of all," he said. "That would require a no-fly zone.
"If the Syrians want to break that, that's another subject. We need somebody to have the teeth to tell them 'don't do that', because that will not be allowed," he said.
Qatar's proposal demonstrates that all parties, including Damascus, believe that "there is no diplomatic or political solution" to the conflict in Syria where events have proved it can only be resolved militarily, as in Libya and not with a political agreement as in Yemen.
For Sayegh, the Qatari emir's remarks were mainly "an expression of frustration at the international, especially Western, lack of action" on Syria.