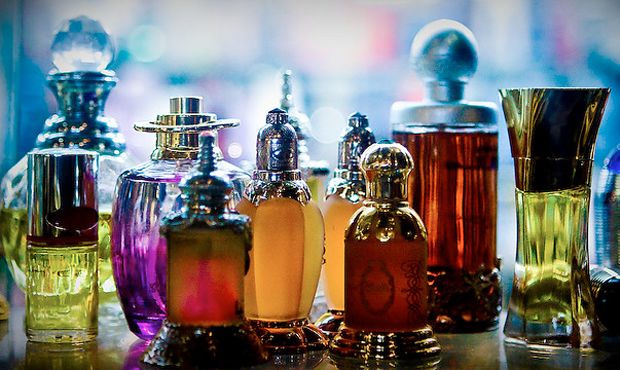 Last updated: 27 September, 2012
The craft of perfumery is an essential part of Muslim culture. Arabian perfumes have long been alluring the world with their distinct fragrances and are now synonymous with ancient heritage as well as fine luxury.
Rakaan, Nashwa, Roohi Fedak, Attar Al Kaaba, Haneen and Alif Laila O Laila. If you are wondering if these are tales from One Thousand and One Arabian Nights, then no, they are the names of Arabian perfumes.
With a history spanning more than 5,000 years, Arabian perfumes are steeped in exotic and local traditions. Take a walk down any of the Middle Eastern souks, be it the Khan Al Khalili street in Cairo, the Sikkat Al Khalili street in Dubai or the Frankincense trail in Dhofar and Salalah in Oman, it will surely be one smelly affair that you won't forget anytime soon.
Frankincense, an aromatic resin, is the main ingredient in making all Arabic perfumes. It grows on small trees and shrubs in Salalah in Oman and Somalia in Africa. Long ago in ancient Arabia, Frankincense was traded for the world's priciest items. On the Silk Route, Arab merchants loaded this magical ingredient on camel caravans to cross the desert, navigated by stars, on a secret route wading through oases and hiding from robbers. On their way, they bartered perfumes for Bahraini pearls, horses and teakwood from India, Chinese Silks and porcelain and gold from royal courts of the Roman Empire.
The base in traditional Arabian perfumes is jasmine, amber, musk and oud. The common fragrance for men is Dhan al Ward or rose flower oil. In the Middle-East the best of roses are found in the Valley of Taif in Saudi Arabia. Since the Ottoman Times, cultivation of the damask rose, a 30-petalled flower has taken place in Taif. Taifi is used in the finest Arabian perfumes for men.
The two popular types of Arabic perfumes are Oud and Bukhoor, apart from attars and pure natural oils. Oud is naturally fragranced wood that can be used on the skin or burnt to let the smoke spread a smell in the house or on your clothes. Bukhoor is a mixture of different fragrances which comes in round pieces that is burned in houses and shopping malls throughout the Middle East.
Although a Cuneiform tablet in the second millennium BC in Mesopotamia records the earliest use of perfumes, a 9th century Abbasid scientist, Abu Yusuf Yaqub bin Ishaaq al-Kindi, is considered the founder of the Arabic perfume industry. He is believed to have extorted various herbs and plants in his experiments and is said to have produced a number of secret recipes in a variety of fragrances.
With recession hitting almost every industry in the region, perfume businesses have been doing exceptionally well. The global perfume market is projected to expand rapidly to reach sales of US$33 billion by the year 2015, according to a 2011 report by Global Industry Analysts. Perfumes manufactured in Arabia currently account for US$ 270 million of global sales, rising by nearly 20 per cent in 2012.
In Egypt, many perfumes are blended by hand. Perfumer Mustafa Eldin chooses two to three kinds of ingredients from more than a hundred flower oils and spices. He uses the ancient Egyptian method of crushing the flower petals in wooden pressing machines to extract oil which is blended with spices.
In the United Arab Emirates, manufacturing is done in fully automated mechanised units where, after selection of the essential oils, the perfumes are filled and bottled and packaged by machines, to cater to the growing international demand.
Ajmal Perfumes has established itself as one of the premier fragrance houses in the Gulf region. Its clientele, which have long included the region's royalty, expects the highest quality of oils and fragrances. Abdulla Ajmal, the company's Deputy General Manager, says that perfumes for women are usually stronger. Floral scents are preferred by women whereas for men spicy and woody is more suitable.
Marketing of perfumes is an art itself and aesthetics plays a huge role here in determining the shapes of the extravagant bottles. New ideas and designs are being used to capture the essence of the perfume, literally.
"Packaging is equally important these days. It's just like a painting. The perfume must look beautiful as well as smell nice. We have special designers in-house who create unique bottles for each product," says Nader Adamali, Director of Swiss Arabian perfumes which has a factory in the Sharjah Free Zone.
When Shakespeare's Lady Macbeth, looked at her bloodied hands and cried that all the perfumes of Arabia could not sweeten them, perhaps she too knew that the scent of rose, jasmine and spicy amber have the mystical power to wash away almost anything.