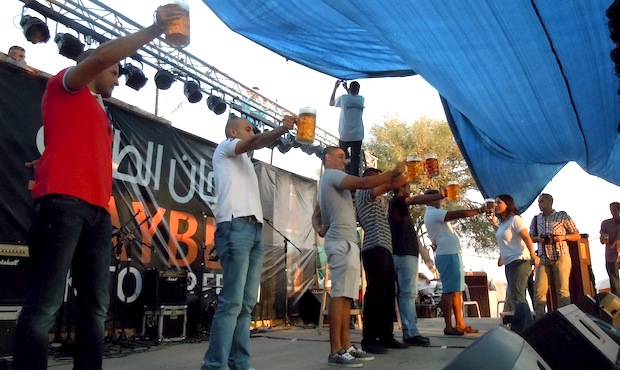 Last updated: 8 October, 2012
Oktoberfest arrives in Palestine
By nightfall, the hilltop village of Taybeh has begun to resemble a college party town. Hip-hop blares from gigantic speakers. Beer bottles overflow from garbage cans. Long lines snake around booths for delicious kebabs. Oktoberfest has arrived in Palestine.
Thousands of people have flocked to the sleepy Christian town this weekend to experience a different side of Palestinian life, one not often seen in the media. Whether it be in a chic Ramallah bar or a tiny neighborhood grocery store, anyone who has bought alcohol in Palestine will sing the praises of Taybeh, the only locally-brewed beer that rivals international brands in quality. It is quite literally, in name and taste, "good beer."
I've spent Saturday afternoon wandering around the Oktoberfest grounds, observing the swelling crowds streaming in from all over the world. Back in 2005, during the first years of the festival, the Brewery was lucky to attract visitors who could see past the violence of the Intifada. However, today it seems that any foreigner between Cairo and Amman has made the pilgrimage to Taybeh, to drink their support for Palestinian local industry, one beer mug at a time.
As I walk between the multiple bars set up around the grounds, an Italian rock bank is playing angsty music in the background. Earlier, a Sri Lankan traditional dance group swallowed fiery torches. The popular Palestinian hip-hop group DAM is due to come on later. The clash of cultures can be a little jarring, but overall it gives the event a very "international" vibe. After all, that something so common as beer can unite people from across the world is, I suppose, the underlying theme. I looked out over the crowd to see expat hipsters dancing side by side with some enthusiastic local nuns, a few timid first-time tourists, and one very enthusiastic German family. As if to somehow legitimize the authentic German nature of the event, a Bavarian band opened the show by stomping around and slapping their knees, every now and then pausing to sip their beers. They do have their priorities after all.
It's hard to forget that Tel Aviv lies just over the hill, a mere 40 minutes, and yet a completely different world. But this weekend, despite the unending trials of the occupation and a majority Muslim population that abstains from alcohol, Taybeh has managed to bridge something that all cultures can appreciate. Quite simply, people love a good party, and no conflict was going to stop that from happening in Palestine this weekend.