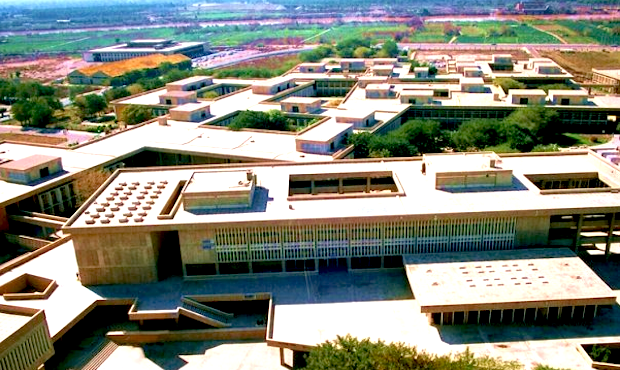 Last updated: 11 October, 2012
Where they are now: higher education in today's Iraq
In addition to its important intellectual contributions during the height of Islamic civilization, Iraq was heralded as a leader in the region for higher education in the earlier stages of Hussein's regime. Today, the post-war factors are complex and sometimes troubling, though not particularly unusual if one considers any survey of a state and its relationship with education.
According to Herbert Davis of George Washington University, who recently led a US government-funded study of Iraqi business schools, Iraq has 59 public and private universities, with 41,000 of 383,000 university students attending private universities. Needless to say, Iraq's public university system is a key player in the country's higher education.
In evaluating the state of Iraq's higher education today, it's essential to bear in mind that an entire generation of academics has fled at some point, either from the Hussein regime or during the most recent war. And while accusations of Ba'ath party biases were made during Hussein's reign, current accusations are flung as the new Shi'ite minority has assumed power and as the country struggles for post-conflict stability, those who work in education still feel vulnerable and targeted.
Further, more general claims are made that throughout the Middle East, the integrity of education is jeopardized by political and religious agendas. In fact, critics argue, some Middle Eastern states avoid the perils that the conflicting ideologies of liberal inquiry and religious orthodoxy may encourage by emphasizing only subjects that do not present a danger to Middle East regimes. Scholars like Linda Herrara provide a more nuanced view, as Herrara hints in her evaluation of Arab higher education today: the Middle East has an impressive heritage of liberal arts inquiry of its own, even if at the same time, Western influences and emphases on the liberal arts have also played a role in higher education's development in the Arab world.
Still, it seems that Iraq is not unlike Saudi Arabia and the Emirates in respect of recent investments in education specific to the fields of science and technology. Ursula Lindsay of the Chronicle of Higher Education points out that a significant impact on Iraqi higher education has arrived in the form of new Education Minister Ali al-Adeeb, appointed in 2011 under Prime Minister Al-Maliki's primarily Shi'ite Islamic Dawa Party. In line with the Arab education's recent favouring of the hard sciences, the new Education Minister has proposed a plan to create 15 more specialized universities that emphasize more scientific fields, including medicine, petroleum studies and engineering. In fact, the name of al-Adeeb's ministry itself, the Ministry of Higher Education and Scientific Research, is very telling.
Al-Adeeb's ministry has most recently collaborated with countries including the US, UK and Norway, amongst others, receiving funding for academic exchanges and partnering with foreign universities. However, it seems that rather than a fragmented process with the agendas of multiple states in play, the Iraqi state has enough debate domestically to challenge a comprehensive strategy for reforming and improving higher education. The entwined relationship between politics, religion, the state and education is often frustrating for academics that feel sidelined in the new system. Al-Adeeb has been responsible for removing hundreds of academics from the system with the complaint of Ba'ath party ties, a move that critics find suspicious.
At the same time, while considerable room for improvement lies ahead, the education system should be applauded for its tenacity and durability through violent and tumultuous change, along for its commendable efforts to join an increasingly globalized knowledge society. Having recently survived oppression and a ravaging war, Iraqi academia's commitment to education reform and autonomy in Iraq is truly awe-inspiring.