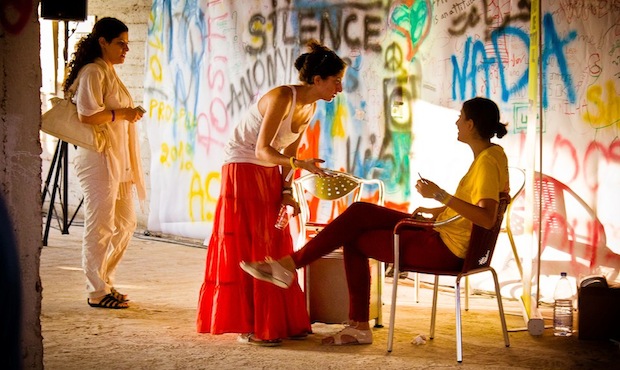 Last updated: 14 October, 2012
SHARE Beirut: Where #Internet meets #Freedom
At first, it felt as if I had suddenly gotten off the subway and landed in New York's artsy Chelsea district, entering an industrial-turned chic premise for the upcoming hipster conference in town.
Yet the abundance of private security personnel roaming around every corner, and the army of valets ready to attack every unsuspecting car-driving attendee approaching the entrance, couldn't but give it away, this was Beirut.
Following the successful launch of SHARE Belgrade last year, the 2012 installment of the Internet-related conference took place in Beirut on October 5-7 in multiple non-traditional venues across the city. An event that prides itself on being a "public, free and non-commercial hybrid" gathered highly interactive Arab and international speakers by day and cutting-edge alternative artists by night around which participants shared their experiences, knowledge or simply their desire for change and passion in using the Internet to do so. Therefore, it wasn't only about Internet as a platform, but as an open, free and diverse platform to exchange everything from ideas to software and technology.
Arab bloggers and activists such as Egyptian Wael Abbas and Tunisian Amira Yahyaoui talked about ways in which the Internet had helped them raise awareness on the injustice in their countries and spread the revolutionary spirit amongst the people. While the more technology-focused such as Lebanese Nadim Kobeissi (Cryptocat) and Bilal Ghalib (Instructables) dealt with their work in encouraging and promoting know-how exchange and open source.
SHARE Beirut certainly gave the city its share of alternative beats of all kinds throughout the weekend, in the coolest alternative venues in town. From more well-known faces such as Lebanese Zeid Hamdan to up and coming local band The Wanton Bishops, most of these performing artists and musicians had also benefited from the Internet to make a name for themselves.
If there was one word to take away from SHARE Beirut, it was the incessant focus on freedom, because sharing is one thing, but doing it freely is a different matter altogether…
For more information, videos of presentations and updates, be sure to logon to http://www.sharebeirut.net