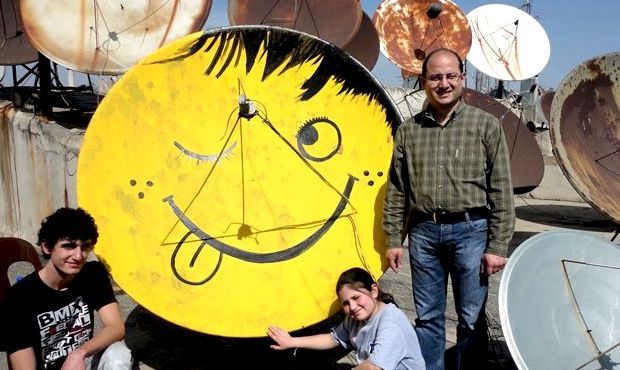 Last updated: 16 October, 2012
One photographer in Aleppo keeps battling the odds
As we struggled with poor Internet connection, I could hear two bombs go off in the background. Issa Touma asked if I heard them. He thought they were less than 200 metres away. Then it stopped, half an hour later he joked that "they" were probably listening to us instead.
Issa Touma has been active in Syria's art scene for a long time. He started working with the Aleppo International Photo Festival 15 years ago and still holds the position as director.
Issa no longer has a house of his own, the result of nine days of heavy fighting that erupted on his doorstep, but the man behind Aleppo's minor art revolution shows no sign of wanting to revenge those that forced him to move back to his parents.
"I don't believe the artist should choose side, he should stay with the country. Otherwise he will loose the war anyhow," he says in an interview over Skype. "I chose from the beginning to be an artist with the people. Whatever his political view I don't care."
Those are courageous words from someone who has seemingly lost everything. But talking to Issa makes me understand that this is not so; in fact, there is lots for him to do in Syria. During parts of our conversation he almost sounds like a missionary on route to rescue his followers from disillusionment and psychological despair.
So what is it that he does so well? Issa Touma organises art activities around Aleppo as a way of bridging social barriers and resentment amongst various groups of society. Yet, this is not something new. More than a decade ago, in the early days of the Aleppo photo festival, he chose an inclusive approach; ambassadors, politicians, merchants, workers and the aristocracy were all potential subjects. And as he said himself, "Taxi drivers are our audience."
"This is unusual, you can't find that in other galleries' activity, because we choose to go to the public and show the art – not the other way. We don't wait for them to come to our gallery."
He also owns a gallery, which unlike his house, has yet to be ravaged by the fighting. But over 800 photos are in his possession, and the gallery simply won't take that much. So the photo festival goes on in separated sequences, and other galleries in the city have offered to join.
"We do this now to give health and send a message of life from the dead area. That means not just seeing the media write about people dying here and there, but trying to give attention to the people who are still alive. And we succeeded in that."
He tells the story of Ateya, a 35-year old woman who had previously been scared to engage with art in public, but who suddenly found herself standing outside the gallery.
"She told me that she had been in in front of the gallery a few times before but didn't have the courage to come in. She likes art and told me 'I'm an amateur and never showed my work to anyone, but I tried to enter once but I was worried not be welcome'. So I said 'Why not? We accept every person.' She was very happy after that. I think this was wonderful."
Then there is Art Camping, a Touma project that was launched on March 3. It's a new movement that deals with any art form; dance, photography, painting, modern architecture, graphics, video and installations. Art Camping is all about turning your thoughts into art at any moment in time, be it on the street or in your home.
"It effects everybody, some people start making art in the roof of buildings, and they don't need to contact us but can post it on the wall of Art Camping's Facebook group. So it's become very popular," Issa says enthusiastically.
"For example, we made dishes with smiley faces to give a smile to everybody because we find the society is now in two sides against each other. So the idea was to give a smile to the neighbour, whatever his political view, we didn't care."
The fact that he remains open to all sides of the conflict is remarkable. But without his determination and willingness to approach people of all strands, the Aleppo art movement would probably have been long gone.
"This can make the people smile to each other, which could invite civil society to come to each other and talk – not to fight. Someone might be with the opposition or with the government, or with any ideas, but our idea was to bring the people together in something trustful, which is art. It was fantastic because the number who'd come everyday was very big."
Yet, his remarks are likely to raise a few eyebrows here and there. Issa took the decision to stay in Syria, but there were others who didn't, not just artists of course but around 700,000 Syrians are estimated to leave their homes at the year's end, according to UNHCR. Should they have stayed? Issa himself have left on a few occasions, but not for more than a week or two. He always returns. If he travels abroad, he said, it would only be for an exhibition or another reason – not to live. In fact, he is critical of those who did leave.
"The older generation who are now dancing in European cities, they cannot come back in the future. Everybody who left his land will have a distance between themself and the population in the street. Also I think the opposition who is active outside cannot come back, no matter what the next government will be," he says.
"Just look at history, take the Russian Revolution where you saw what Stalin did to his colleague and so on. The people who left will stay outside and people will forget them. This is the big problem for our intellectuals, many lived inside the country but were separated from the populace, now they live outside and have separated themselves completely from the country. I can't do that, I'm sorry."
In the film epic Empire of the Sun, a young boy sees his privileged childhood turned upside down as World War II breaks out and tears his family apart. He forces himself to find new ways to deal with the chaos that now surround him. Similarly, Issa talks about war as a maturing experience; "the 20-year old will be 30 because wartime gives a very different experience." Part of the reason why he has decided to remain inside Syria has to do with the work coming from the city's young. "Young people here do amazing work," he concluded.
Issa is a man who is firm on principle and there is clearly a sense of disappointment in his voice when talking about certain Syrian artists, not just those who left but others who have stayed but sold out. He is tired of "intellectuals who start playing games, change their position because they think there is lot of money in this."
"I saw many artists, even well-known, who put like advertising on their heads and say 'I'm for sale – who is going to pay for me?'"
Issa Touma appears to have battled the odds and is determined to continue his work, even if there are just two people helping, and not 50. It simply doesn't matter, he says. People keep coming to the events because they see what kind of impact it has and what they can do for their city. They live in a constant state of war, where a bullet can strike at any time. It's a process that must be faced with on a daily basis, yet at the same time people get accustomed to the sound of shelling. I asked him how he is coping.
"Really day by day," he replied. "Because I'm very close to the problems so sometime when there is shooting we cross the street very quickly, but it seems people get used to that. But the centre of the city has become terrible. Many houses have few families living together, and people asking what is going to happen tomorrow, some of them think it'll finish soon some others no. We don't know who is going to die tomorrow and who is going to stay alive. This is the way we live."
"Sometimes we say 'Oh there's a lot of bombing around' and think that no one will come to the exhibition. But later we're surprised that many came anyway. That's what happened with Ateya, but in fact it's like that a lot of the time."