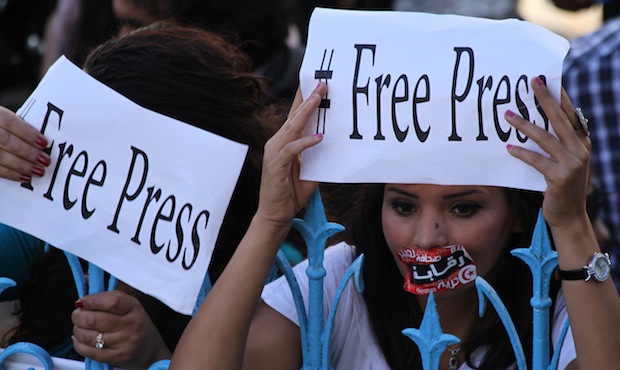 Last updated: 17 October, 2012
PHOTO ESSAY: Tunisian journalists stage unprecedented protest
Tunisian journalists went on a nationwide strike on Wednesday after months of rising tensions with the government, led by the Islamist party Ennahda, which is accused of restricting press freedom.
"Freedom of press and expression is not only for journalists but for all the people of Tunisia," said the National Union of Tunisian Journalists (SNJT) in a statement.
Hundreds of journalists demonstrated in Tunis in front of the SNJT headquarters, chanting slogans such as "free press, independent journalists."
The 1,200-member journalists' union called for the protest; the first-ever general strike for media professionals to be staged in Tunisia.
The union accuses the government of appointing officials close to the ruling party in an attempt to restrict freedom of expression in the North African country.
Rabii Kalboussi is a photojournalist and filmmaker based in Tunisia. You find him on Twitter @Rabii_K.