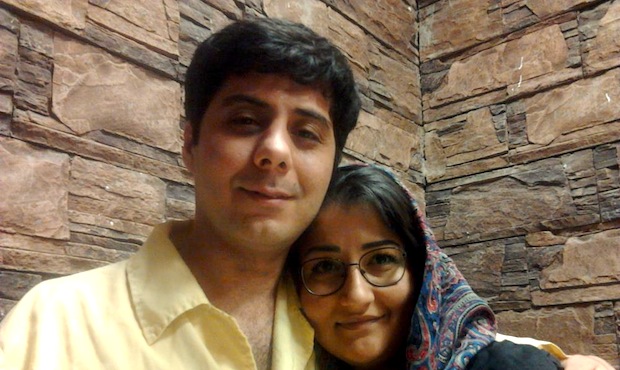 Last updated: 31 October, 2012
Iranian journalists – tears and hope
Being a journalist in Iran and wanting to do your job properly is a dangerous task. Omid Habibinia, an Iranian journalist in exile, tells us what it means when the Gtalk messenger light is off.
After the Iranian election shows in June 2009 many of my friends and colleagues who are journalists were arrested, went into hiding or fled. Masoud Bastani is one of them.
A few days ago, Masoud was released for a short leave from the notorious Rajaei Shahr prison. He was arrested more than three years ago as he desperately looked for his wife, Mahsa Amraabadi, also a journalist, who was arrested in their home in Tehran just two days after the presidential election in 2009.
When Masoud was released from prison, nobody was waiting for him as his family expected him a day before. He took a taxi by himself and went to his mother's house, because his own home was demolished for new constructions and he didn't know where his wife had rented a new place to live.
Known as a reformist journalist, Masoud had been arrested twice before due to his journalistic activities. During his arrest in July 2009, he was subjected to torture and other types of pressure including being forced to confess against himself and others on television.
His wife proclaimed that he confessed against himself for her freedom. She was released a few weeks later, but was arrested once again last year and sentenced to two years in prison followed by a four-year suspended term.
Masoud who was born in 1979, the year of the Iranian revolution, and spent all his life under Islamic Republic rules, suffered from serious illness in prison including blood disorders. Iranian prisons are characterized by a serious lack of health services and medical treatment for sick inmates.
His friend captured a video of Masoud before he went back to prison. In the video, he sent a message demanding support for Iranian journalists in prison, especially those who are not well known, as well as those who are hidden and under danger of being arrested or loosing their job.
I have known Masoud for many years. As a routine, we used to exchange news and have discussions – some of them about journalism. Although he was a reformist and I was against the regime, we never had disagreement about that all journalists should stand up and support each other regardless of their opinions or political background.
I got a message from him asking for help on the day the security forces came to his home and arrested his wife and two other guests. At that moment unfortunately I was not at my desk and when I learned what had happened, it was too late. He had started his desperate search to find his wife and was then arrested himself later.
For three years, Masoud's light on my messenger has been off like many other Iranian journalists and bloggers who are now in prison. However, I really believe nobody has any doubt about that this long night of religious dictatorship will soon come to an end.
Jail is now offline too.
Jila Baniyagoob is another brave journalist, covering many aspects of human and women's rights in Iran. She has been arrested several times. Her husband, Bahman Ahmadi Amouee, who was working for Sobeh e Emroz, a reformist newspaper, where I also used to work. They were both arrested after the election.
In the middle of the night, when the security forces came to their home, they had a list of more than 400 activists, journalists and politicians that were to be arrested. Some people say that the list was made months before the show and issued a few days before it, which means the regime was ready to suppress any kind of resistance.
Jila Baniyagoob was released from prison with a heavy bail. However, one year later she was sentenced to one year in prison and given a thirty-year ban of journalistic activities. Nevertheless, she continued to write on her blog, where she also published her imprisoned husband Bahman's love letters, where he describes the situation in prison and shares his thoughts with her.
A few weeks ago Jila said farewell to all her colleagues, including me, and took her suitcase and went to Evin prison to serve her one-year sentence. During the last three years, more than sixty female journalists or media activists have been arrested in Iran and it seems the Islamic Republic has the greatest number of female media activists in prison in the world.
Thousands of journalists, bloggers, media activists, artists, film makers and human rights activists have been arrested since the protest movement started three years ago. Many of them have been released with heavy bails while others like Jafar Panahi, who recently won EU's Sakharov prize together with Nasrin Sotoudeh, are sentenced to prison but remain free with the sentence still there as a threat to maybe keep them silence.
But many of them are not afraid and continue their protests in different ways. The latest statistics show there are more than forty journalists in prison in Iran. Most of them are kept in the worst possible conditions, some unable to receive visits from their families, some are kept in cells for long periods of time and almost all of them suffer from a lack of health service and medical treatment. Sometimes they are beaten by prison guards or sent to another prison to make things more difficult for them.
These journalists are held hostage in the same way as other political prisoners, and with time many of them have learned their lessons, got stronger and have more motivation for resistance.
All of them have been arrested and sentenced to prison just because they do their ordinary job – most of them are not even supporting radical demands for change. As newspapers, one after another, are shut down by the regime, many journalists have left the country – almost 200 of them since 2009.
Every night I look at my Gtalk messenger list, the most important way to communicate with friends in Iran, and think about those whose lights are still off. What are they doing in jail now? How many days they will remain off and what can I do? Such questions lead me to the core demand of Masoud; we have to do something, we have to stay alive and warrior for freedom of expression and press!
That's our fate.
The views expressed in this article do not necessarily represent those of Your Middle East.