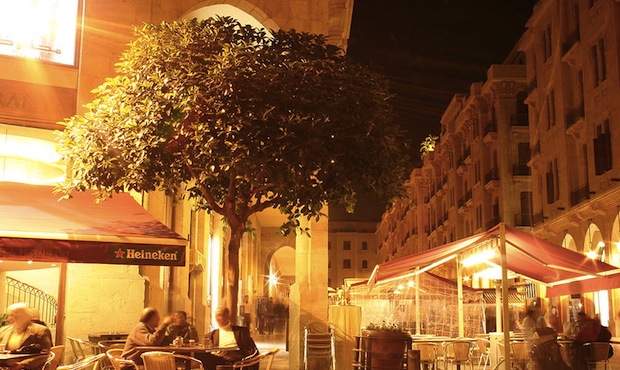 Last updated: 1 November, 2012
Why Lebanon is right for wanting to sue Homeland
An unlikely alliance and truckloads of gun-slinging militants cruising the trendiest street of the Lebanese capital. Has the team behind the hit tv-show lost it?

(Note: contains spoilers for those who haven't seen the first two episodes of season 2.)
The timing was perhaps a bit unfortunate. Just after Lebanese tourism minister Fadi Abboud revealed plans to sue hit tv-show Homeland for misrepresenting Beirut, a car bomb in the neighborhood Ashrafieh killed at least eight and injured an estimated eighty.
Proof that Lebanon is a breeding ground for terrorists? Not quite – the show's second season logic is about as shaky as Tom Walker's hands were when attempting to shoot vice-president Walden.
Al Qaeda + Hezbollah – all you need for 9/11 part two?
The simple explanations behind U.S. Marine sergeant-turned-Al Qaeda member Nicholas Brody's suspicious activities, the mad affair between Brody and CIA agent Carrie Mathison, the heart-wrenching story of Al Qaeda recruits/star-crossed lovers Aileen and Faisel… Critics' praise for Homeland's first season was entirely deserved.
What a disappointment it was then, when at the start of its second season the plot started spiraling out of control.
Brody's neck-snapping action while phoning his wife aside, the story saw the antagonist of the show form quite an unlikely alliance in its first episode when Al Qaeda chief Abu Nazir and a Hezbollah district commander team up to, and similar to 9/11, plan an attack on the U.S. in retaliation for Israel destroying sites in Iran.
This is where things get confusing. Suggesting Al Qaeda is completely similar to Hezbollah is about as accurate as saying Penelope Cruz and Jennifer Lopez are from the same country.
But let's say that Al Qaeda (a Sunni group) and Hezbollah (a Shi'ite group), as unlikely as it may seem, decided to put their differences aside for a moment. Why would Al Qaeda need Hezbollah to strike the U.S. on its own soil – are the missiles of the latter, usually aimed at northern Israel, now of the kind that can reach all the way to Washington?
Even if they had mutual interests, why meet on Hamra street, probably the most open and diverse street in the city, brimming with pubs and trendy shops? Though bringing it to the suburbs of Beirut called Dahye (which are controlled by Hezbollah) would not make much sense either – for someone as high-ranking as Nazir to risk meeting there over choosing neutral territory is about as silly as Brody texting May 1 while surrounded by the Joint Chiefs. Plus, it is highly unlikely to see anyone carrying machine guns out in the open there.
The same episode ended with the CIA finding Brody's suicide video in the bag of the Hezbollah commander. Again, no reason is given why Al Qaeda would need to have passed on the footage. Even an embarrassing explanation like, say, Nazir having dropped them a copy of the video to air on Hezbollah's quite widely received satellite channel Al Manar rather than relying on the internet, would have been better.
What next – a revelation that Abu Nazir is actually Hassan Nasrallah, Secretary General of Hezbollah? They sure do look alike.
Assassinations and terrorism
Since Homeland started, the show has been lauded for its clever writing and realistic details, detailing how Brody had chosen to join Al Qaeda because of a U.S. cover-up of killing 89 children in Iraq in an airstrike rather than simply being brainwashed. Unfortunately that is where the context ended, though. Season two opened with a knee-jerk reaction by Al Qaeda and Hezbollah wanting nothing more than to simply kill innocent Americans.
It would certainly serve the plot to add some context here rather than simply coming up with a senseless act of violence, even if it is meant as a response to a military operation by Israel. (Speaking of which, wouldn't it be easier for Hezbollah to directly retaliate at Israel rather than risking to face the wrath of the U.S.?)
Many innocent people lose their lives in the crossfire of armed conflict, no doubt about that. However, to suggest violence in the Middle East is strictly motivated by wanting to kill civilians would be wrong.
Take for instance the Lebanese civil war. Many Americans were kidnapped and 265 marines were killed in a direct attack. The violence used was shocking, indeed, but what often is not understood is the U.S.' political and military involvement, with the marines signifying support for certain parties, in particular the Christian-led government at the time. During a civil war, it is no wonder those men then formed a target to opposing groups. In the recent Ashrafieh bombing, too, there clearly was a target – killing the Lebanese intelligence chief, regarded as an opponent of Syria.
This is where the line between terrorism and military/political action becomes blurry. I'm not sure season one's VP Walden assassination plot really deserved to be called 'terrorist' action either – wasn't the point of being holed up in a bunker to simply take out all military leaders who mattered? Why not call it an assassination, or does the CIA not operate unless something is labeled a 'terrorist threat'?
American women vs. oppressed/abused Arab women
On to the more visual suggestions of the show. When we first see Carrie in Beirut, she's twitchier than ever at the immigration desk. This may have something to do with having been out of the field for a while, but the stern look on the officer's face gives us the impression the Lebanese have never seen foreigners before. That while hundreds of thousands of foreigners flock to the 'party city of the Middle East' every year.
Then there was the chase before Carrie delivered her epic smile. "Have you seen the American lady," shouts the guy following her, seemingly haven forgotten that many Lebanese actually look very Western – having blond hair and green or gray eyes is not uncommon. With the way Carrie ran around in her post-manic, bipolar state, it would've probably been more effective if he'd just yelled "stop the lady with the crazy eyes!"
It is a shame that while the acting in Homeland is only getting better and better, the writing is becoming so sloppy.
In the past 19 months we've seen many groups working hard on establishing NGOs, smaller civil society groups and engage with the public arena through initiatives – thereby making themselves increasingly aware and connected to the realities in the Middle East. Hopefully, some of that awareness will help combat misunderstandings that are being put in the world by the unrealistic fantasies of tv-show writers.
If this goes on, I'm afraid Homeland will soon become known for having as many unrealistic twists as the ridiculous amount of Emmy's it received for its first season.
The views expressed in this article are the author's and do not necessarily represent those of Your Middle East.