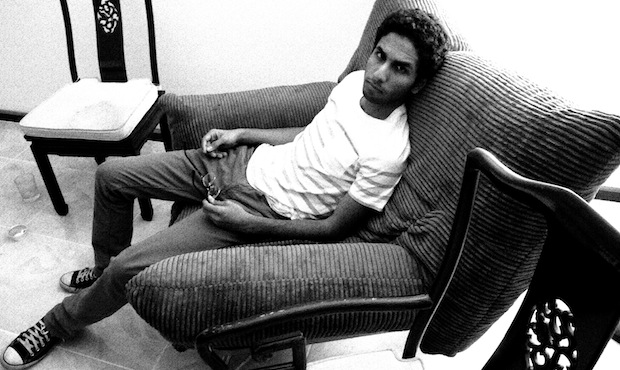 Last updated: 2 November, 2012
Meet Fahad Albutairi: Saudi Arabia's comic mastermind
It is a stiflingly hot and torpidly humid summer's evening outside al-Rasheed Mall in the Saudi Arabian costal city of al-Khobar. I am waiting for Saudi's foremost comedian, and as with all good artists, and most Saudis, he is running slightly late.
As the minutes tick past the hour of the agreed meeting time, I start to feel the sweat building on my neck and running down my back. Silently, I pray I got the time right, and that he will come. Suddenly, as the 'isha prayer sounds out, a car pulls-up and Fahad Albutairi, Saudi Arabia's most famous comedian and social media personality, motions at me to climb aboard.
Pulling away from the curb, my British small talk begins, pointing out that the weather is of the humidity and heat usually reserved for saunas. Fahad replies that during his time at the University of Texas at Austin, the weather was almost the same. Continuing, he expands on the similarities between the average Texan and Saudi, namely in terms of weight and diet; but Texans do not have the comfort factor of wearing the billowing national Saudi garb. From then on, I was hooked on his seamless observations and dry wit.
His accent is one of broad, flowing and fluent English, punctuated by a peppy and understated Texan lilt. The manner with which he conducts himself is calm, assertive, warm, friendly and very open. He is so far removed from the Western stereotype of a Saudi that he could be transplanted into any US city and everyone would assume he was a bona fide all-American. His sense of humour certainly hints at a man whose roots are truly international in influence, if not origin.
Fahad is a pioneer of Saudi Arabian comedy, mainly delivered through the medium of new media. Through his personal Twitter account and YouTube channel dedicated to his trademark show, La Yekthar! (No More!), he draws over half-a-million subscribers. His popular reach, in Saudi Arabian terms, is simply unheard of.
As we settle down for coffee at a café, Fahad confides that his youthful audience "put us in a corner where we have to voice their issues." These issues are primarily related to unemployment, official corruption, lack of adequate affordable housing, and pay that is not suited for life in a society that is becoming evermore expensive.
Fahad's shows and style blend an earnest kind of social comedy with a finessed critique of core issues facing Saudi Arabian youth. Done with humour, but having at its core an important message, Fahad's comedy therefore engages with his audience directly. His comedy does not hide from his viewers' wishes; rather it seeks to help them through this very medium. Fahad's subsequent ability to make thematically contemporary and risqué shows is highlighted both by his huge following and the widespread fame he has acquired in the Kingdom.
Talking about how he seeks out viewers for inspiration, Fahad mentions that "I meet these people because they see a window of opportunity in my show." Through overwhelming popular feedback on all the social media links to his La Yekthar Show, Fahad and his team continually seek to improve the quality, and relevance, of their material – making it compulsive viewing for most young Saudis throughout the Kingdom.
The average view-count per episode, Fahad geekily expounds, is somewhere around two-three million. If compared and adjusted to the population size of the US, that would equate to 58.4 million views. His Twitter followers are now close to 400.000, again this would equate to 2.16 million followers in the US. Arguably, he is in a sense the first true modern celebrity of Saudi Arabia.
Fahad's journey into comedy began when he went to study at the University of Texas at Austin. There, at the age of eighteen, he joined every society on campus and became highly active socially. During that time he developed his stand-up comedy routines, honed his writing skills, and increased his confidence. In the meantime, he graduated as a Geophysicist. Fahad's journey to the US is remarkable, but far from unusual in Saudi Arabian terms. With over 140.000 Saudi students studying outside the Kingdom, Fahad was by no means an exception. However, in returning to Saudi he began to realise that his previous hobby of comedy writing and performing was now becoming a life-defining passion.
Through various encounters and contacts, he performed stand-up comedy in Saudi Arabia. He was the first Saudi to have his own headline show, mixing Arabic and Western elements into a comedy hybrid, with a hint of Groucho Marx. However, he is far from unique. On YouTube there are others like him; comedians like Malak Najar, Omar Hussain, and Bader Saleh are all actively carving out a space in the exciting, free and diverse world of new media.
Paradoxically, although Saudi Arabia lacks a formal film industry, it has a thriving series of independent production companies and syndication channels that produce, upload and disseminate YouTube shows and videos.
This huge growth of new media in the country is accounted for by the good coverage of mobile networks, 3G and the plethora of new, modern and ubiquitous smartphones. Social media is largely uncensored and freely available within the Kingdom. Many youths now sit in classrooms, coffeehouses, cars and malls, glued to the ever-luminescent screens of their phones, frenetically typing. In 2010, Saudi Arabia saw a 240% increase in Twitter users, more than any other Middle Eastern state.
When speaking about the beginning of it all, Fahad admits: "We never took ourselves seriously." But as they became the main focus of YouTube perusing Saudis, Fahad and his team began to take their work far more seriously than as just a fleeting hobby.
Today, Fahad Albutairi seeks to fundamentally challenge and transform the way that comedy is produced in Saudi Arabia; bringing new, younger blood into the system and talking about the issues that matter most to his core demographic – the youth.
As Saudi Arabia grows in terms of population, and resources become scarcer, it is people like Fahad Albutairi that will enable the younger segment of the generation to have a voice, and to be heard. His voice, however, is far from being one lost in the wilderness.
Concluding our conversation, I invite Fahad to spell out his character in a tweet of 140 characters or less. He pauses, thinks, mumbles aloud and then, confidently sums himself up as: "Saudi, sometimes funny, and a self-proclaimed realist."
Fahad Albutairi was recently ranked as the number one Arab "Tweeter" on the Top100Arabs list.