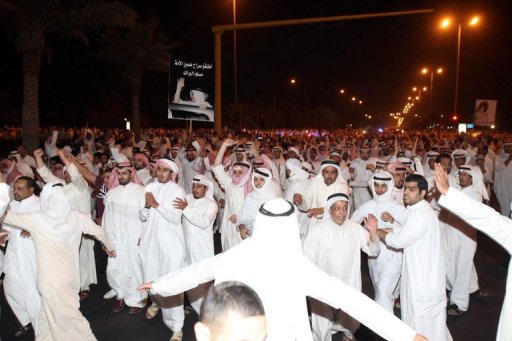 Last updated: 3 November, 2012
Kuwait may use troops to stop opposition from demonstrating
Kuwait may call in the army to help security forces stop a march called by the opposition for Sunday after the government vowed to use force if necessary, the emirate's Al-Anbaa newspaper reported.
The move came after security forces used tear gas to disperse a demonstration by thousands of protesters on Wednesday, injuring more than 30 and drawing condemnation from international human rights watchdogs.
"The interior ministry will use all means necessary to prevent illegal processions," Al-Anbaa quoted a security source as saying on Saturday.
"The army and national guard may be called in if needed to deal with any breach of public order," the source added.
The opposition has called the march in Kuwait City to protest against an amendment to the electoral law ordered by emir Sheikh Sabah al-Ahmad Al-Sabah last month ahead of a snap December 1 parliamentary election.
Almost all opposition groups have said they will boycott the poll in protest at what they see as a bid to create a rubber stamp assembly.
The opposition, made up of Islamists, nationalists and liberals, won a February general election but the constitutonal court quashed the vote in June and reinstated the previous pro-government parliament.
Kuwait introduced parliamentary elections as long ago as 1962, but the emir and the ruling Al-Sabah family continue to hold all key cabinet posts and retain enormous powers.
The opposition wants to create a constitutional monarchy and has called for an elected government and the legalisation of political parties, which remain formally banned.
Opposition leaders insist they have no desire to undermine the Al-Sabah family and late on Friday pledged their loyalty to the emir while renewing their demand for the electoral law to be changed back.
Wednesday's demonstration was called to protest against the detention of opposition leader Mussallam al-Barrak on charges of undermining the status of the emir. He was released on bail the following day.
It was the second time in 10 days that security forces had bloodily dispersed an opposition rally. On October 21, more than 100 protesters were injured as police attempted to break up a demonstration that the opposition said was the largest in Kuwait's history with more than 100,000 people taking part.
Amnesty International called on the Kuwaiti authorities on Thursday to respect the right to demonstrate.
"The Kuwaiti authorities must ensure the people of Kuwait are free to peacefully express their opinions, including about the electoral law, the elections and the emir," the human rights watchdog said.
"The security forces must abide by international policing standards and refrain from using unlawful force in response to peaceful demonstrations."