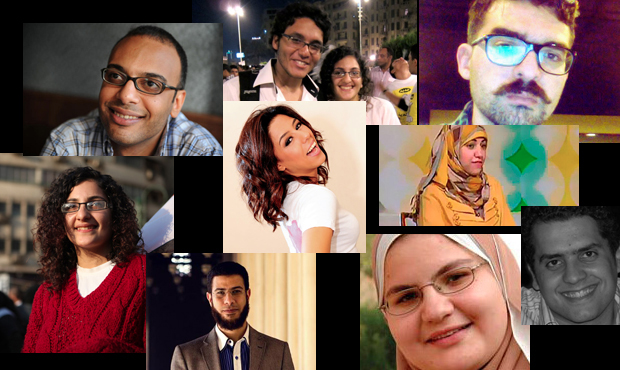 Last updated: 4 November, 2012
10 influential young Egyptians
Despite conflicting opinions regarding the success of the Egyptian revolution, one thing that it has done is putting youth at the forefront. Your Middle East's Passant Rabie lists ten influential, young Egyptians of different backgrounds who have all risen to the occasion.
Yahya Ismael
Using new technology to solve an age-old problem, Yahya Ismael is the co-founder of Bey2ollak.com, a mobile application where users share up-to-date information on roads and traffic in Cairo and Alexandria. This simple idea has turned into a widely-used platform with more than 100,000 users.
A 32-year-old architect turned graphic designer, Ismael is the brainchild behind what makes Bey2ollak stand out- the user experience, character of the app and the language used on it which employs popular, street slang words such as 'halawa,' 'lazeez,' and 'mafeesh amal.'
"A part of why people were excited about it is that smart phone users were used to applications that did not really speak to them, but now they found an application that spoke the same language," he says. "People felt some kind of ownership."
The day it launched, in October 2010, the application received 6,000 users that were acquired simply by word of mouth. Additionally, the group received a lot of interest from big name companies such as Vodafone who sponsored Bey2ollak and helped promote it even further. In 2011, Bey2ollak was one of the winning start-ups at the NextGen Bootcamp, hosted by the Ministry of Communications as well as the US and Danish governments.
"We didn't really expect that much success, at the beginning we just wanted to create it because we all got stuck in traffic and wanted to help people out," says Ismael.
He believes that entrepreneurship in Egypt is picking up, however the number of ideas out there often outweighs the number of venture capitalists willing to invest in projects. As for Bey2ollak, Ismael hopes to see it grow even further and maybe even expand to other countries.
"Till now, we haven't gotten to the version in our head," he says. "In our head, the project is much more than that."
Ganzeer
Emerging after the dawn of the fallen regime, street art has quickly become one of the most wide-spread forms of expression for the youth in Egypt. Mohamed Fahmy, better known for his alias Ganzeer, was one of the pioneers of this movement and continues to break new ground as a full-time artist.
"If people stop and look, that's good. If you do something that people tend to ignore, that's meaningless," says Fahmy.
At a time when most street art splattered across the walls of the country reflected a sense of admiration and submission to the Supreme Council of Armed Forces (SCAF), Fahmy was known for pieces that harshly criticized the army and were often wiped off the streets.
That kind of attention got Fahmy arrested on May 26, 2011 for handing out flyers with his design of the 'Freedom Mask,' which depicted a face wearing a gas mask, with a caption that read, 'Greetings from the Supreme Council to the free youth of the nation.' Additionally, Fahmy was among the main participants in Mad Graffiti Week, held in January this year to encourage people to take to the streets in protest on the anniversary of the revolution.
Fahmy started off doing artwork and illustrations for magazines, but rejects the notion of being defined by any kind of label, whether illustrator, graphic designer or most particularly street artist. Even though his work as a graffiti artist is what got him most of his notoriety, Fahmy does not define himself as such since he has created art in many different realms other than the streets.
Just recently, he held an exhibition at Safar Khan Gallery under the title, 'The Virus is Spreading.' He hopes that his work transcends different classes and reaches out to all categories of people.
"I think for a long time, most people would walk into a traditional art gallery and are not interested because they're targeting a certain niche, art buyers," says Fahmy. "So the majority of society has been alienated from this art bubble."
Of his own work, however, Fahmy says, "Each piece has an initial level that can be understood at a superficial basis, some people can see something else, different layers."
Mona Seif
Some would argue that Mona Seif was born into activism. Hailing from a household known for its determination and strength in fighting the system, the 25-year-old has seen her father, a human rights attorney, behind bars for five years and her brother, activist Alaa Abdelfattah, also imprisoned by the former regime while her mother, Laila Soueif, had been organizing demonstrations against the regime for several years before its fall.
Through the 2011 uprising she was able to prove her own activist status when her social media coverage with videos and pictures of the events of the 18 days of the revolution and the events that followed, ranging from police and military crackdowns to arbitrary arrests, became widely essential in providing a glimpse from the ground.
Following the fall of the Mubarak regime, Seif took on SCAF by starting her own movement, the No Military Trials for Civilians, as a response to the trial of over 10,000 civilians before military court following the revolution – a total number that is greater than the number of civilians tried during the previous 30 years, according to Human Rights Watch.
The cancer research lab worker would interview people following their release in order to document any kind of abuse that occurred during their detention.
In December 2011, Seif was arrested herself and beaten at a demonstration, and in June this year, she was summoned to appear before the public prosecutor for being a suspect in the attack on then presidential candidate Ahmed Shafiq's presidential headquarters on May 29.
This year, she was a finalist for the Front Line Award for Human Rights Defenders at Risk.
Nader Bakkar
Nader Bakkar has his work cut out for him as the spokesperson for the controversial political party, Al-Nour. The 28-year-old was one of the founders of the Salafi political party, although he claims no political participation prior to the revolution.
Bakkar has a degree from Alexandria University's Faculty of Commerce, and worked in project management.
"My interest in politics was not there before the revolution," he says. " There was an interest in political science as an academic subject but not an interest in politics as a profession."
Since the formation of Al Nour Party, Bakkar has stood out as an influential figure in the group, appearing on several media outlets in an effort to set a good example for an otherwise badly reputed group.
"We do make mistakes, of course, when there are so many members of one group then some of them are bound to make mistakes," says Bakkar. "But people tend to focus on our faults."
Some of these faults include badly worded statements from members of the Al Nour Party that reinforces their extremist image, an unfortunate cover-up of a nose job by one member and another member caught in an indecent act.
However, Bakkar is still adamant on creating a positive image for Salafis – a belief system that he wholeheartedly supports since he was a student in 2003.
"There is a stereotype and a lot of misconceptions about Salafis such as that they alienate themselves from society," he says. "I aim to change those stereotypes."
Aside from setting a good example by being a well-educated, well-spoken member of the Salafi group with relatively progressive views on women – Bakkar's mother is a working woman and his fiancé plans on becoming one too while he himself believes that women should not be forced to wear the veil – he also utilizes his position by appearing on his own talk show on Al Jazeera, writing a column for Al-Ahram newspaper and giving interviews to both local and western media.
"Today, there is a sense of acceptance and welcoming from the people on the streets," he says. "They're starting to come around."
Aisha Mostafa
While the name might not be familiar to some, Aisha Mostafa is a name you'll definitely hear again as this 19-year-old student has reinvented space travel.
The physics student from Sohag University shook the science world when she invented a propulsion system that could possibly launch space crafts from Earth without using any fuel but instead relies on quantum physics, making space travel easier and more cost efficient.
Aisha's university science club provided her with funding for the patent application. However, as she revealed on the popular talk show 'Sabah El Kheir Ya Masr', Egypt lacks state funding for space science departments in universities which is currently holding her back from putting the finishing touches and testing out her invention.
Seif Abou Zaid
Although Seif Abou Zaid shies from the term 'influential' he does admit to being elected class president every year since the second grade.
The 28-year-old politician and social entrepreneur firmly believes in the power grassroots initiatives can have over a community. After graduating from the American University in Cairo with a degree in political science, Abou Zaid co-founded ADAA (Agency for Development and Advancement) a training company for youth between the ages of 15-25 that aims to develop a diverse set of skills to foster the next generation of leaders through a network of local and international professionals.
Abou Zaid is currently the CEO of Nabadat Foundation, a non-profit organization that utilizes technology and, more specifically, the internet to improve education and increase human rights and political awareness. Through Nabadat, Abou Zaid helped create Tahrir Academy, the biggest online education portal in the Middle East that offers a variety of accessible educational videos for free.
He believes that grassroots initiatives are the answer as they achieve "Mutual Empowerment to push policies that favor the masses, the weak and disempowered," he says.
In the past year, Abou Zaid also got involved in politics when he took on the role of national field director in the presidential campaign for then presidential candidate Abdel Moneim Aboul Fotouh, as well as the head of the Strategic Planning Committee for Aboul Fotouh's political party, Masr Al Qaweya.
"(Working in politics) has affected my work incredibly. There's much more room for innovation, and freedom of association is much bigger too," says Abou Zaid.
In the future, he would like to focus on improving education.
"(I would like to) revolutionize educational policy in Egypt. Turn education into something that frees people and help them become innovative and independent."
Hossam Bahgat
Hossam Bahgat is arguably one of the most prominent human rights defenders in Egypt, dedicating more than a decade of his life to fighting the cause.
A graduate of political science, Bahgat started off his career as a journalist and through his work developed a strong passion for human rights. Rather than continuing in simply reporting on various human rights violations, he opted for a more proactive approach and decided to establish his own human rights organization.
The Egyptian Initiative for Personal Rights was officially established in 2002 when Bahgat was at the young age of 21. Focusing on personal rights to choose one's religion, rights to privacy, and sexual freedoms, Bahgat was able to accomplish great strides in those fields. One of the most memorable cases fought and won by his organization was establishing the right for citizens of the Baha'i faith to identify themselves as such on their personal identification card in 2008.
Since the uprising, Bahgat and his organization have played a pivotal role in documenting cases of violence against protestors, as well as issuing an extensive report on the violence and murder of prisoners in their cells by police officers during the 18 days of the revolution. Today, Bahgat continues his efforts on establishing personal freedoms by working on establishing new laws and institutionalized change that would ensure those rights.
Amy Mowafi
Aside from being a wife and a mother, Amy Mowafi is also busy building an empire. The 31-year-old is perhaps better known for her book, Fe-mail, and her work as managing editor of Enigma Magazine. However, Mowafi ditched the comfort and glamour of the job to join her three brothers in establishing MO4, a web development company that is one of its kind in the country and perhaps even the region.
"I'm print person at heart, I've been writing for various publications since I was 15, so I couldn't imagine making the leap to digital," says Mowafi. "But I eventually relented… it was the idea of building a strong family business and the potential I felt we had as a unit that attracted me rather than the nature of the business itself."
MO4 houses six different websites on its network, CairoZoom.com, Tazkarty.net, CairoScene.com, GreaterThanFashion.com, Dealwaty.com and Es2alMe.com. All are new age websites that cater to specific needs otherwise unfulfilled on the internet. Additionally, MO4 also has over 30 clients for which they handle the social media and digital marketing. And it doesn't just stop there.
"We have so many exciting ideas and developments in the pipeline and each day we're growing," says Mowafi. "But my ultimate dream is for MO4 to become a globally renowned company – and why the hell not – an "empire" defined by the fact that it was born and bred in Egypt."
Raghda El Ebrashi
Alashanek Ya Balady Association for Sustainable Development (AYB) was first founded by Raghda El Ebrashi as a student club at the American University in Cairo where she was a student in 2002, and she was later able to expand it to Ain Shams University in 2003 and Cairo University in 2004.
After graduating, El Ebrashi registered AYB as an NGO. Rather than just giving charity to poor areas, AYB started by developing the skills of the youth in marginalized and poor communities in order to help them be able to find jobs. However, later on, El Ebrashi realized that just doing that may not help in getting the youth employment opportunities as companies rarely seek employees from marginalized communities. In 2008, AYB aimed at bridging the gap between big companies and youth from marginalized areas by going to said companies and finding out what set of skills they would require and then teaching these specific set of skills to the youth.
Since then, over 2,000 people have been trained and companies such as Aramex and Vodafone have used AYB as an employment office to seek qualified candidates.
El Ebrashi has received countless awards and recognitions for her continued efforts to improve the community. In 2010 she received the Young Global Leaders Award at the World Economic Forum, and the King Abdullah Award for Youth Innovation and Achievement. She was also chosen to join the 24 member board of advisors for the Egyptian Cabinet to help implement the UNDP Millennium Development Goals in 2009.
Noor Ayman Noor
Noor Ayman Noor doesn't want to be called a political activist. Despite his participation in various demonstrations, his outspokenness against the system, not to mention his father Ayman Noor's long history in Egyptian politics, Noor believes that the word 'activist' has become overused as of late.
During the January 25 Revolution, he stood on the frontlines of several demonstrations, and was repeatedly beaten and detained even after the fall of the regime. For the past year and a half, Noor has also been heavily involved in the 'No Military Trials' campaign, defending the rights of anyone facing military trial.
Lately, however, he has a made a shift to focus instead on the environment.
"It was not a shift from human rights, it was a shift from political causes to environmental interest because there isn't enough emphasis on the environment and it's something that I feel can be long term while political parties are not sustainable," says Noor.
He is currently working with Nature Conservation Egypt, an NGO that aims to preserve Egypt's environmental heritage. Additionally, he is also a member of the Zabaleen band, a musical band that uses trash and recyclable material to play instruments and performs mainly to raise awareness on environmental causes. Noor is also involved in a campaign under the name, 'Bezoor Balady' – seeds of my country – in which they hold demonstrations where they throw seed bombs in different parts of the country to raise awareness on the issue of importing genetically modified crops into Egypt.
However, Noor asserts that this shift in interest does not signify a loss of hope in any shape or form. "If anything, it's an excess of hope that I'm channeling into a more productive medium," he says. "All of the political movements are destructive at the moment. I believe that everything that is happening politically these days is not sustainable so I'm putting my energy into something that is."