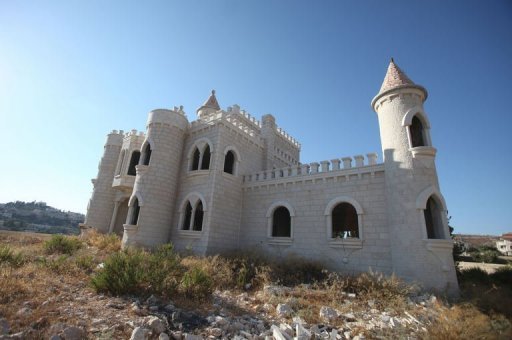 Last updated: 9 November, 2012
Luxurious homes pop up in the West Bank
Subhi Mustafa spent 35 years abroad, including a decade in the United States, but now that he has built his dream home in his West Bank village, he isn't planning on going anywhere else.
He's one of a group of Palestinians who have spent years working overseas before returning home to small villages like Mazraa al-Sharqiya and rewarding themselves with their ideal luxury home.
"I left my village and lived with the pain of exile so that I could achieve a single goal — to build a beautiful home in my village for me, my children and grandchildren," says 60-year-old Mustafa.
"I've succeeded in doing that, and so I'm never going to leave again."
Mustafa's dream home doesn't exactly blend in with the traditional houses in Mazraa al-Sharqiya, northeast of the city of Ramallah.
It's 450 square metres (4,800 square feet) in size, and has a large courtyard in front that Mustafa says is intended to accommodate his grandchildren.
"There is a bit of competition between the former expatriates when it comes to building houses," he admits.
"But I prefer to compete inside the house, rather than outside it."
Mustafa says he decided to decorate and furnish it in an "American style."
"I wanted everything to be American-style so my children and grandchildren who live there will be comfortable when they come to visit."
A house like Mustafa's doesn't come cheap.
"That cost more than $400,000," he says, pointing to one house in the village.
"That one was $600,000, and that house cost about one million dollars in total. All of them belong to expatriates who worked in the United States."
Mustafa began building his house when he returned to his village eight years ago.
"From the time that I left the village, I decided I would work just for this house and that I would come back once and for all from the United States," he explains.
Mustafa spent decades overseas: first 25 years in Peru, then another 10 years in Miami, before earning enough money to come home — aged 53 — and start construction on his dream house.
He's not alone.
In Mazraa al-Sharqiya, only around 5,000 of the village's 12,000 residents actually live in the West Bank. The rest are working overseas, most of them in the US.
Rafae Hamida, president of a local village charity, estimates that 67 percent of the village currently lives in either the US, Peru or Brazil.
"And every one of them wants to build a house that's better than the next," he says.
Damin Awad, 59, is another village resident who is living overseas — he's the head of the Islamic Society in Peru. He's lived in Peru for 44 years, but after a recent visit to Mazraa al-Sharqiya, he began weighing a permanent return and the prospect of building a home for him and his family.
He admits that competition between expatriates over who can build the best house has driven some to return and participate, but points out that many Palestinians decided to come home for fear of losing their residency rights or to try to reclaim those rights.
For years, Palestinians living in the occupied West Bank were compelled to periodically renew their residency permits with the Israeli authorities, and those who travelled overseas for long periods risked having their residency rights revoked if they failed to do so.
While the practice of revoking West Bank residency was stopped in 1994 after the Oslo Accords came into force, it is still valid for those Palestinians living in annexed east Jerusalem.
"It's true that there's building competition between returning expatriates," Awad tells AFP.
"But there is also the real problem of Palestinians overseas losing their nationality and now trying to recover it, and that's more important than the house."
But, he adds, "the general idea of each Palestinian who goes abroad is to get enough money to come back and build a beautiful home for him and his children."
The phenomenon is not limited to Mazraa al-Sharqiya, with the Palestinian ministry of local government saying they've observed similar competition in other villages and towns across the West Bank.
The houses are often distinctive, giant homes that far exceed the regular size of Palestinian houses, the facades covered with stone and adorned with huge pillars. In some cases they look more like fairy tale palaces than regular homes.
Mohamed al-Qarut, an adviser at the ministry of local environment, says the proliferation of luxury homes built by returning Palestinians has both social and psychological dimensions.
"Expatriates who have been apart from their society for many years come back and reconcile with their society by building something beautiful and distinctive," he says.
"People build these homes for three reasons: first because of the needs caused by the burgeoning population; second, because construction is a safe investment and third, because of the desire of expatriates who have lived overseas for many years to put their money in something that looks special and distinct."