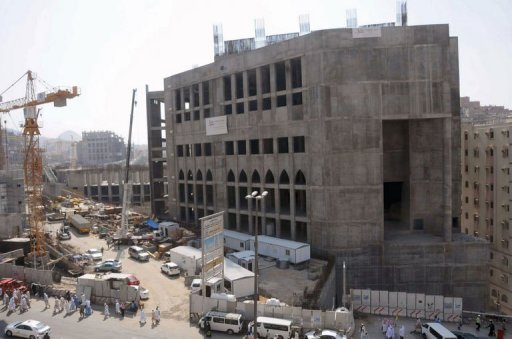 Last updated: 12 November, 2012
Mecca slumdwellers fear eviction as high rises multiply
Close to Saudi Arabia's Grand Mosque in Mecca and the glitzy five-star hotels surrounding it lie slums whose mostly immigrant dwellers fear they will be evicted to make way for new high rises and malls.
In one such slum on Jabal (mount) Omar, humans, cats, lizards, and mosquitoes co-exist among piles of garbage, with sewage running openly along the narrow tracks on the rugged hill.
Children and old men in rags move about idly among the cracked adobe buildings.
The impoverished neighbourhoods are divided by nationality, with the Yemeni quarter at the bottom of the hill, then the Africans and finally, at the very top, the Burmese, residents say.
"I first arrived here from Yemen when I was 15 years old," says 58-year-old Abu Ali. "I used to work as a plumber, but now that I've grown old and weak I work as a janitor."
Despite such squalid conditions, "I'm better off here than I would be in Yemen," said Abu Ali, referring to the kingdom's poverty-stricken neighbour, from which many try to flee to Saudi Arabia in search of a better life.
Further up the hill's steep incline dotted with piles of trash, 24-year-old Mohammed Saleh sits on a time-worn step joking with a group of friends.
Beneath his tough exterior, Saleh reveals a vulnerable young man to whom life has not been so kind.
"I couldn't continue my studies after my father was diagnosed with cancer," says Saleh, a sharp-eyed Yemeni who was born and raised on Jabal Omar.
"I'm happy here. It's a great neighbourhood," he says with a grin. "Really, as long as I'm on the mountain I'm happy."
"Killings and thefts are more frequent if you climb further up the mountain, but here we haven't got such things," he says.
Saleh says many of the people living on Jabal Omar have been there "for 40 and 50 years. They are used to it… They could live nowhere else."
He points at a thick cable running along the ground where a stream of sewage is flowing. "This is the electricity we get," he says. "As for water, we haven't had any in about two months."
The residents of this and other poor neighbourhoods across the holy city fear only one thing: a plan by Saudi authorities to demolish the whole area to give way to modern developments.
"I rent the house I'm living in now for 1,000 riyals (USD$267/210 euros)," said Abu Ali. "If it's gone, I wouldn't be able to find another apartment for less than 2,000 riyals. That's my whole salary."
Mecca Mayor Osama Albar has said the slum development project will cost "around $3 billion" and will take place in phases.
It will offer home owners living in these shabby, hilly neighbourhoods a choice of either selling their properties to the government or taking shares in the new projects.
People who have rented apartments there, mostly immigrants, will also be offered assistance in finding flats at prices similar to what they now pay.
Around the Grand Mosque, the government has for years been expanding facilities to accommodate the increasing numbers of pilgrims arriving every year for the major hajj pilgrimage. The ancient mud brick buildings have given way to skyscrapers.
The Mecca Development Authority's website says the slums in Mecca, as well as in Jeddah and Taif, where a combined total of nearly one million people live, "create a security, environmental and health challenge."
In Mecca, some 70 slums make up 25 percent of the city's urban area, it says.
Jabal Omar Development Co says it is developing a 230,000 square metre (2.5 million square foot) project, of which 52 percent will be dedicated to residential buildings.
The company's development, which also features towers and shopping areas, lies across the road from the Grand Mosque's plaza.
At the foot of the hill, African women, most of them Nigerians who usually come during the annual hajj pilgrimage and stay, spread along the road selling anything they can get their hands on, including food, clothing and carpets.
"I come with my mother's friends who sell things here," says 16-year-old Shaza. "We sell everything."
"We're fine here, but we're now worried about having our houses demolished," she said.
If this happens, "we don't know what we'll do. If we can, we'll stay here. Otherwise we'll have to return home."