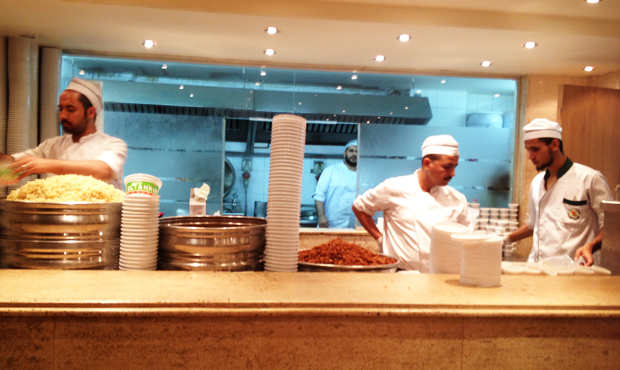 Last updated: 15 May, 2018
Fast food hunting in Cairo
You can order fast food anywhere in the world, but the local varieties found in Cairo are to die for. Egyptians adore their unhealthy foods and believe that fuul, falafel, koshary and shawerma will make you forget all your worries.
Hopefully some day, Egypt can have branches of restaurants like El-Prince, Koshary El Tahrir, Gad, Abo Ammar El Soury, El Dahan and El Dawar across the globe.
El-Prince serves Egyptian oriental cuisine. There is only one branch, which is located in a very local area called Imbaba, and has been operating for more than 50 years. Meat, livers and sausages are the most popular plates there, and the prices depend on the size of your portion. The most recommended dishes are their delicious fresh Mulukhiyah with meat (green soup) for 30 pounds and their waraket lahma (meat) for 45 pounds.
The restaurant's indoor area is very small, while sitting outdoors means that you will be sitting in the street having all the people staring at you, and of course you will be sitting on Chinese plastic chairs. Once you get a table menus are handed out and then waiters come to take the orders; they are very welcoming and gets you your orders immediately. This place combines all types of Egyptians; you can spot celebrities, rich people and poor people. Tip: Be careful not to overeat meat or liver if this is your first time for the safety of your stomach.
You can't be in Egypt and not try Koshary made of rice, pasta, lintels, red tomato sauce topped with fried onions. Koshary El Tahrir is one of the cleanest and best places in Cairo that serves Koshary. The menu includes Koshary and Egyptian desserts only. The dishes are cheap and delicious with prices ranging from 3.50 to 9 LE. After the main course you can try an Egyptian dessert like Roz be Laban (Rice pudding) or Mahalabeya for 3 LE.
The friendly welcoming staff will make you love the place; you will get excellent and fast service regardless if you want a take-away order or if you eat in. In the Maadi and Nasr City branches, they both have two floors, tables and chairs are clean, each table is set with shatta (hot pepper) and da'a (vinegar sauce) in large glass jars. And plates are very big indeed. In my opinion, Koshary is something you must try at least once in your life in Egypt.
Koshary El Tahrir branches are: Nasr City, 6 October, Downtown, Shoubra, Dokki, Maadi, and Mokattam. Tip: you will have a bad breath after eating Koshary so don't forget to bring some gums with you.
Gad, known for its big red sign, is definitely the most popular authentic Egyptian street food restaurant. Fuul (beans) and falafel for 1.5 to 6.5 LE are the most popular dishes there. You can find many restaurants serving this, but Gad stands out for its delicious food. In addition to the Egyptian oriental sandwiches falafel and fuul, its menu features a variety of chicken, pizzas, fish, shawermas, feteers and meat dishes.
The place is clean and often crowded, who ever reaches the cashier's hand first will order first. But the food at Gad is safe, cheap and delicious, although not very healthy. It is highly recommended to get fuul, mashed potatos and falafel. As for the drinks, lemon juice is the best.
Gad branches are: Giza, Mohandseen, Helioplis, Downtown, Maadi, Helwan, and El-Azhar. The Maadi branch has indoor seating which is something rare for that kind of restaurant. Tip: it's better to get fuul and falafel for breakfast, not dinner, because they aren't digested easily.
If you really love Syrian food or want to try it, you can find lots of Syrian restaurants serving awesome sandwiches and shawermas (sliced chicken or meat wrapped up in Syrian bread). One of the most popular Syrian restaurants in Cairo is Abo Ammar El Soury, It makes the best shawerma ever whether it is chicken or meat with their warm fresh bread and their amazing tomeya garlic sauce only for 12-17 LE, providing you with full indulgence. Besides the awesome shawerma, you can find special Arabic meals such as fatta, and Manou'chah.
The place has two floors, the service is outstanding, the staff is very friendly and the food at Abu-Ammar is light and well-priced. Their chicken shawerma fatta (19 LE) with some rice pudding for dessert is highly recommended. There are two branches, in Mohandsin and Heliopolis.
A restaurant that combines both tradition and originality with serving the highest quality Egyptian foods is El Dahan. Opened in 1890, it was first named El-Akr and soon got a reputation for its Eastern cuisine and barbequed meat. The main dishes include all kinds of meats like their famous kebab and kofta. The prices for main dishes range from 30-60LE, and you can enjoy sandwiches or side dishes like mombar, mahshi, rice or pasta at a lower cost. We recommend their tagine meals and meat dishes.
In the restaurant, you will get great service and very helpful staff. The best thing about the place is their décor which has plenty of marble and dark oak-wood finishing, and the dishes are big – a kilo really means a kilo; you will pay between 80LE to 150LE. Its branches are: Mokattam, Mohandsin, El-Azhar, El Tagamoa el khames, Al rehab city, Nasr city.
A whole new thing you can try is Feteer (Egyptian pie). El Dawar is one of the most popular places that serve feteer. Their delivery and service is fast and efficient, and you can enjoy eating various kinds of sweets or sour feteers in different sizes.
Recommendations: For cheese lovers, it is best to choose the mixed kiri fiteer with red and green peppers over the plain kiri option. For meat lovers, Egyptian sausage feteer is the best. As for sweet lovers, it is highly recommended to try a plain fiteer which is covered with powdered sugar or try the awesome chocolate Nutella fiteer.
El Dawar has five branches, located in Maadi, Mohandsin, Manial, Helioplis and Nasr City. Tip: you will definitely gain weight by eating feteers, so be careful not to overeat it.