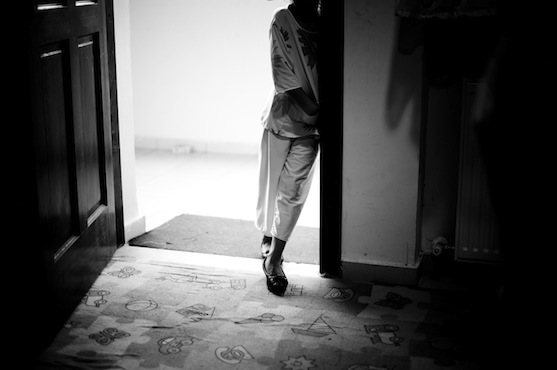 Last updated: 13 November, 2012
Hush breaks the silence of abused Palestinian women
Photographer Samar Hazboun is capturing harrowing first hand accounts of abuse from the West Bank's only women's shelter as part of a photo documentary called Hush, giving a rare voice to these women.
"I would always hear about a girl raped here and woman killed there because of honour crimes but nothing was ever official and it seemed like everyone was 'hushing' the subject," Samar said.
"I realised that if I don't take the first step and talk about this problem we might have to wait another five or ten years for someone to do so."
The problem of sexual abuse is a worldwide problem that, according to Samar, hasn't been covered properly in Palestine yet.
"I want it to be exposed in order to force people to start talking about it, thinking about it and mainly to hear what these victims really have to say."
Hush is a dark and eerie glimpse into the isolated lives of young women living in the shelter as they tell their individual stories.
"My brother used to tie a rope around my neck, undress me and rape me in front of my mother. I can't file a complaint against him he works at the police."
This graphic description, taken from a young woman, Abeer, demonstrates how gender inequality is prevalent in Palestinian society. Arriving at the shelter over five years ago, she can't leave out of fear of being killed by her brother. While she is trapped, her he walks free.
In 2009, a study by the Gaza based NGO Palestinian Women's Information and Media Centre found that over half of Palestinian women said they had been subjected to physical violence while 67 percent said they had experienced psychological violence and 14 percent suffered sexual violence.
Samar spent three months in the shelter documenting young girls and women caught up in such cases and why they had left their homes.
Facilitating women in these circumstances is not easy in a patriarchal Arab society. The lack of resources make it difficult to provide therapy and support for women fleeing violence, often at the hands of their families.
Governmental support from the Palestinian Authority is also scarce, as the focus primarily lies on the Israeli occupation.
"Palestinian people's basic rights are violated on a daily basis," Samar explained. "This means that Palestinians deal with so many basic human rights violations related to the Israeli occupation which leaves only little space for focusing on other problems.
"Our primary concern is the occupation. Occupation and violence against women go hand in hand. The occupation is and always was a women's biggest enemy. The fact that Palestinian men are oppressed by the Israeli occupation makes it hard for women to achieve their basic rights and needs where even men in this patriarchal society do not have their basic rights."
There is also a clear gap in the law when it comes to women's rights, one of the reasons why most are reluctant to come forward to file complaints with the police after being abused.
Another report from 2011 by the United Nations Development Programme (UNDP) states that although Palestinian Basic Law does recognise the protocol for human rights, certain aspects of the law do not meet international standards when it comes to protecting women.
Marital rape is not a criminal offence, there are no procedures in place to deal with sexual abuse cases and alarmingly, perpetrators of honour related killings can be exempt from prosecution. Similarly an age-old law prevents those accused of honour related crimes from being tried as they can easily use the defence that they acted in a "state of rage."
"The government needs to play a massive role in this as well where non-religious laws will be implemented and people will no longer be prosecuted according to tribal and social rules," Samar insisted.
"A woman's reputation and body are the two most holy things she has. If she is touched, be it physically or socially then society tends to exclude these women. No one will marry his son off to a girl that has been raped or to a girl that has a bad reputation and this way of thinking still continues today."
Samar firmly believes that education is the way forward to help combat these issues. But again, this proves difficult when there is severe restriction of movement imposed by Israeli authorities.
"It would've been easier for women to achieve more if there was no occupation as women farmers are not able to go to their land," she said.
"Many girls are not able to study because the way to university or college is either dangerous or obstructed by checkpoints where they can spend half a day queuing and the choice of living in a different city in order to get a degree is not an option for the majority of women because costs of commuting and dorms can be unaffordable.
"On the other hand, the sanctions and bans imposed on Palestinians ruin the Palestinian economy and thus make it harder for women to get a job or earn a decent living."
The overall response to Hush was positive although there was criticism. Some felt the documentary projected Palestinian culture in a negative way, while giving fuel to right wing groups to brand Arabs as orientalist tribes people with close minded attitudes.
"The majority of people supported me and understood the importance of this project but I also received some criticism for talking about the subject," Samar said.
"According to my critics, I am not doing the Palestinian people a favor but instead I'm focusing on the negative side of the Palestinian society.
"But, we need to learn how to deal with our negative side. Women in Palestine make up more than half of the population, they need to be empowered for obvious reasons."
+ For more info about Samar Hazboun's work, please check out her website here.