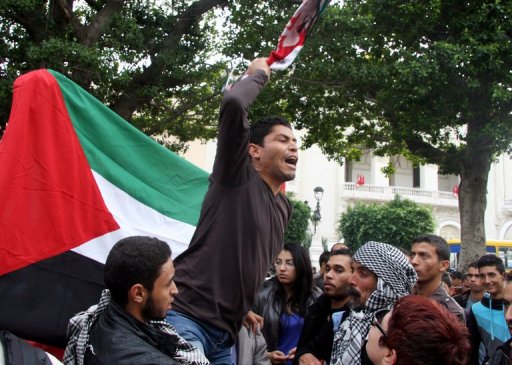 Last updated: 15 November, 2012
Hundreds of Tunisians protest against Israeli attacks on Gaza
Hundreds of Tunisians demonstrated on Thursday against Israel's deadly attacks on Gaza, as Israeli planes pounded armed groups in the Palestinian territory for a second day, an AFP journalist reported.
Several hundred protesters, gathered on Habib Bourguiba Avenue in the centre of Tunis, shouted slogans such as "No to reconciliation," and "The people want to criminalise normalised relations with the (Zionist) entity."
Youth supporters of Tunisia's ruling Islamist party Ennahda also called for a demonstration on Friday, "after the odious crimes committed by the Zionist entity, which has violated the land and places that are sacred."
The government, in a statement published overnight, condemned Israel's military operations in Gaza, which it said were "against international rights and conventions."
It called on "the international community and all the free people of the world to stop this aggression against the Palestinian people."
Several Tunisian parties, including Ennahda, are demanding that the "criminalisation of normalised relations" with Israel be written into the country's new constitution.
Tunisia has had close links with the Palestinians for years, hosting the Palestine Liberation Organisation between 1982 and 1994 after it was expelled from Lebanon.
Tunisian political party Wafa announced in early November that it had filed charges against Israeli agents for assassinating the PLO's then number two, Abu Jihad, in a raid on the movement's Tunis headquarters in 1988, accusing them of "war crimes."