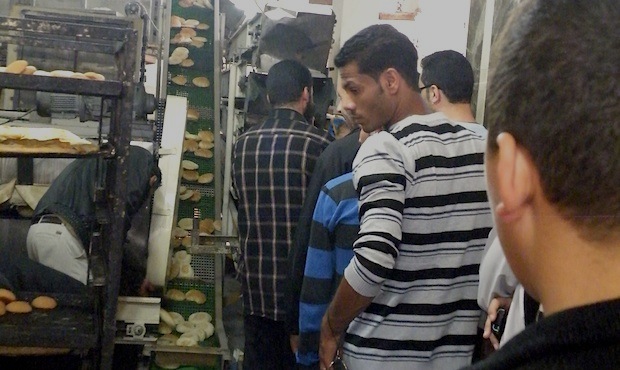 Last updated: 16 November, 2012
Gaza's people stock up on supplies for the big battle
Thursday night and Friday morning saw an intense campaign of Israeli air raids directed towards the Gaza Strip, and people feel the need to stock up on essential supplies.
Since Gaza is completely dependent on the imports of food, fuel and other essentials, Gazans are now flooding to stores and gas stations amid rumors that stocks will soon be running out.
Palestinians have been forming long queues outside supermarkets, bakeries and petrol stations as frantic residents fear another war and therefore decide to stock up on vital provisions.
The high demand on fuel and its shortage in supply, as rumor has it among the Palestinian citizens in the besieged Strip, have raised the price of petrol from almost 1 dollar to 1.75 dollars per liter in the black market.
With the Egyptian fuel only charging half the price of the Israeli kind, most of the people in Gaza strip are making use of the fuel that comes through the underground tunnels with the Egyptian side. Nevertheless, it is said that the Israeli air jets will be targeting these tunnels like it did in the Cast Lead Operation in 2008-2009.
In long lines at local gas stations, many Gazans were eagerly waiting for their turn to fill up. The people of Gaza need fuel not only for cars but to operate their generators given the fact that the electricity in the Strip has been cutting off for over than 10 hours per day.
Mahmoud Abu Seido, a 41 year old private sector employee said, "Why do we Palestinians have to suffer like this so often; I've been waiting in line for nearly 3 hours to fill up only one gallon of fuel for my generator. Although I am tired and strained out, I have no choice but to stand in another line for bread in order to supply my family with food."
Just like at gas stations, dozens of bakeries are being packed with people positioned in long lines as they impatiently wait for their turn to stock up on bread. In fact, every small public bakery within the Strip is being crowded with tens if not hundreds of anxious Gaza citizens.
"The people of Gaza seem to be purchasing much more than they really need since they fear this conflict might end up turning into a war just like in the year 2009," said Gaza analyst Mr. Omar Shabaan.
During the offensive at the turn of 2008-2009, the people of the besieged Strip witnessed the death of nearly 1,300 people and 25,000 injuries.
"From the explosions, deaths and overall difficulties in managing our lives, such days have begun to remind me of the offensive that occurred on Gaza Strip in the winter of 2009," said Gaza resident Fady Abu Kweik.
Rana E. Manna is Your Middle East's correspondent in Gaza.