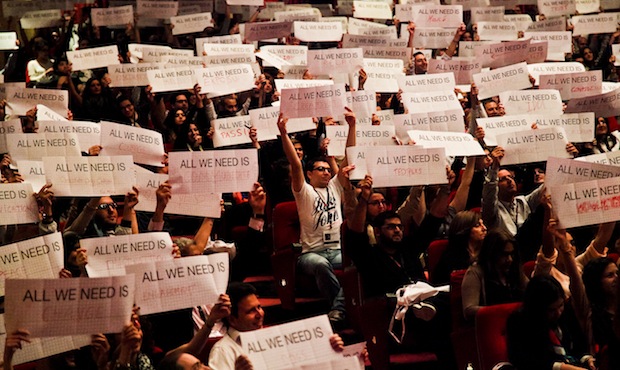 Last updated: 19 November, 2012
TEDxBeirut: All we need is…?
More than a thousand people attended TEDxBeirut on Saturday. With its inspiring speakers, the event provides a much-needed arena in Lebanon for the exchange of ideas in a non-partisan, non-sectarian manner.
Dr. Charles Elashi, the director of the NASA propulsion laboratory, was the most prominent speaker. The audience was dead silent listening to how Elashi managed to lead a diversified team, to land the rover "curiosity" on Mars. Elashi explained that today, NASA has around 25 spacecrafts monitoring the solar system and the nearby planets. The crowd was amazed of how a team could manage to land a 20,000 km/h vehicle on Mars safe and sound.
"Not even a Lebanese man can drive that fast!", joked Elashi. "Work! I don't work I explore!", he added, explaining the importance of motivation and passion and learning from setbacks while working as a team.
Israa Haida, a blogger and entrepreneur, told a story of her veil and how it was used to discriminate against her at work. She launched a successful blog that managed to turn out to face all discrimination issues that were found locally, regionally and internationally. "Change is always an option", she concluded.
Then came an inspirational story about fighting cancer with wigs. Loryne Atwi explained how an ordinary wig became a symbol for women fighting cancer, where they lose their hair under chemotherapy. This was very successful and resulted in an NGO that helps women by raising money through the sale of wigs.
Suzanne Talhouk of the Feil Amer association talked about the importance of preserving the Arabic language amidst all the decreasing usage of it in all the aspects of life. Suzanne made the crowd laugh at many Arabic words, which if translated, might be understood differently, or completely opposite. Suzanne also shed the light on how the Lebanese people are trilingual even in their daily language, she gave a famous example every Lebanese say: "Hi, Keefak, Ca va?" These words mean Hi, how are you? Fine? in the English, Arabic and French languages.
Marjorie Henningsen talked about her vast and revolutionary experience in education, and how children can form small communities and figure things out even without teachers to tell them what to do. She described a fascinating experiment about children who managed to discover concepts like trade and measurements. Her idea is to make children see school as an extension of life rather than a preparation for life. "Education is life and life is education", she finished.
Then came Farid Chehab, who advocated for the conservation of water by spilling a whole bottle of water on the floor. He explained to the surprised crowd that Lebanon might even be able to export water if all the water rapids, rivers and streams are connected into one single body of water. Chehab shocked the audience by telling them that Lebanon only has 13% of its area covered by green spaces. "Not much left and something needs to be done fast," he concluded.
Peter Moraccadi, a Lebanese mountaineer, talked about the different mountains he conquered and how each mountain taught him something different. Commitment, planning and doing it for a greater purpose other than one's ego are the toolkit for one's success and survival on these mountains.
"There are no men and women on the mountain, there are only mountaineers," Moraccadi said, telling the audience about how a woman, despite her sickness, managed to inspire him to be a better climber. He finished by saying that he managed to conquer the mountains and then asked: "what are the mountains you need to conquer?"
Throughout the day, there was a great deal of interaction between the speakers and the audience. The social spaces and entertainment also added to its success.
Events like TEDxBeirut are much needed in Lebanon for many reasons, not least to share success stories that people can be inspired from. It is also an arena to showcase a positive side of Lebanon as part of the effort to restore its reputation after the unrest that has shaken the country recently.
Finally, and most importantly, it is an arena to talk. The Lebanese have nearly lost their ability to talk and listen to each other carefully and attentively without fighting. TEDxBeirut constitutes a space were Lebanese can find, talk and work with each other, for the good of Lebanon, in a non-sectarian, non-partisan way. So maybe the best title of TEDxBeirut is: all we need is change.