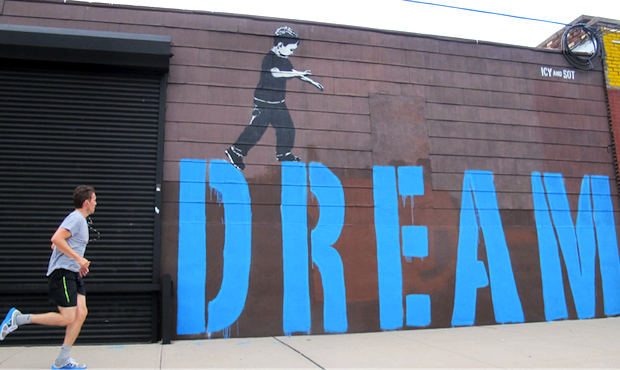 Last updated: 20 November, 2012
Iran's valiant graffiti heroes
Graffiti has become a new voice for Iran's youth. Your Middle East has met two acclaimed young Iranian stencil artists who are using street art to deal with themes such as peace, war, love, hate, hope, despair, human rights and the Iranian culture.
Icy, 27, and Sot, 21, who are brothers, were born in Tabriz in the late 80s and 90s respectively. Because of their superb artistic creations, they have become influential people who are talked about with respect. Originally, skateboarding was all they did, but in 2005 they got smitten with the wonders of street art.
"We were skateboard freaks and watching skate videos and playing skate video games was what we did all the time. During one playing session, we noticed there were graffiti and stencil art drawn on the walls. That cool stuff immediately captured our imagination," said Icy. "That's how we both had a firsthand experience of this distinctive art. So skateboarding drove us to dig into street art by getting us onto the street in the first place."
At first, the two brothers used little things like stickers and amateur stencils to create images and then posted them on walls in areas where people usually move past in large numbers.
"As time passed by, we got more and more involved with it. Most importantly, graffiti is a street art which enables one to stay amongst people while still shining light on their grievances. By the street art we are able to talk to people in person."
It wasn't easy for Icy and Sot to practice and work on their graffiti projects. Initially, their parents seemed a bit uninterested and apprehensive about their sons' growing passion.
"Our culture doesn't approve of graffiti as it is considered almost a sin. On top of it, there are threats to one's life if he or she buys into this sort of western propaganda. But luckily, our parents' thinking changed as soon as they came to realize the worth of what we brothers do. By the passing time, they got to understand us and support us."
People's hardships are always their main priority. Issues relating to peace, war, love, hate, hope, despair, human rights and the Iranian culture are the themes of their work.
"We believe art must not be limited to the walls of galleries but it can well be illustrated on a wall in the street as well. That way, it's easier to share your thoughts, "said Sot
Whilst the two brothers keep portraying social and political realities for which they are admired and taken seriously by many, there is still a lukewarm response from people in general. There is a reason for this.
"Graffiti and stencil both have a long way to go before they become a part of our culture and people could realize what they really are. Because of the lack of exposure here in this field, people aren't familiar enough with these sorts of things, "they said.
As people in Iran have little knowledge of these art forms, it's inevitable that they might react against them.
"Icy once did a wheat paste and went away for a few minutes just for it to dry off and when he came back, what he saw was quite awful. A guy was tearing it off. Yet, there are moments when some people really do get influenced by our work and applaud us from the bottom of their heart," said Sot.
They have a distinct style of working, using multilayered stencils to give shape to ethereal images that seem quite plain.
"Simplicity is the base of what we do. We don't create shock by just putting in barbaric images at all," they said.
Their exhibitions are being shown all around the world and receiving a great deal of attention. As of now, their work has been shown in Los Angeles, New York, Paris, Italy, Australia, Netherlands, Finland, Brazil and Norway.
"We make sure that the areas chosen for our work are safe and the number of spectators passing by is enormously high. Besides this, texture and color play an important part in the placement too. Finding a nice spot might encourage us sometimes.
"We usually try our best to do the piece as quickly as possible so that we can then disappear. But it depends on the size, the spot or the detail. Moreover, safe and pretty spots are rare here," they said.
Ever since they started their professional journey as graffiti artists in 2008, they have never been free from scrapes of some sort or the other.
"We have been through a lot of annoying things. But if we don't do what we are doing, nothing will change. That's why we can't stop."
"The biggest pain in the ass is the political situation of Iran. We are always at risk of being arrested for uncertain crimes that we haven't even committed like Satanism and political crimes. But working as a duet helps us to stay solid against all the troubles, "said the duo.
They have one thing that they want to do in the interests of their people no matter what.
"We are committed to getting rid of the strictures put by the society and will continue to do so until we are triumphant. We also want to make it certain that our work is shown the world over and in so doing become dominant as a country willing to change and embrace modernity with joy."