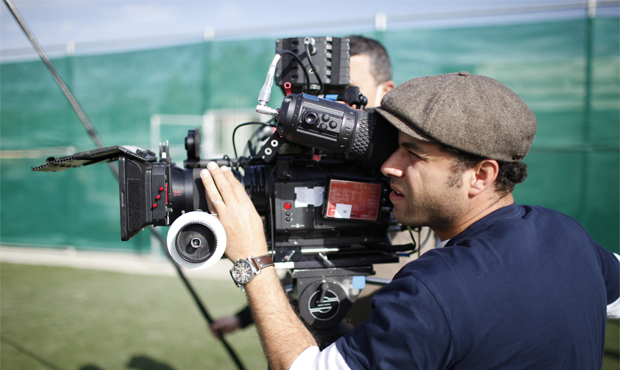 Last updated: 23 November, 2012
Amin Matalqa – director of the first Disney film in Arabic
Amin Matlaqa has fast become one of the most talked about filmmakers in the Middle East and around the world. At the age of 36, the Jordanian-born, Ohio-raised director has a number of accolades to his name.
His first feature film, Captain Abu Raed, won 28 awards, including the Sundance Film Festival's World Cinema Audience Award in 2008. This poignant and captivating film also became Jordan's first-ever entry to the Oscars in 2009, under the Best Foreign Film Award category.
A few months ago, I spent a few hours with Matlaqa. We discussed our shared interest in World War II, love for London, and of course his upcoming projects, which include the soon-to-be-released Disney International film, The United, and his adaptation of Fyodor Dostoevsky's White Nights novella, Strangely in Love.
Amin, you seem to have been keeping yourself busy since we met in London for the Safar Film Festival. How important was it to you to have Captain Abu Raed shown at the ICA after so many years since its release?
Captain Abu Raed holds a very dear and special place in my heart. It's my first baby, and I went though a dream-like experience with it, every step of the process. It was really nostalgic to revisit this old friend in a little London theatre with a new audience after being away from it for a few years. Also, being in London for those two days made me long for Europe again. It was really lovely.
With your next feature, The United, you'll get another 'first' under your belt by being the director of the first Disney film in Arabic. How did this collaboration come about? Can you tell me a bit more about the concept and the message of the film?
The United was a script written by Nizar Wattad that Disney International was developing for their 'local language' films programme. They had been experimenting with making films in China, Russia, and India. They were approached by Rachel Gandin, an American first-time producer obsessed with Egypt, to develop films in the Middle East, said 'why not?' and put three projects on the development slate. I got involved late in the process when they were looking for an Arabic director who also had an international sensibility. We were initially going to make the film in Egypt, but ended up taking it to Jordan where I could bring my resources and the crew who worked on Captain Abu Raed.
The story is about a retired Egyptian football coach who gets pulled to Jordan by his former star player to train a team of pan-Arab misfits to play the game of their life against France, in order to secure funding for the ultimate Middle East Football Academy. We cast Farouq Fishawy as the coach, and Waleed Zuaiter as the star who put the whole programme together, along with a group of first-time, twenty-something actors from across the Middle East as the players on the team. While the film is really funny and packed with action and drama, it plays on a deeper level as a metaphor for the much-needed unity and positive thinking in the Middle East.
As much as it pains me to discuss the political instability we are seeing in the Middle East, do you feel that socially, The United is going to impact the way we view current issues in the Arab world?
It's hard to say, but I'd like to believe that movies give us hope and open windows that remind us that it's important to dream big dreams. Certainly, it's movies and music that shape my naïve, and maybe idealistic outlook on life, and without them, I think reality can be grim – especially in these tough times.
Though The United is going to be released in cinemas shortly, and then become available more widely by the end of the year, it's a project that has taken some time. Did you face any serious obstacles – not just in making the film – but also in getting it distributed?
Yes, definitely. There have been challenges across the board. First of all, for various business reasons, Disney International shut down their Burbank office, letting go of all the executives who were initially working on this film, and the movie ended up sitting on a shelf awaiting its fate. Secondly, the unstable state of the Middle East put a damper on any marketing plans. It's a bit disappointing to know that you have a film that will mean so much to an audience that really needs it during these times, while it sits on a shelf in a vault, unseen. When we screened the film at Disney in Los Angeles to a crowd of Americans who knew very little about football, they were jumping in their seats by the end of film like it was the finale of a World Cup match, and that's when I knew the film would be a success when it came out. Hopefully, Disney will give it the attention it deserves, and once it's out in public, the audience will confirm its potential. I believe in it. We really made something special.
Music obviously has a very important part to play in any film, and in Captain Abu Raed, I felt as though the score by Austin Wintory won me over with its mix of Eastern and Western influences. Do you consciously make an effort to merge these two cultures through the use of music, and is this something we can also expect in The United and Strangely in Love?
As Austin jokes, I make movies so that we can hurry up and get them scored! I grew up breathing film scores like oxygen. I'm very passionate about music. The influence of Spielberg and Williams was enormous on my childhood, and my heroes growing up were Michael Kamen, Basil Poledouris, Gabriel Yared, Danny Elfman, Jerry Goldsmith, and all those magicians who coloured films with great music. When I met Austin and began collaborating with him on Captain Abu Raed, the first thing he said was, 'let's get the Hollywood Studio Symphony for the score'. It was a dream come true to record at Warner Brothers with one of the best studio orchestras in the world.
The United also has a huge, rich score written by composer Omar Fadel. He did a magnificent job starting with a small, but very authentic Arabic ensemble for the scenes in Egypt, and then he infused electronics and orchestral music for when the team comes together in Jordan, and by the end of the film, you have a big, Hans Zimmer-type action score with funky percussion and walls of blaring, bombastic music. As well, the film also features a hip-hop song with artists from Syria, Egypt, and Morocco.
For Strangely in Love, I re-teamed with Austin for what I think is his most beautiful film score to date. For this film, we aimed for the very romantic sound of 1930s Chaplin movies, but the score mutates beyond that, along with the film. It starts with a whimsical, waltzy quality, with a beautiful chromatic Harmonica backed by an orchestra, but then gets 'violated' by a vicious guitar tango. It later gets darker and even more zany with a Spaghetti Western flavour, though at the end of the film, the score is very grounded, modern, and simple; and yet, somehow it's all very cohesive. It's really remarkable what he pulled off.
With Strangely in Love now in post-production, how do you feel about the idea that you might be pigeonholed and described solely as an Arab director working on American movies? Do you feel that this happens to other Arab filmmakers?
It's funny, because I see myself more as an American filmmaker with a European sensibility who made Arabic films to begin with. But, I think when you see The United, you'll feel that it's strangely familiar as a Disney film, yet at the same time authentically Arabic; and when you see Strangely in Love, you'll feel like you're watching a French film based on a Russian novella in English, shot in an unusually romanticised version of a Los Angeles we haven't seen before. I think this goes back to growing up in a family of pilots and living between Ohio, Jordan, and Los Angeles, and travelling to Europe every year as a kid. I'm not sure what other Arab filmmakers go through, but it certainly helps to have an international audience in mind if you make an Arabic film, so that you can extend your reach globally.
Lastly, apart from revealing what the best moment in your career has been so far, can you give us a sneak preview of what's to come after The United and Strangely in Love are released?
I love the whole process. I love the moments of inspiration when I'm sitting with my dogs with a pen and paper, searching for ideas. I love collaborating with great actors. Captain Abu Raed was a lot of fun to make. I remember the first day arriving on the set before sunrise, and seeing my cast and crew of about 100 people with all the trucks and equipment among the Roman ruins. It felt like the first day of my life. I felt both nervous, and oddly, prepared to tackle the 'beast' of making my first feature film and proving that I could turn a $2 million investment into something special. There was a lot of love in the air that morning. Later, when we premiered at Sundance, it felt like we finally made it to the finish line. The highlight was when they announced it as the winner of the Audience Award. I'd never won anything before, so that was an emotional blast, and it took a while to accept that I wasn't dreaming. I hope we get to celebrate Strangely in Love the same way. It's a very special film. I feel lucky to have made three films I'm proud of.
As for the film – I'm developing four different projects, so I don't know which one I'll shoot next – but all of them are comedies. So, whatever I do, I hope to make you laugh!
Ruba Asfahani, is a specialist in Contemporary Arab and Iranian art and Art Director at ARTSPACE.