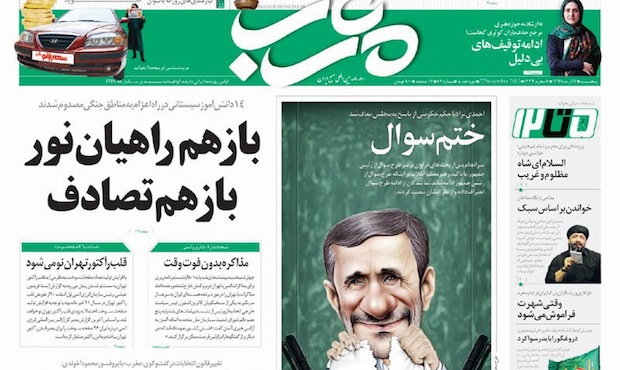 Last updated: 26 November, 2012
Iran's Maghreb newspaper will stop publishing
Iran's Maghreb (West) newspaper announced in a Monday article that the daily would not be published until the press supervisory board makes a final decision in its case.
The Director General for Press and National News Agencies Pedram Pak Ayin said on Friday that Iran's Ministry of Culture and Islamic Guidance has filed a complaint against Maghreb for publishing what he labeled as insulting content.
In an interview with the semi-official Fars news agency, the top official referred to the newspaper's headline and a front-page cartoon of President Ahmadinejad as cases that caused the ministry to take the action.
The newspaper had previously received warnings, which it hasn't paid attention to, he said.
On Friday, the daily published a report on parliament's decision to drop a plan aimed at grilling the president over economic woes. The lawmakers called off the plan after the Supreme Leader Ayatollah Khamenei said they must not act in the interests of Iran's enemies. At the same time, a cartoon illustrating President Ahmadinejad tearing a paper while smiling appeared on the front page of the daily.
"If we had the luck to exist, we would try to return to the press family with a new approach," the newspaper said in its latest issue.
The newspaper conducted another self-imposed ban late summer saying it was a show of respect toward imposed pressure of supervisory systems.
More than a month ago the newspaper's managing director was released on bail after being arrested over what Iran's judiciary spokesman described as a non-media-related accusation.
In October, a controversial cartoon demonstrating a group of people closing each other's eyes by ribbons led to the closure of Shargh (East), one of the most popular reformist newspapers in Iran.