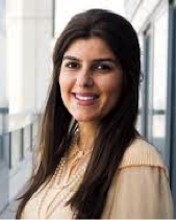 Last updated: 27 November, 2012
"Intended to be a liberation, 2003 proved to be the beginning of a process of deterioration for Iraqi women"
Iraqi women began to enter the country's job market in the 1920s and 1930 and have enjoyed fundamental women's rights since late 1950s. This made Iraq one of the first nations to uphold modern standards of women's rights in the world as well as a proponent of women's rights in the Arab World. In 1979, the Iraqi constitution declared all women and men equal before the law, women studied and worked alongside men, and women formed at least 35 percent of the working population in various fields of work until the 2003 US invasion of Iraq.
Intended to be a liberation, 2003 proved to be the beginning of a process of deterioration for Iraqi women. The country's new government and constitution does not appear to be an evolution from the historic precedent mentioned above, in terms of women's rights and role in society. Also, Iraqi women, in particular, have become the victims of the current events in Iraq after 2003 and have been deprived from their basic rights, including security, salaries, and basic allowances. Many of the reasons behind this appear to be resulting from principles that are more orientated towards political survival of religious and sectarian movements rather than a genuine and accurate commitment to the religious foundations of Iraq's dominant religious political movements.
The situation is causing a serious impact on Iraqi women and Iraqi society as a whole. There is a sharp increase in the exploitation of Iraqi women, particularly from extremist groups, resulting in the use of Iraqi women in suicide missions, forced prostitution, drug smuggling and other such terrible situations. This has also led to an increase in women suffering mental problems and other acute illnesses, which further impact Iraqi society, reaching into Iraqi families with severe impacts on children.
The current Iraqi government does not appear to be concerned with taking genuine steps to improve the plight of Iraqi women. According to recent reports from various NGOs inside and outside the country, draft laws have been under discussions in the past years but not yet passed in relation to victims of trafficking. In the meantime, the new government offers no protection services to victims of trafficking, reported no efforts to prevent trafficking in persons, does not acknowledge or support the work of various women's rights organisations that have been set up inside and outside Iraq.
Hope that various statements made by the US concerning its overriding concerns for women's rights would translate into genuine progress in Iraq has largely failed to materialize. As the self-appointed benefactor of Iraq's post war re-construction, the Bush administration gave little more than symbolic attention to the issue of Iraqi women. For instance, under a U.S.-backed quota requiring that at least one quarter of Iraq's lawmakers should be women, the result was parliamentary seats that were dominated by female representative of hard-line religious parties that sought to maintain the status quo, which simply made this quota as political tool that undermined Iraqi women's rights and allowed these movements to pursue theocratic and backward policies concerning Iraqi women.
Any future effort to address the issue of women's rights must take into consideration the fundamentals of Iraq's political process and real socio-political structure. The Iraqi government of 2003 was imposed rather than elected. The subsequent 2005 elections came as the result of de-baathication which effectively marginalised Iraq's secular and expatriate communities, giving rise to the dominance of religious and sectarian movements which, at their core, have continuously failed to represent Iraq's largely secular history and social tendencies. While any future efforts cannot overlook the role of ethnic and sectarian issues in Iraqi society, there should be a political formula allowing co-existence between these traditions and Iraq's secular and historically progressive tendencies. This is the only way in which to achieve a successful evolution in a country which saw the first female professionals in the 1920's.
If women's rights in Iraq were to be based exclusively on Islamic principals, Prophet Mohammed's (may peace be upon him) emphasis on women's rights and the role of women in society is very distant and far more sophisticated than the stated religious political foundations existing in the Iraq of today.
The hope in improving the future of Iraqi women lies in a future government which upholds the principles of religion, secularism and the re-integration of Iraq's approximately 4.5 million citizens living outside their country. In an increasingly globalised world, any future Iraqi leader must ask himself or herself the basic question how he or she intends to build a functioning society that addresses the rights of the mother, the sister, the daughter – the genesis of that society.