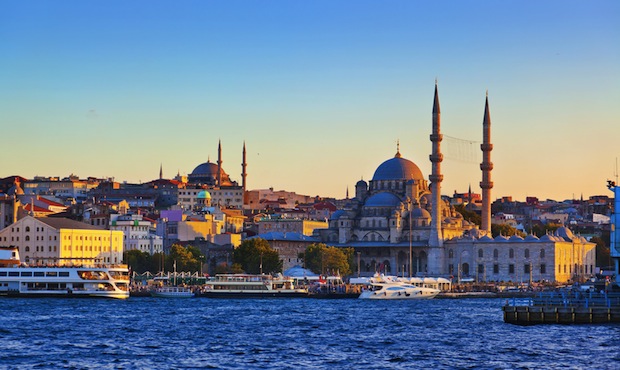 Last updated: 28 November, 2012
Istanbul – portrait of an ever-changing city
"Istanbul is growing really fast," smiles Osman with undeniable pride. He is nearly 40 years old and works in a large and fairly elegant café, tucked away in an alleyway nearby one of the most touristic areas in Istanbul, Sultanahmet.
As I was reading my newspaper he pulled up a chair and joined me, after asking for permission. "I moved here 17 years ago, I come from the south east area, where work is more difficult to find. Istanbul is the place to come when you want to make a bit of money in this country."
This rather friendly middle-aged man tells me that even though things have changed rapidly, business is moving slow. Has it been hit by the European crisis? No, he doesn't think so. The Germans and the Brits are still coming and spend a lot of money on food and beverages. As for the French, "always the same, they're still coming, but they spend less. They've always been more careful with their spending. I thought it was a rich country!" says Osman and laughs. "And yet they like it, and come over and visit it again and again, even though it has changed so much," adds Osman. Is it a good thing I ask him, "oh yes, we have to move on with the entire planet otherwise the country would fall apart, wouldn't it?"
An interesting comment about a city that throughout the years been the centre of attention, and often greed. A magnetic attraction, some would even say, which has led the place to bear three (still to this day) fascinating names – Byzantium, Constantinople and Istanbul – and managed four authoritative empires; Roman, Byzantine, Latin and Ottoman. This transcontinental city was also a strategic place where businessmen of the silk trade would stop, and sometimes settle down, which increased the city's prosperity and by extension its multiculturalism.
Even if the city-turned-republic in 1923 showed a slight economic slowdown, it has managed to regain a certain economic fervour since the 50's to once again become a centre of high desirability, with nearly 14 million people living here today. With one of the busiest airport hubs in the region, fabulous fashion and cutting-edge designers, as well as a certain – though sometimes shaken – political stability, Istanbul is back on the map with keen vitality and an average of 7 million visitors every year.
"We are growing fast indeed, but in what way?" asks Emirhan, a young man who runs a small boutique hotel in the trendy Galata district. "Our leaders haven't got a clue of what they are doing; they're building at the expense of quality and city planning". A development that sometimes surprises passers-by who look at buildings from the 70s mixed proudly in magical historical areas.
"That's not even the worst," adds Emirhan. "They're moving old people to suburban areas and ugly towers, miles away from the city centre. Then they restore some places and sell them at sky-rocketing prices or bash down entire historical districts to build new apartments; it's a real mess."
And yes it is true that the city has changed. On my first visit here, 21 years ago, Istanbul was still pulling the strings of what looked totally passé to European eyes. Most of the streets were not paved and a good (or bad!) rain would turn it into a muddy area of hazard, from sliding donkeys trying to keep their balance to men loaded with belongings stuck onto their backs attempting to painfully climb the steep streets of the town. That was in 1991, when George Bush Senior had declared war on Saddam Hussein and his invasion on Kuwait. Istanbul was still then the spitting image of pictures from the past, living in the chaotic world of what we thought was and wanted it to be, oh-so oriental, pleasing our nostalgic western minds.
But today skyscrapers have been erected, high flats' rents receive complaints, petrol has an average price of 1.91 Euros and both electricity and gas saw a huge price increase this year –9.26% and 18.72% respectively – ranking Istanbul the 34th most expensive city in the world.
"We have world big cities problems," sighs Emirhan, "prices are going up, there is more unemployment, and China is a threat to our national industries." And indeed try to find a pair of shalvars (traditional Turkish pants) or hand-made Turkish coffee cups and people will start raising their eyebrows and shrug, "oh no, no, not in Istanbul anymore, the best would be to head to small rural towns inside the country. There you will find some!" says a seller in the Grand Bazaar while pointing to a synthetic would-be pair of shalvars claiming, "they're as good!"
Eventually the man orders a cup of tea in an attempt to conjure up my despair. A tradition of warm welcoming, which years and evolution hasn't changed. This sense of hospitality seems to remain with no sign of change regardless of what is going on. Even today in times of political strain with its neighbouring countries.
Syria is of course on the top of local anxieties. "Is Mr Erdogan doing the right thing," I maliciously ask Osman, the bartender. "I don't know… I feel like we are doing our share with Syria…don't you think?" he replies. With approximately 125,000 Syrian refugees crossing the border to escape the bombings, Turkey is a key external player in this 21 months long conflict that is spilling over the country's borders a bit more every day.
Another subject every single Turk seems ready to discuss is the Prime Minister and his politics. This is a new thing in a country where political matters were not to be debated in public at all until very recently.
It is in this wonderful chaos that Istanbul in the year 2012 is rising as fast as the wind, with all the tension and pressure of a global city. A city, which hasn't lost its hospitable touch or the attitude that Su, a hammam expert in one of Istanbul's chicest hotel spas, says she appreciates so much. An atmosphere of chaos and smoothness she wouldn't know from her native Bali. But then again she's here for work, contributing to this ancestral megalopolis' movement and energy. In her case, it's the essence of Turkish baths, which is benefiting from her knowledge, mixing Asian techniques with ancient bathing practices. Thanks to people like Su, the city is never at rest, constantly remodelled and reinvented, beyond uncertainty and punctual divergence. That was and is the essence of Istanbul.