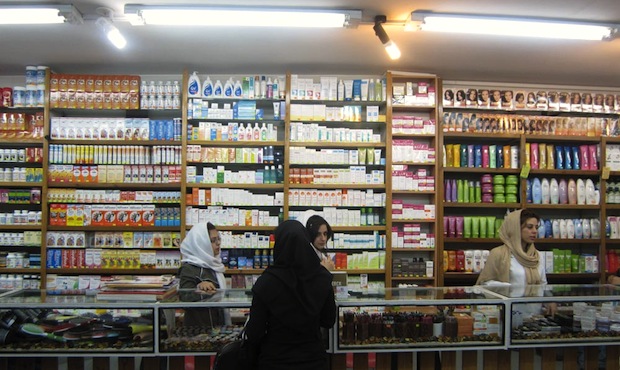 Last updated: 29 November, 2012
Medicine shortage in Iran: sanctions or mismanagement?
Iran suffers from a serious lack of medicine. Some important drugs for serious diseases are now scarce, affecting many people – mostly poor – and putting lives in danger.
Although medicines are not part the of western sanctions against Iran over the country's nuclear programme, many patients are unable to get the medicines they need due to a severe shortage in the country. As a result, the price of medicines has skyrocketed, making it impossible for the majority of Iranians to afford purchasing their immediate drugs.
"Medicine is not sanctioned by the U.S. and Europe; they have just set sanctions against transferring money to Iranian companies," said Dr. Arasteh, the head of the Iranian Thalassemia society to Baztab, a conservative website. "I think the main problem for the Ministry of Health is a shortage of currency. It seems the government cannot supply enough currency for providing medical care for Iranian patients."
Fatemeh Hashemi, the daughter of former Iranian president Akbar Hashemi Rafsanjani and head of the Charity Foundation for Special Diseases, stated in an interview with The Guardian that there is a serious shortage of medicines for a number of diseases such as haemophilia, multiple sclerosis and cancer.
"Those with thalassaemia or in need of dialysis are facing difficulties too – all because of sanctions against banks or problems with transferring foreign currency," she said.
In a report earlier this month, the UN secretary-general Ban Ki-moon also warned of the sanctions' significant effects on the Iranian population, including a shortage of medicine.
According to the Los Angeles Times, "the Obama administration has quietly eased restrictions on the sale of medicine to Iran amid signs that concern over the suffering of ordinary citizens could complicate an international campaign to punish Iran for its disputed nuclear program." Although US firms have always been allowed to sell medicine and medical supplies to Iran, special export licenses were required. These rules have now reportedly been eased.
"Many huge international companies have representatives in Iran. One of positive actions that have been taken by health ministry is bringing the medicine production line to the country," said Dr. Arasteh. "For example, a famous Swiss company has written a contract for producing 57 kinds of medicines in Iran. It shows international companies do not face any problem for cooperating with Iran. The problem is transferring money."
In this difficult situation, patients and their families are struggling to find the drugs they need. There are long queues in front of pharmacies and most people get disappointing answers.
A 37-years-old, tired-looking woman said that "my father caught Alzheimer's disease. His doctor advises to buy American or European medicine, but we cannot find it. Of course some dealers sell it but first of all they are not trustworthy, secondly it is extremely expensive."
A young girl has the same problem. "My mother has heart disease and her medicine is made in Canada. Iranian ones are fake. So my sister living out of country has been sending them for four years. But the medicine has not been delivered in recent months." Her friend adds: "I was injected with Hepatitis vaccine twice, but now I cannot find it for third time."
A young student talks about his four-year-old nephew who has diabetes. "Now we cannot find insulin and blood sugar test tape and lancet."
Another woman is extremely angry: "I went for a hormonal check-up around one month ago. They have not given my result yet and say there is a shortage of laboratory kits as a result of sanctions, so we cannot give your result on time."
An old mother says: "I was following my son's disease and understood that two hemophiliacs had died as a result of medical shortage linked to sanctions. I saw a father in a hospital near the capital who was shouting that he did not have enough money to prepare medical care for his son."
A man worriedly describes: "I went to a doctor last night and he said that they had been informed the medicine store of country would finish in two months."
A general doctor explains that acetaminophen suppositories, which are very necessary for infants, have become scarce because their covers are imported. Some medicines for blood pressure are rare as well, and tranquillizer tablets can hardly be found. He believes that the government uses this situation to pretend that sanctions put pressure on the people.
A spokesperson for the UK Foreign Office told The Guardian that the financial sanctions against Tehran are not intended to affect humanitarian goods and payments. "Whilst it is true that sanctions are having an impact on the Iranian population, this is compounded by the Iranian government's economic mismanagement. Iran's leaders are responsible for any impact on their people.
"My father got Parkinson's disease, and my son caught early puberty. I have been searching for their medicines for 10 days but cannot find them," a middle-aged man said disappointedly. "If my father does not get it, he will not be able to walk anymore. Meanwhile my son's drugs will have finished by next week." He thinks this problem is caused by sanctions.
Regardless if it is the international sanctions aimed at stopping Teheran's nuclear weapons programme or mismanagement by the Iranian government that is the main cause behind the medicine shortage, it seems clear that the true victims are ordinary Iranians.