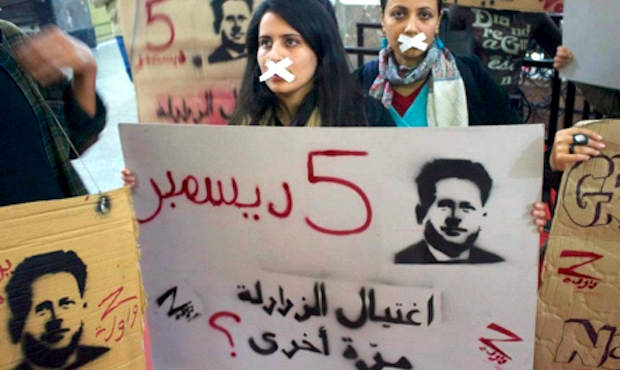 Last updated: 1 December, 2012
Graffiti in Tunisia: art or crime?
"Graffiti is not a Crime" is the name of a campaign and Facebook page launched to support the two young Tunisian students and Graffiti artists Oussama Bouajila and Chahine Berriche.
Belonging to a graffiti group known as "Zwewla" (The poor in Tunisian dialect), they were caught by the police on the night of November the 3 while they were drawing graffiti and slogans to claim the right of the poor to dignity, on the walls of a university in the city of Gabes in southern Tunisia. The graffiti was an expression of protest and anger against the hijacking of the revolution in Tunisia and to express the anger of the inhabitants of Gabes.
A few days later, Bouajila and Berriche found out that they had been charged with writing, without permission, on public property, breaching the state of emergency, and publishing fake news that could disturb public order. Their trial date has been set to December 5.
These were the slogans they had written:
– Where are the rights of the poor?
– The revolution is not a revolution of secularism or Islamism. It is rather the revolution of the poor.
– The poor are claiming their rights.
– Gabes is revolting.
– Your constitution is superior to everybody and everybody is superior to the poor.
– Proud to be from Gabes.
– Long lives Tunisia, Death to colonialism.
– Citizens claim the rights of the poor.
Due to the seriousness of the charges many people decided to stand by them. A support committee including artists, students, human rights defenders, singers, lawyers, politicians and actors has been formed to help them and to denounce what they consider an attack on freedom of art and freedom of creativity and art.
During the week of the Carthage Film Festival, many on-ground actions have been organized to make people aware of the case and to gain support. These include graffiti work displayed outside theatres as it is shown in the photos above and videos below:
http://www.youtube.com/watch?v=othAgNYyTlE&feature=g-crec
http://www.youtube.com/watch?v=3k3ZSR_cqrw&feature=g-crec
Despite the fact that many people consider graffiti as a kind of vandalism this case has been denounced by Tunisian civil society. It has come back to old practices of aiming to muzzle free voices and young people in Tunisia. The support provided to "Zwewla" is recognition of the right of everyone to express their views freely without any restrictions, as long as it is within the scope of peaceful protests.
Lina Ben Mhenni is a Tunisian Internet activist, blogger and a teacher at Tunis University. She has been awarded the Deutsche Welle International Blog Award and El Mundo's International Journalism Prize. You can find her on Twitter @benmhennilina
The views expressed in this article do not necessarily represent those of Your Middle East.