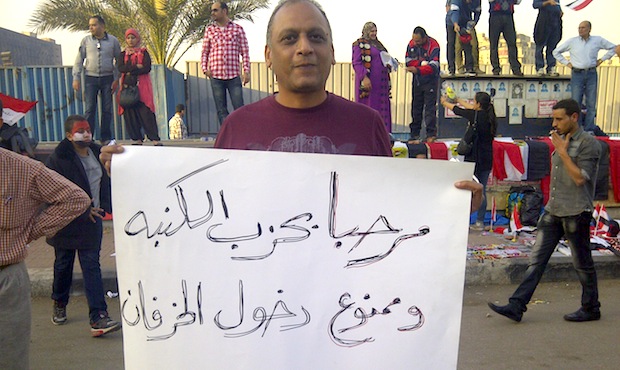 Last updated: 4 December, 2012
Morsi makes Egyptians leave their couches
Hossam Ali didn't care about politics. An admittedly "passive citizen," he didn't participate in any of the protests that toppled Hosni Mubarak, nor did he vote in the first parliamentary elections held after he was ousted.
On Friday, November 30, he walked around Tahrir Square where mass protests were held against President Mohamed Morsi's recent declaration, proudly carrying a sign proclaiming his membership in the "Couch Party."
"There is no reason I should stay home anymore," he said, explaining his reason behind joining the protests. "I am against the Brotherhoodization of the state, all of Egypt's institutions are led by either Muslim Brotherhood members or someone aligned with them."
"They woke me up," he said.
Late last month, President Morsi issued a game-changing constitutional declaration giving himself sweeping powers and protecting his decrees from judicial oversight. This sparked nationwide protests and an ongoing sit-in in Tahrir Square until he rescinds his decree.
The protests, namely 'million-man marches' held on Tuesday and Friday, drew a large number of first time protesters to Tahrir. These citizens were long branded members of the "Couch Party," a silent bloc who watched events unfold on television from their "couch" but never actively participated in any of them since the January 25 revolution.
Ali, who used to work in tourism, explained that he lost his job when his sector was hit hard after the revolution. He said that he himself voted for Morsi in hopes that he would work towards fixing the ailing economy.
"I haven't worked in two years and I cannot afford to maintain my standard of living," he said, "I thought Morsi would do something about that."
Ali was not the only one new to the protests on Friday. Randa Youssef marched to Tahrir Square carrying a sign listing the so-called Couch Party's demands, which included canceling the constitutional declaration and disbanding the constituent assembly that is tasked with drafting the constitution.
Youssef said she has been following the events on her television until she realized that Egypt was not on the path for reform.
"There are so many wrong things with (Morsi's leadership), he divided us."
While Morsi's decree drove people to the streets to denounce it, counter protests were also organized, drawing hundreds of thousands who rallied in support of the president.
During one such protest staged in front of the Presidential Palace, Morsi came out to address his supporters. For Samia Shatila, this speech was the push she needed to participate in mass protests for the first time.
"Even though I didn't vote for him, I thought it would be ok," she said, "I thought he could be a president for all Egyptians, but it turns out he's only the Muslim Brotherhood's president."
Shatila believes that all of the president's decisions are dictated by the Muslim Brotherhood's Supreme Guide Mohamed Badie. "All the chants here (in Tahrir) are against Badie, they're not even against Morsi and that's very telling."
Although her daughter did not want her to participate in the protests out of fear that they might turn violent, Shatila insisted, saying she was fighting for her. "The constitution is being drafted for my children and grandchildren, I am protesting for them today," she said.
Morsi's controversial constitutional declaration also drove Sarah Youssef to participate in protests for the first time.
"Things are getting out of hand, and we all have to unite and say no," the self-proclaimed member of the Couch Party said, adding that she always made excuses for not joining protests.
"I always thought to myself the protests aren't big enough and there aren't that many people in the (Tahrir) square so it won't make a difference… but I realized that if I wanted to see change I have to be there myself."
Sarah Youssef said her parents were also reluctant to let her join protests before, but after the recent "dictatorial" decisions, they were leading the protests themselves.
"We put our fears aside because the cause was strong," she said.
However, some of the newcomers, like Shatila, had different reasons for abstaining from the protests before. Shatila says she was against the January 25 revolution to begin with, partly because she foresaw a Muslim Brotherhood takeover.
While normally Shatila would be on the opposing side of veteran protesters, most see the value of strength in numbers.
And for that, Ali says he thanks Morsi and the Muslim Brotherhood "for uniting us and bringing us all to Tahrir."