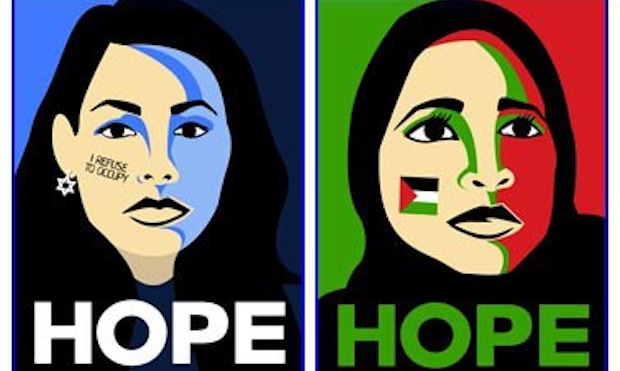 Last updated: 6 December, 2012
Peace during war: Israel loves Palestine and vice versa part II
Following the Gaza war, Noa Provizor from 'Israel loves Palestine' and Joujou from 'Palestine loves Israel' share their thoughts once more with Your Middle East.
"I was on Facebook almost 24/7 chatting with people from Gaza and Israel and I could feel their trauma… It hurt me so much," confessed Joujou from Palestine loves Israel, a German-Palestinian editor whose father was born in a refugee camp in Lebanon. "Now, more than ever, it is crucial that we unite for peace, and that was my goal during these stressful days," she stated.
Noa Provizor, the Israeli bag designer who administrates the Facebook page Israel loves Palestine, tried to humanise the parties involved because "the main point of Israel loves Palestine is to portray the people of both sides as 100% human beings". Noa believes that "war time is a test for people to remain strong, so the events will not affect the communication process that the campaigns are creating."
RELATED STORY – Israel loves Palestine and vice versa
Joujou's and Noa's Facebook pages, both linked to the organisation Peace Factory, became very popular during the escalation of cross-border fire. "We literally exploded with new followers, we gained 4.000 new followers in one week, and our total global reach was about 400.000, which means that 400.000 people saw our updates without necessarily liking the page", explained Joujou.
"During this time we received messages from all over the world showing support and love for both the Palestinian and the Israeli people. What touched me the most were the messages from Israelis and Palestinians who were in the middle of the war but still sending their love to the other side. I saw very much love during these days, much more than I would have ever imagined in a war, and that gave me hope."
On the other hand, Noa said "with deep sadness" that it was the escalation of violence that brought many followers, although "most of the followers of Israel loves Palestine reacted beautifully and showed support for peace.
"Suddenly, Channel 2 from Israel, Middle East TV and two radio stations wanted to talk about Israel loves Palestine because war sells. My conclusion is that the media wants to sell peace when it's war, like a western doctor that is giving you a pill when you suffer instead of teaching you the way to prevent the suffering…very sad," she said.
Joujou and Noa shared with Your Middle East some of the comments they received from their respective followers from all over the world and from Israel and the Palestinian Territories.
Janneke, from Sweden, wrote: "Your sites, your spirits and your messages helped me to stay focused. Not to choose sides, because there is only one side and that is Peace". Pamela, from Texas, expressed her gratitude in a short message: "I am so thankful you made this Facebook page. It helps break down all the horrible stereotypes of both sides."
Sivan, an Israeli citizen, thanked the Peace Factory campaigns as well: "I have learned from these Facebook pages and I have discovered that what I believed all along in my heart WAS TRUE!!! There are people on the other side who feel just like me!! Who want peace!!… Many times I went to sleep crying and woke up to find messages from your pages which gave me hope and brought a smile to my aching heart!! Thank you."
Zari, an Israeli citizen, commented: "If they built such a great a wall, we can build better bridges", and Salim, a Palestinian, asserted: "I think that actually we all want peace and war is the only real enemy".
For part one of this series, read Israel loves Palestine and vice versa.