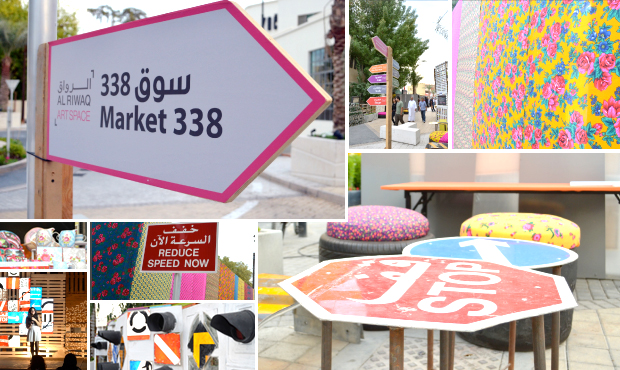 Last updated: 10 December, 2012
Bahrain's Market 338: social hub and cradle for the design industry
"It is also a great place simply to hang out, a refreshing change in a country dominated by shopping mall culture."
As restaurant goers in Manama's chic Adliya district wander back to their cars this week they will come across glass bottles, car tyres and damaged road signs. In other parts of Bahrain this would cause many to turn around, but here in Block 338 these objects are public art and they lure people on towards Market 338, a temporary outdoor venue of art and commerce which is proving to be a cradle for Bahrain's design industry.
Now in its third year, the market has brought the traditional souq concept up to date and is a platform for fledgling designers to market their wares direct to the public in a bid to boost Bahrain's design culture and creative economy.
It is also a great place simply to hang out, a refreshing change in a country dominated by shopping mall culture.
Organised by Al Riwaq Art Space, a non-profit space that promotes creativity and public engagement with art, Market 338 has evolved over three years from a few simple booths to a daily offering of 20 stalls that will showcase 40 Bahraini, regional and international designers over a three week period. Live music, talks, workshops and public art from recycled materials are also on offer.
The entrepreneurial concept appears to be working and a number of now successful brands have cut their teeth in the Market 338 stalls. In fact, explained artistic director and architect Sarah Kanoo, "a lot of them actually started branding and everything for this event," showing the initiative's entrepreneurial potential.
Market 338 successes such as DayN'age and Haraka are great news for the designers and good news for Bahrain, a country always looking to diversify.
"I think in Bahrain there is this attitude of importing art, design, music etc. So we are trying to do the opposite, to bring it from within, to excite people and have them design. We have a lot of creative people in Bahrain but they just never feel motivated enough to do it, they never get the chance or the platform to show themselves," said Kanoo.
The lack of sustainable infrastructure for designers presents problems.
"For example, if you are a clothing designer and you get picked up by a label in New York, you might never come back to Bahrain. They just don't stay connected. So I think this is an opportunity to create opportunities to stay and be a designer in Bahrain," said Kelly Hubert, Al Riwaq's Communications Coordinator.
Looking at the sleek white walls of Al Riwaq in the neat, pedestrianised haven of Block 338, and reading their promotional literature that talks of "creating a Bahraini design identity" with Bahrain Economic Development Board and British Council sponsor logos on prompts the question of whether a genuine and sustainable creative community can be 'created' through such hothousing.
Although Al Riwaq does aim to promote creativity in the region and act as a hub for artists, musicians and designers, the processes at work around Al Riwaq appear to be more organic than may initially seem.
"I think each project takes its course and something comes out of it," said Kanoo. "We see how the public responds to us and we build on it. We don't know where we are going but we know we want to serve the public. We want to be engaged, we want to excite people so it just goes with the flow."
"People come up to us saying 'actually I have a cool idea, actually let's do this'."
Getting people engaged is what leads to Market 338's popular mix of art with industry. "You need to get people excited even if it is not within the stalls," explained Kanoo. "When the market is closed people can still walk around and enjoy the area because of all the public art."
"I'm surprised at the amount of people that have been interacting with the seating," she added.
The souq may be for new designers "but we also do not want to just be really modern and forget our old souqs because our old souqs are beautiful as well."
A number of vendors commented on the usefulness of getting to meet customers face to face in a business world where start-ups exist mainly in cyberspace. Social media and internet retailing has its advantages, but it seems there is no substitute for old fashioned face-to-face interaction.
Market 338 runs from 29 November to 15 December 2012.