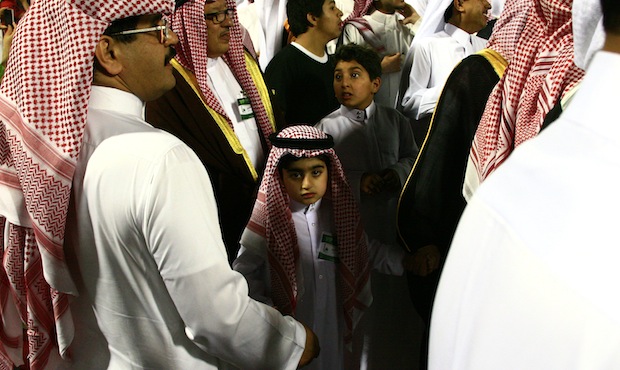 Last updated: 14 December, 2012
When love goes wrong: Saudi children left behind in the U.S.
A boy in a shemagh and agaal – a traditional dress in the Arabian Peninsula – smiling into the camera lens. The nice picture belies the true meaning of this US based blog called Saudi Children Left Behind, which tries to reunite the abandoned offspring of Saudi men by American women.
"We tried everything before I decided to create Saudi Children Left Behind; some of us tried to get a resolution between our ex's families and us but they just ignored us, or gave us false promises," said the founder Jenniffer Crystal.
She had a very personal reason for launching the site, which is specifically for anyone who has had a child by a Saudi visiting student, or is a child thereof.
"Saudi Children Left behind was created over a year ago by myself, during a difficult time in my life. I have a child with a Saudi man who was on a student visa," she said. "In the small town I live in there were several other women in the same situation I was in and I wondered if the problem was so large where I lived, maybe there were more women out there who I could benefit from having a site like this."
Indeed, Saudi Arabia is not a country that is easy to deal with in terms of seeking alimony or support for unwed, foreign mothers of Saudi fathered children.
"The site is open to any one who has a child with a Saudi student or is a child of one of these men. I have found through this year that this problem has gone unchecked for over 30 years," Jenniffer Crystal said. "When the site became more popular I was contacted by children of Saudi students that were now adults themselves and had spent their whole life wondering about their father who abandoned them as babies to return to Saudi Arabia."
Saudi Arabia has long sent young Saudis to the United States for further education and training, usually to colleges in the Midwest or West Coast. However, since 2004 those numbers have rocketed. According to the U.S. State Department there were only 1,000 Saudi students in the U.S. in 2004, and yet this academic year has seen over 66,000 young Saudis enrolled in U.S. institutions. Under the King Abdullah Scholarship Programme of the Saudi Ministry of Education, Saudis benefit from paid tuition fees and a living allowance whilst abroad.
Coming from a country with high youth unemployment rate, poor higher educational facilities, and a job-market demanding good English skills, the prospect of being able to spend three our four years studying in the U.S., UK, Australia, or other Western countries is enticing.
Yet, for all the educational merit of the programme, it is quite a culture shock and adjustment for the young Saudis. Frequently they go straight from the conservative Saudi Arabian society to the U.S. with no transition. Many are then exposed to a variety of new experiences, such as women, alcohol, or drugs. The temptations are great, but the consequences are often heavy; and an unplanned pregnancy is one of them.
Jenniffer Crystal points out that many of the women involved were in long-term relationships with these Saudis.
"I would say that they are typical in the way every woman was lied to by these men and how when the news of the pregnancy was heard by the fathers they insisted on an abortion. I think it is important for people to know that these relationships were not one night stands these were long time relationships – three years in my own case," she told Your Middle East.
"Women were often told they would marry their Saudis only to find after they have a child the men pretend these relationships never happened. It's heartbreaking."
One such story to be found on the website is that of Joseph – aged 3 – who is the son of a one time student at the University of Findlay in Chicago. His mother writes in an open letter to the Saudi family of Joseph's father:
"Joseph will be 3 years old in May, he is a bright wonderful child that is so full of happiness. My beloved husband has chose to raise Joseph as his child and Joseph has taken his last name. Please know my intent is not to marry your son or have him be a father in any way that would be detrimental to the child. I do ask for any medical records that are relevant to my sons health be available."
There are many more cases like this on the site, some more story is that of Lisi, who met a Saudi man in 1981 in Philadelphia and they had a child. However, when he finished his studies, he returned home to Saudi Arabia, leaving Lisi alone.
"My life was totally ruined. I was having financial problems and I depended on the government (welfare) for food and cash assistance for it was not enough to pay for apartment and utility bills. Then the landlord decided to change the locks for I couldn't pay rent, then me and my son were homeless, but thank God, a good friend took us in until I found a cheaper apartment. I lost everything…I experienced a lot of pain and suffering for many years due to the fact that Berik did not live up to his promises to his son."
The website's aim is to reunite these children with their fathers; it does this by publicising their names, the love-stories they had with the mothers of the children, and photographs of them. It disseminates these through the blog, email lists, and social media. This summer, the blog was one of the top trending topics among Saudi users of Twitter, showcasing its impact.
Nevertheless, for mainstream Saudi society, sex before marriage is alien; having a child out of Islamic wedlock is incomprehensible. Therefore the fathers of these children risk social stigma and ruin in Saudi Arabia; it would be viewed as, at best, a poor decision, and at worst, a complete rejection of Islamic beliefs and societal tenets.
It is little wonder therefore that the father of Joseph, in a message written to his son before he left, said: "I wish you a wonderful and enjoyable life, my life is very difficult, and still very difficult, all the decisions that I have made were so difficult, none was simple." It is highly likely that many of these young Saudi fathers, faced with the dire consequences, choose to opt out and cut off contact.
The blog is still in its infancy. The prose is patchy, the layout haphazard, but it does have a serious message. It is not one of xenophobia or anti-Saudi rhetoric, but rather one that is about attempting to get children back in touch with their respective father, and create a specialised forum for those who need help.
"I would like to say that during this whole process I was able to find comfort in some of the most amazing people. The people on the blog have come together in a family of sorts and we have a support system that we did not have before the site," Jenniffer Crystal stressed.
In spite of the comfort drawn, it is still hard for all parties to seek redress officially, and indeed the Saudi Consular authorities are seemingly uninterested.
"The other way the stories are similar is the way the Saudi embassy has handled our cases. Every time the embassy has been contacted they say they cannot help and hang up. If you are lucky enough to get someone to listen to you they promise to help and then they to are never heard from again."
The cultural attaché at the Saudi embassy in Washington, Dr. Mohammed Al-Eisa, recently told the Al-Hayat newspaper that the embassy is going to force DNA testing to prove paternity on the Saudi men who have children while studying abroad. He said that students who refuse to submit a paternity test will be sent home to Saudi Arabia, reports Akhbar24. At the same time, he noted that there are in fact only a handful of cases.
"Their numbers are way off the mark since I personally have been contacted so many women who have had the same problems with the embassy as everyone else on the blog," Jenniffer Crystal wrote in a comment.