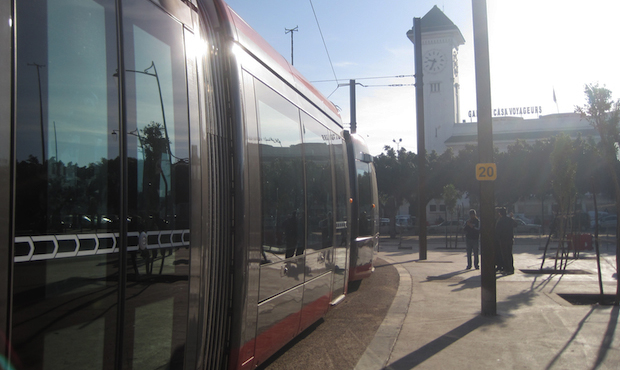 Last updated: 17 December, 2012
Casablanca's first tramway line inaugurated
On December 12, Morocco's King Mohammed VI officially opened Casablanca's first tramway line, which is aimed to reduce traffic, air pollution and drive economic development in the North African metropolis.
The route is approximately 31 kilometers long and has 48 stops encompassing all of Casablanca's major neighborhoods. The line is Y-shaped and includes stops such as the central train station, Casa Voyageurs, and the main square, the United Nations. The tramway is Morocco's second, after the capital's Rabat-Salé tramway, but it is country's largest with respect to both the length of the route and the number of stations. Although the tramway stays entirely above the ground, it is comparable to a metro with regards to its number of stops and crossings.
The tramway offers Casablanca's residents a new, inexpensive way to travel around the city, with each trip costing six dirhams (= 0.75 USD) regardless of length. The tramway is expected to reduce traffic in Casablanca by complementing the existing bus and taxi networks. Further, it is expected to further the city's economic development by directly and indirectly creating jobs. The project cost 5.9 billion dirhams.
But not everyone is thrilled. The tramway threatens to put Casablanca's "grand taxis" out of business. These taxis charge a low fixed price regardless of distance traveled per passenger, traverse a fixed and established route, and accommodate six passengers at a time. However, the tramway's comprehensive route offers a similar service at a competitive rate.
"Casablanca's tramway faces a whole new set of problems compared to Rabat's–Casablanca…it is much more crowded than Rabat and has a traffic problem on a whole other level. Given this, we are very happy about the project," Idriss Aarabe, a graduate of Hassan II University, Faculty Ben M'sik, commentsed.
"However, I'm a little worried that the people here don't know how to use the tramway, as this is our first encounter with a tramway. We were not stressed the importance of carefully avoiding the oncoming tramway or instructed on how to purchase the tickets. Already, cars have run into the tramway, not realizing that it will not stop for them, and residents have been confused about the ticket's cost. I think the companies in charge of the tramway should make sure residents understand how everything works."
Regardless, thousands of Moroccans watched excitedly as King Mohammed VI, along with French Prime Minister Jean-Marc Ayrault, and the head of the Moroccan government, Abdelilah Benkirane, carried out the tramway's inaugural trip between the United Nations square and the Mohammed V square. As music played and the polished environmentally-friendly tramway made its first trip through the city, hopes seem to have increased for a brighter, cleaner, and more traffic-free future in Casablanca.
Theodora Skeadas is a regular contributor to Your Middle East. Since graduating from Harvard University, she has been working in the NGO sector in Casablanca.