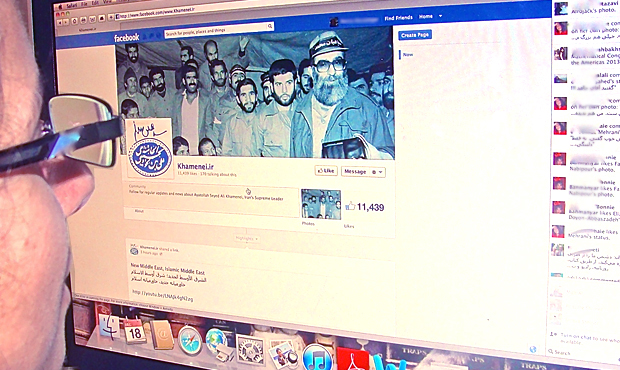 Last updated: 19 December, 2012
Khamenei's Facebook page and Iran's cyber space
Iranian journalist Omid Habibinia explores the delicate dynamics of Khamenei's activity on Facebook and Internet usage in the Islamic Republic.

During my routine round of monitoring Iranian news a few days ago, I came across reports that the Supreme Leader Khamenei's office had joined Facebook. I immediately checked Facebook and it was there; joined five days ago and with some 300 likes. There was not many posts or photos yet, and so I also checked his official website, but there was no visible link to Facebook.
I posted the news on Facebook and suddenly lots of Iranians went to Khamenei's page, some even started to post funny or revile comments. Surprisingly, by the end of the day his page had gained 7000 'likes' and even reformists journalists joined in, advising the leader to use better content and photos. The news spread in most major Persian and international media.
Khamenei's office had joined instagram last summer and Twitter before that. All of these social networks are forbidden for "ordinary" Iranians, but it appears Khamenei's office targeted international and mostly Shiite communities in the region.
According to the cyber rules in the Islamic Republic, using Facebook is prohibited; in fact there are lots of warnings for students and employees to not use Facebook, or otherwise you will be in big trouble. The Cyber Police asks people in TV advertisements and city billboards to be aware of spies and national security dangers over Facebook. Even in exhibitions and military marches, Facebook and YouTube have become symbols of Satan or Western invasion.
The Islamic regime got its lesson during the protest movement after the election show in 2009 when photos, news and videos of demonstrations were widely spread on Facebook, YouTube and Twitter. After that, the government increased efforts to limit Internet access for a population of between 35-42 million Internet users.
On the other hand there are copy-cat social networks for those who obey Islamic rules, but these remain completely unpopular.
Facebook is not simply a tool for communication with other activists, which evidently has not resulted in the expected uprising, but is also serves other purposes such as mere fun and keeping track with friends and family around the world. With more than five millions Iranians in the diaspora, Facebook is one of the most popular websites for many Internet users in Iran.
These possibilities brought Khamenei to a Fatwa that goes against using Facebook in an anti-regime manner, while noting that it may be allowed to communicate with family.
Many of the comments on the Supreme leader's new Facebook page were deleted after a few hours. For example, quite a few people wrote about Sattar Beheshti, an Iranian blogger and Facebook user who was recently murdered in jail while arrested by cyber police for his activities online.
One question was "how could you kill Sattar and at the same time join Facebook?" Some started to encourage others to report the page with an 'I just don't like it' option, saying they won't give way to the dictator on Facebook.
As more people are heading to the page to post their comments, it seems Khamenei's office will be busy deleting unwanted views. But pro-regime users will also show their face by 'liking' official posts. To be sure, there is a battlefield on the social media giant's turf.
Supporters of the Ayatollah wrote on the Facebook page that he was the target of agents who tried to bring down the Islamic revolution and that they had to defend him and their cause against the psychological war of the enemy. Meanwhile, in one of the most recent comments at the time of writing, a user opposing the Iranian ruler wrote:
"Supreme Leader, you deleted my comment, but I will write it down again and again. You have no legitimacy, there is no election in Iran and you killed many opponents, suppress the press and people demonstrate in a simple word – you are a dictator great Ayatollah, and you will find yourself in the history trash bin like other dictators sooner or later!"
Omid Habibinia is an Iranian journalist and media researcher, and the co-founder of the International Association of Independent Iranian Journalists. He recently wrote Iranian journalists – tears and hope.
The views expressed in this article are the author's and do not necessarily represent those of Your Middle East.