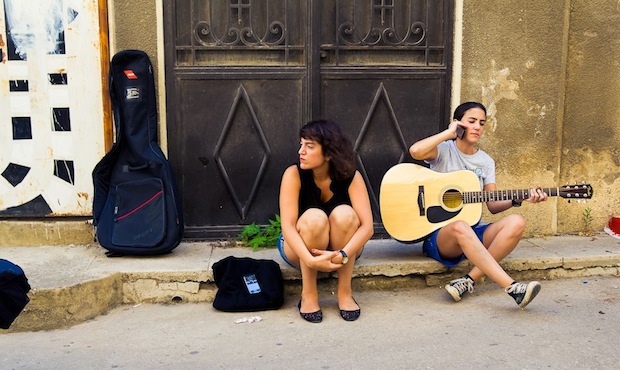 Last updated: 21 December, 2012
Arabizi – does the Levant youth speak Arabic these days?
Technology is a key driver of a modern trend where young Arabs mix English with Arabic and use the Latin rather than the Arabic alphabet.
"Hi, kifak, ca va?" If you have heard this phrase before it's either because you've been to Lebanon or you've seen someone foolish enough to buy the t-shirt (sorry Mom). Yet while the population of Lebanon and other areas of the Levant region are said to have been multilingual for centuries, a new craze has come to the forefront of society over the last decade, mostly thanks to the spread of mobile phones.
Arabizi, as its known, is the Arabic language alphabet written with Latin letters. Dr. David Wilmsen, a professor of Arabic at the American University of Beirut who has written extensively on linguistics says he believes Arabizi came about due to more widespread use of mobile phones.
"The first telephones that came out were very expensive so only those who could afford it would own one," he said, adding that due to the lack of demand in the Middle East most phones' keyboards came in English. This wasn't a big problem because those who could afford a phone were educated and spoke English. From here "terminology and concepts were just adopted," Dr. Wilmsen said.
"I don't hear people use risala, they use message," he said.
With the increased use of the Internet and short text messages, some Arabic speakers decided to utilize the simpleness of the English keyboard on their phone. The result was Arabizi.
The Arabizi alphabet is mostly a straight transliteration into Latin characters, but there is still the challenge of Arabic letters that don't appear in English. For this, numbers were used as substitutes. For example, the Arabic word for 'hello' is written 'mar7aba' with the 7 equalling a hard 'H' sound.
While phones in the Middle East today may be capable of typing in Arabic, some Lebanese like Bruna Kesserwani, the Middle East Regional Director of the World Youth Alliance still find it easier to type in Arabizi despite using Arabic and English for her work and personal life.
"Given the fact that English is the current lingua franca and that most technology is originally in English, this blending is necessary."
As Dr. Wilmsen explained, "technology comes with concepts so when terms are brought these are always concepts.
"That's basically how languages adopt foreign vocabulary in whatever the language is. They come in contact with something that is not an idea that's current within the speakers of that language and they adopt the term."
One such case is Jordan, a country that has some of the highest literacy rates in the world and where English is widely understood by the middle and upper classes.
"When people are becoming literate they are becoming literate in English also, so you just can't help using terminology if you are using a second language," Dr. Wilmsen explained. "It's also a phenomenon in Egypt. The young like to show off they're educated and it's cool to use western trends as an emblem of sophistication."
Yet while the use of Arabizi may be convenient it isn't seen as a universally positive tool. Dr. Wilmsen says he first became aware of Arabizi while living in Egypt in the mid-1990s when mobile phones weren't widely used.
"The practice had detractors, they would say that the youth these days don't speak Arabic."
Jubran Elias is a web and graphic designer who uses Arabizi not just on his mobile but while speaking too. Elias however believes that speaking Arabic is important for Lebanese people, "I prefer to keep the Arabic in our culture since the language is the most important thing to distinguish other cultures."
For her part, Ms. Kesserwani recognizes it might hurt the language. "For the most part I think it's bad from a cultural and linguistic point of view."
But despite her forthcomings, she maintained that Arabizi is useful and won't go anywhere anytime soon.
"Have you ever tried saying computer, calculator or excel sheet in Arabic?" Ms. Kesserwani asked.