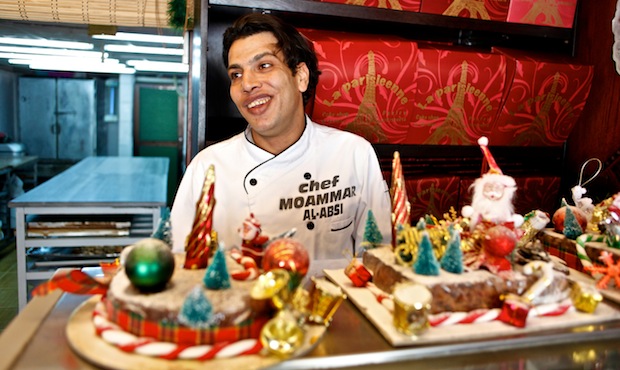 Last updated: 24 December, 2012
Christmas in the Middle East
Although not a Muslim holiday, Christmas can be found in the Middle East as well. Your Middle East's correspondents have taken the pulse on the Christmas spirit around the region.
Jordan
Usually the beacon of Christmas spirit beams from Fuheis, a majority-Christian town about 20 kilometers northwest of the Jordanian capital Amman. Normally known for their yearly tradition of the large holiday tree that is erected in the center of town, this is the first year there has not been one. Disappointed visitors and residents can istead travel to Madaba, another city in the south, to see an impressive tree display.
Nevertheless, for Ammanis and tourists in the capital, Christmas is still easily found in storefront windows, hotels, holiday souks, parties and even on the radio. But as every person knows, nothing evokes Christmas more than the taste and smell of cookies and cake.
Not many places in the city embody that dessert part of the holiday like La Parisienne bakery. Chef Moammar al-Absi does not celebrate Christmas, but loves making the flavor of it for his customers when this time of year comes around. For this veteran baker, making these holiday treats for his patrons is what makes him happy. Particularly his brand-new recipe for his "Christmas cake."
"I don't like cooking. I like making the sweets and decorating these cakes. I love them," he said proudly as he displayed his works of art.
Lebanon
Santa would be mighty thrilled with Lebanon's Christmas spirit. For a country that is not entirely Christian, one would be surprised by its over-the-top presentation. And the majority of the nation joins in on the fun.
Malls feverishly compete for the most dazzling lights, the grandest tree and the most eye-catching technology. Social suicide is recycling last year's decorations. Passersby are bombarded with a fusion of the strangest creations, with bigger being better. This year, Swarovski set up their towering tree in Zaytouna Bay, ornamented with the assured passersby taking snapshots by it.
Nonetheless, the limits of a budget haven't stopped anyone from joining in. A few too many shops make good use of a can of snow spray. Mini markets set up booths outside their shops, with synthetic trees and a-dollar-a-string lights scattered around to attract pedestrians.
In the grand scheme of things, Lebanon celebrates the holiday similarly to the West – with a few local twists (where else do you find rundown taxis with seats topped off with Christmas hats?)
Radio stations play Christmas music all season long, leaving a trilingual mess of a melody on loop on listeners' tongues.
Unlike most Middle Eastern countries, some regions in Lebanon do experience an enchanting white Christmas. These humble areas witness a sudden intake of people rushing to spend a weekend in their wonderland. Other areas experience an adequately cold one, enough to light up the fireplace, munch on roasted chestnuts and welcome the much-awaited 25th.
Palestine
Situated within the occupied West Bank, Bethlehem is a town world renowned as the birthplace of Jesus Christ. In contrast to the relatively docile tourism industry throughout the rest of the West Bank, during Christmas thousands of locals, tourists and pilgrims flock to Bethlehem to get a taste of the festivities.
Christmas events primarily take place in the city's Manger Square. It is here that the Church of the Nativity resides, built atop the sight where Jesus is said to have been born. A monumental tree has been erected in front of the church, towering above the square at 55 feet tall, housing 40,000 lights and 6,500 baubles.
Throughout the days surrounding Christmas the square becomes a bustling cultural hub featuring performances, processions and much more. Thousands of people lined the main streets of Bethlehem on Christmas Eve as they were passed by the procession of pipers, drummers and willing marchers.
On Christmas Eve, mass is held at midnight in the Church of the Nativity by Fouad Twal, the Latin Patriarch of Jerusalem. In his Christmas message last week, the Patriarch recognised the upgrade in membership for Palestine in the UN as "a step towards peace and stability in the area." He also condemned religious based attacks in the area, calling for greater education of youth in this respect.
Over the Christmas period and even throughout much of this year, the tourism industry in Bethlehem has been prospering. The Palestinian Ministry of Tourism and Antiquities has estimated that around 115,000 internationals visit Bethlehem during Christmas and a further 35,000 from within the West Bank. According to the ministry all hotels have been booked out in the city.
At this point of year, the city becomes a contradiction between its festive, busy appearance and the huge struggle much of its population faces throughout the rest of the year. A large percentage of Bethlehem's population reside in the city's three refugee camps; Aida, Dheisheh and Azza.
"We have a hard life here, there is no work for the people," one resident of the Aida camp who wished to remain anonymous told Your Middle East. "There is no place for children, everything is hard. We hope that this life will change. And we need this for all the world; Christian, Jewish, Muslim. There is no difference. I wish that Christmas would come and make all the people happy."
Turkey
A bridge between East and West, Istanbul has embraced the Western symbols of Christmas by integrating them into the celebration of the new year. At night, apartment windows and office buildings glow with the lights of newly decorated Christmas or "new year's" trees and both shopping centres and the two major streets of the city, Istiklal and Bagdad Street, are adorned with Christmas decorations hanging over the street; lighting the way for frantic shoppers wanting to finish their gift shopping.
Istanbul is no stranger to the commercial influence of the occasion, with "buy one get fifty percent off the second purchase on kitchenware and 'perfect choice for Dad'" slogans encouraging consumers to shop and reinforcing the tradition of placing presents under the tree to give to friends and loved ones on New Year's Eve. And, said to bring luck for the year to follow, one must not forget to grab a pair of red underwear sold across all retail outlets to wear on New Year's Eve.
Parallel to its historic position in the Ottoman Empire, Istanbul also retains a silent celebration of Christmas away from the public eye, the tradition being carried on by the Orthodox Jews and Armenians and Christians still residing in the city once known as Constantinople, not to forget Istanbul's thriving expat population.
Commencing on Christmas Eve, Christians can attend Christmas masses which are held throughout the two days with the St. Antuan church being one of twelve churches offering masses in one or more languages together with Christmas Hymns, while Armenians celebrate in accordance with Orthodox tradition on the 5th and 6th January together with close and extended family. Traditional Armenian mezes such as "topik" and "bean plaki" are served together with roast turkey, chestnuts and almond rice, which has also found its way onto their menu. While most local residents, myself included, prefer home cooked Christmas Day meals with their families, major hotels offer a Christmas dinner for their own guests and Molly's Café, a small café in Beyoglu, is known for serving up its traditional Christmas dinner each year.
Egypt
This Christmas, the Grinch paid a visit to Egypt in the form of a draft constitution that further deepened the divide in Egypt's already polarized society.
Egypt's Christian minority, as well as a large chunk of the Muslim majority, are feeling more marginalized than ever as the gap widens between the country's Islamists and the rest of the population.
Holiday decorations can only be seen at Cairo's high-end shopping malls or hotels, whereas the rest of Egypt is wrapped up in the constitutional crisis that is drowning out any festivities.
Instead of Christmas trees and lights, our streets are rather adorned with cement walls sealing off a sit-in around the presidential palace – the scene of a bloody confrontation earlier this month between Morsi's supporters and opponents – and in Tahrir Square.
This Christmas, Egypt is praying for the unity that brought its people together during the 18-day uprising, when warmth and joy were truly felt.
Bahrain
It is true, that peak of the holiday season in Bahrain is New Year's Eve, where the country hosts major parties and goes into a large wave of sales. However, the season still has it special moments with Christmas.
Because there is a minority of the Bahrainis who are originally Christians and because many – if not most – of the expats in the country are Christians, you could find Christmas celebrations behind the doors of some neighbours. In fact, some Muslim Bahrainis do also celebrate the event.
"We hunt the happiness my dear," Mona, a Bahraini poet who held an early Christmas celebration with her three children commented regarding her attention to the event. "It's not the religious aspect that only matters, what is important is the spirit that you acquire while participating others with happiness."
In Manama, which could be counted as a cosmopolitan city, the Christmas decorations are found in malls, restaurants, and even the business centres.
Yes it might not be so flashy, but who said that Christmas is suppose to be? Isn't it about peace and tolerance? Isn't it about uniting the family? And to help mankind be prepared for a new year full of goodness and kindness? If this is the case, Manama might be one of the cities that genuinely celebrates Christmas eve!
Iraq
Behind blast walls and with police nearby, 200 worshippers attended Christmas mass Monday at Baghdad's Our Lady of Salvation Church, which officially reopened this month after a massacre in 2010.
Sat in wooden pews with a two-metre (six-feet) high inflatable Santa Claus and a Christmas tree placed at the back, many cradled young children as a sermon was delivered with other youths playing in the church's courtyard.
Atop the church stood two Iraqi security forces members with rifles, while people who wanted to go inside were frisked at the entrance to the church compound, surrounded by four-metre (12-feet) tall blast walls and concertina wire.
"This is our first Christmas at this church since the attack," said 40-year-old Nasrat, one of the worshippers. "We are feeling very happy about the reopening of the church."
"Despite the painful attack, the church now looks even more beautiful than before."
Nasrat, who only gave his first name, was referring to an attack on October 31, 2010, when militants stormed the church and killed 44 worshippers, two priests, and seven security force personnel.
Photos of the two priests killed are now posted on either wing of the church, ribbons have been tied across the columns inside, and whereas the building's windows were shattered in the attack, they have since been replaced with stained glass and wood panelling.
Though church services still took place in the aftermath of the attack, it was officially reopened on December 14.
Three men convicted in connection with the massacre have since been sentenced to death.
"When the attack happened, all Iraqis felt deep pain, not just me, because an attack on a church is an act of a non-believer," said Ghassan Idmon Shamun, another worshipper. "Today I feel great coming to this church."
"Thankfully the situation is improving for us Iraqi Christians – people are coming in, and attending the mass, and there is security present."
The 50-year-old added: "Before, I thought about leaving Iraq, but now as the situation has improved, I am not thinking about leaving anymore."
Iraq's Christian community is one of the oldest of its kind in the world. But along with other Iraqi Christians, they suffered persecution, forced flight and killings in the aftermath of the 2003 US-led invasion.
Before 2003 there were more than a million Christians living in Iraq. Now they number around 450,000.
According to the UN refugee agency, many thousands fled after the 2010 attack, and from 2003 to May 2012, some 900 Christians were killed, while 200 were kidnapped, tortured and ultimately released for exorbitant ransoms, according to the Hammurabi Human Rights Organisation in Iraq.
Syria
In the heart of Damascus, more than 1,000 people attended Christmas mass on Monday, praying for peace to return to Syria, after almost two years of bloodshed.
"I pray that peace and safety returns to the hearts of all Syrians," said Heba Shawi, 24, a Catholic attending mass at Notre Dame church in the Damascus district of Qusur.
"I hope the smiles come back to children's faces."
On other years, majority Christian areas in central Damascus were heavily decorated for the festive season. This year, only one Nativity crib is on display in the city.
Though Christmas mass is usually held at midnight, the absence of security in Damascus, especially at night, prompted organisers to hold this year's service at 6:00 pm.
But despite the violence raging just kilometres (miles) away, the faithful arrived at the church on time. In fact, the church was so full that some had to stand.
Christians of all ages, most of them dressed in black, stood among their families as they prayed.
Insurance broker Riad Ghanem, 45, went to church with his wife and their two daughters, aged 12 and 15.
"We have a small tree this year, and beyond attending mass, we won't be celebrating," said Ghanem.
"The festive season is very sad this year. But we thank God despite everything."
Hassan Khoury, a 51-year-old church worker, said he felt the same way.
"In previous years, Christmas was a real feast. This year, we feel no joy," he told AFP.
"With death so present everywhere in the country, we cannot celebrate. But we need to pray until we get out of this crisis."
Dressed in a fur coat, 65-year-old Jeannette said she came to church "to pray to the Lord, because only can bring a solution" for Syria.
The church entrance was thinly decorated, a far cry from the usually ornate facade that welcomes the faithful.
But a donations box at the entrance gives away the sea-change that Syria has suffered ever since the outbreak of an anti-regime revolt in March last year, which morphed into an insurgency after the authorities unleashed a brutal campaign of repression against dissent.
The box is marked: "Gifts for the displaced. Thank you very much".
There are some 1.8 million Christians in Syria, most of them Greek Orthodox.
Many Christians have remained neutral in a conflict estimated to have killed more than 44,000 people. Most church leaders have taken President Bashar al-Assad's side, for fear of the rise of Islamic extremism.
On Saturday, Syria's new Greek Orthodox leader called for Christians to remain in the country despite the bloodshed.
Patriarch Yuhanna X Yazigi also appealed to warring parties to renounce violence "in all its forms" and to start a process of dialogue.
In his first news conference since succeeding Ignatius IV Hazim, who died on December 5, he said: "We Christians are here in the country and we will stay here.
"We believe that Christ is always present in this region, which is where Christianity was born."
The patriarch sought to play down dangers faced by Christians.
"What is happening to us is happening to others too. We are in the same situation as everyone else, Muslims and Christians, shoulder to shoulder, facing the difficulties," he said.
Calum Toogood reported from Bethlehem
Melissa Tabeek reported from Amman
Bana Bissat reported from Beirut
Selina Bieber reported from Istanbul
Dalia Rabie reported from Cairo
Ali Alawi reported from Manama
Prashant Rao, AFP reported from Baghdad
Rim Haddad, AFP reported from Damascus