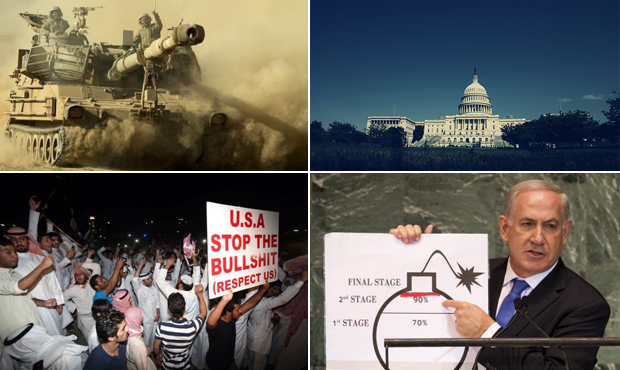 Last updated: 6 January, 2013
Middle East lobbying in the United States
There is a vast difference between pro-Arab and pro-Israeli lobby groups' ability to influence United States foreign policy, Katie Gonzalez discovers.
The pro-Israel lobbies are among the most capable for enacting political change or influencing public opinion in the U.S., according to Stephen Walt, a professor at Harvard University John F. Kennedy School of Government and co-author of The Israel Lobby and U.S. Foreign Policy.
There are two prevalent types of Israeli lobby groups: conventional organizations such as the American Israel Public Affairs Committee (AIPAC) that believe "there should be no public disagreement between the American government and the Israeli government," and alternative groups, such as JStreet, which advocate for a more "balanced approach to Middle East diplomacy in general," said Daniel Fleshler, the author of Transforming America's Israel Lobby — the Limits of its Potential and Power for Change.
ALSO READ – Freedom of speech is America but violence is not Islam
Although some characterize JStreet as "alternative," the organization does not view itself as fundamentally different from other established groups, Dylan Williams, director of government relations for JStreet, said in an interview with Your Middle East.
"About 85 percent of policies that traditional pro-Israel groups advocate for, we agree with and also lobby for," Williams said. "The difference is in that 15 percent, and that's in what the United States' role should be in resolving the existing Israeli-Palestinian conflict."
JStreet, whose organization consists of four full-time lobbyists on staff, 180,000 supporters, 50 local chapters and 40 campus group and has an operating budget of $7 million, attributes its strength to an emphasis on political engagement without extreme views.
"There was such a hole in the Jewish community for those who wanted to engage in pro-Israel politics but didn't think that other groups spoke to them, since they had gone too far right in recent years," Williams said.
JStreet's emergence onto the political scene marks the most important change in the pro-Israel lobby's dynamics over the last five years, Walt said in an interview with Your Middle East. Another recent, system-wide change for these interest groups is "a backlash against the most extreme neoconservative parts of pro-Israel lobby and their tendency to smear people they disagree with with baseless charges," he added.
Pro-Israel groups such as AIPAC and JStreet utilize similar tactics in attempts to influence U.S. policy towards Israel and Palestine, according to Fleshler, a communications and public affairs strategist.
"It's a combination of influential people talking to members of Congress, having a policy apparatus that can change public opinion, and donations to politicians," he said. "Unfortunately our system is based on a rather corrupt influence buying machinery. And that's true for all lobbying for all policies."
AIPAC is not itself a political action committee and, according to its website, "does not rate, endorse or contribute to candidates." But independent political action committees exist "on the fringes" of AIPAC, and can legally contribute funds to political candidates and officials, Fleshler said.
"Political action committees supportive of AIPAC positions will often take a wink and a nod from AIPAC, and support candidates who have AIPAC backing, and vote the way AIPAC wanted them to vote," Fleshler added. "AIPAC is not the 800 pound gorilla everyone says it is. It's a 400 pound gorilla."
But Walt said he disagrees with this description, as AIPAC's influence over American politics remains consistently strong.
"There have been a number of surveys done of Congressional staffers and politicians, and they all rank AIPAC among the most influential groups on Capitol Hill," he said. "These groups don't get everything they want; they don't control foreign policy, but it would be a mistake to say that their influence is waning."
U.S. politicians are largely "scared" of these strong, pro-Israel lobbies, according to Walt.
"The overwhelming tendency is for American politicians to be extremely deferential," he said. "You hardly ever see politicians criticize pro-Israel policies or groups like AIPAC."
ALSO READ – Naava Mashiah: Isolationist Israel?
JStreet organizes JStreetPAC, the largest pro-Israel political action committee in America, according to Williams. In the November 2012 federal elections, JStreetPAC distributed $1.8 million to candidates. Out of the 71 candidates who received money from JStreetPAC, 70 were elected.
"We wanted to reset dynamics by showing that we support politicians who support two-state views," Williams said. "It was a tremendously good election night for our PAC. It really speaks to the fact that in all of these areas, we have really established ourselves in a short period of time."
Although JStreet donated the most money from a pro-Israel PAC in the last election cycle, AIPAC is still more often pointed to as the most powerful pro-Israel group in the United States. AIPAC has cultivated a perception of power through contributions, a savvy policy arm that lends support to politicians and a very effective grassroots lobbying organization, according to Fleshler.
He said that AIPAC maintains a close relationship with the Department of Defense, allowing its experts to weigh in on foreign policy issues. AIPAC has also cultivated a strong and capable grassroots organization that is particularly effective in influencing politicians.
"Every year they have a policy conference in Washington. Many hundreds, thousands of AIPAC members descend on Capitol Hill for one day and lobby for the issue of the day. That sends a very powerful symbol to members of Congress, especially if they don't know much about the issue."
AIPAC has been able to achieve many policy successes in recent years, but it does not work alone in orchestrating these victories.
"It's not just AIPAC," Fleshler said. "It's AIPAC and a large squat of Jewish-American organizations that are supportive of the same position."
JStreet also offers its grassroots supporters opportunities to lobby elected officials through national advocacy days and leadership fly-ins to Washington, according to Williams. Approximately 700-800 supporters canvass Capitol Hill on Advocacy Day, which occurs after the organization's National Conference. An estimated 50-200 of the organization's national leaders — including top donors and grassroots organizers ­ students and rabbis attend the leadership fly-in. The next fly-in will be in March.
Pro-Arab lobby groups sponsored by oil rich countries and interests are similarly capable when it comes to impacting U.S. foreign policy, according to Fleshler.
"There have been times in the past when lobbies for specific industries and countries, like Saudi Arabia, were able to get arms for those countries, and that did work clandestinely in Washington," Fleshler said. "So when it comes to specific weapons purchases and other policies, there have been some effective lobbying by Arab countries."
Arab countries have historically donated large amounts of money to various groups and interests abroad, according to Anthony Glees, director of the University of Buckingham's Centre for Security and Intelligence Studies.
Pro-Arab lobby groups sponsored by countries and oil interests are generally stronger than those who are mainly advocating for rights, such as pro-Palestinian efforts.
ALSO READ – Nicole Leonard: Oil abundance in the Gulf…and the rest of the world
But Walt said that the lobby groups financed by foreign governments were not as formidable a force as many expected, due largely in part to the fact that they do not represent American citizens.
"What makes the Israel lobbies so powerful is that they are comprised and representative of Americans," he said, adding that pro-Israeli interest groups have significantly more resources than pro-Arab groups.
"For example, pro-Israeli groups have given $50 million to Congressional candidates over the past 15 years," Walt said. "Arab groups have given less than $1 million over the same time frame."
Josh Ruebner, the National Advocacy Director of the US Campaign to End the Israeli Occupation, said the pro-Israel groups had significantly more funds than many pro-Palestine organizations and were therefore better positioned to impact US foreign policy.
"It's largely a matter of resources," Ruebner said in an interview with Your Middle East. "AIPAC, for example, has a budget that's literally 200 times the size of our organization. We're up against tremendous disparity in terms of resources that can be brought to bear. It's not necessarily based on having the most interesting talking points; it's really about resources."
The US Campaign to End the Israeli Occupation is a 501(c)3 nonprofit group, which indicates that its lobby activities are limited by federal law. A 501(c)3 publicly supported charity may not devote more than an "insubstantial" portion of its activities to direct and grassroots lobbying, according to federal law.
The Muslim Public Affairs Council, which also receives 501(c)3 status and identifies as a "national public policy and advocacy organization," strengthens its positioning through alliances with other interfaith organizations across the nation, Marium Mohiuddin, communications director for MPAC, said.
Although these advocacy groups are smaller and equipped with fewer resources than other lobby groups, Ruebner said that he remains optimistic that such groups are making meaningful policy changes.
"The fundamental policy changes that we see come as the result of an educational process," Ruebner said. "What we're seeing today is mainstream institutions going from talking about how badly they want to see Israeli-Palestinian peace, to actually taking tangible steps towards bringing that about. For example, we saw this year both the Methodist and Episcopalian churches at the quadrennial conventions pass to boycott Israeli settlement products. And that was huge."
Representatives from AIPAC, the Council for the National Interest and the Arab American Institute did not respond to requests for comment.