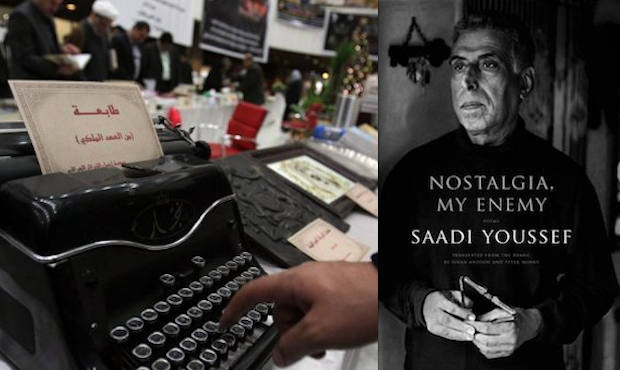 Last updated: 15 January, 2013
How a poet writes about Iraq "disintegrating before his eyes"
Late last year, Graywolf Press brought out a slim new collection of work by Saadi Youssef, co-translated by Sinan Antoon and Peter Money. Nostalgia, My Enemy collects work by one of Iraq's greatest living writers, with a focus on poems written during the Occupation era, mostly 2004-2008.
These are not political poems in any straightforward sense. Instead, they have a vision broad enough to encompass contemporary life: the US occupation of Iraq, a lake in the evening, butterflies in the Andes, Hurricane Katrina, a homeless man feeding a squirrel, and the screams of wild ducks.
ALSO READ – Arabizi – does the Levant youth speak Arabic these days?
"Saadi can turn any object, instant, or situation, no matter how seemingly banal, into a luminous poem," Antoon said in an email interview. "He finds beauty and celebrates it."
Also from Iraq, Antoon said that all poets who read in Arabic must engage with Youssef's poetry. He had always particularly admired Youssef – both for the poet's strong stance against Saddam Hussein's Ba'ath regime and for his opposition to the US-led invasion in 2003.
Antoon read Youssef's work "religiously," and "what was of interest to me (after 2003)…in terms of poetry, was how a major poet, the major poet of Iraq, would write about a country that was disintegrating before his eyes."
In 2005, Antoon began filming a documentary about Youssef, a work still in progress. Then, when Youssef traveled to New York City for the PEN festival in 2007, Antoon and poet Peter Money both met with Youssef. Antoon had already translated several of Youssef's poems into English, and he and Money discussed working together on a collection.
Money had come to Youssef's work in the fall of 2002, "when George W. Bush was making war rattles in Iraq's direction(.)" The first poems Money found by Youssef were "online and in English." First, he considered writing a children's biography about the poet. Then, by chance, Money heard translator Shakir Mustafa speaking on the radio. Mustafa put him in touch with Antoon.
In 2007, Money helped publish Antoon's first book of poetry in the U.S., The Baghdad Blues. He also published both Antoon and Youssef in the literary journal Across Borders. "So, I felt I was reaching," Money said. "Trying to help translate a situation."
ALSO READ – "Where Do We Go Now?" – Lebanon's highest grossing Arabic film ever
With Youssef being so prolific, it wasn't easy to choose the poems for the collection. Antoon was particularly interested in how Youssef could write about a nation under military occupation, "without falling into the usual ideological snares."
Antoon said that, in selecting the collection's 50 poems, he included many that dealt with the war and Iraq, but "wanted the rest to represent the spectrum of Saadi's universal themes and concerns and the various spaces he engages with in his poetry."
The two poets, Antoon and Money, worked on translations that Antoon initially crafted in person, over email, and by phone. Money said they talked about what "was working well, and whether we were hearing the same thing…in a word or a line."
Money noted that he particularly loves "Evening by the Lake," adding that, "My chest almost stops, as it would meeting someone I love, when I read the commas after the words "warm," "soft," and "home." The translated poem opens: "Yesterday / by the lake / the rain was warm, / soft, / like your skin after a dip in the sea."
And closes:
But I'm lazy,
as you know,
so I forgot about the train–
thought of you a lot,
and brought my face closer
to the surface of the water,
to watch how the sky's waters go home,
how this evening is born.
The collection is both gentle and enormous: It addresses visions of five different continents and poetic traditions ranging from that of Imru' al-Qays to Shakespeare to Amiri Baraka to Pier Paolo Pasolini. Antoon added that Youssef "experiments more than poets fifty years younger. His mastery of the meters and music allows him to seduce the reader. I can go on, but wait for my book on him!"
Youssef should be translated into all languages, Antoon said, but added that, "In America in particular, the country that destroyed Saadi's homeland, people should read him for all the obvious reasons.
"If not now, when?"
YOU MAY ALSO LIKE – The bookseller in Amman