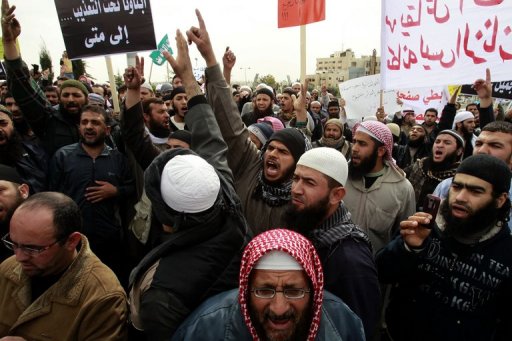 Last updated: 15 January, 2013
Jihadist Nusra "mufti" killed in Daraa, says Jordanian Salafist leader
A top Jordanian Salafist leader said on Tuesday the "mufti" of the jihadist Al-Nusra Front in Syria's southern province of Daraa has been in a killed in raid.
"Riyad Hdeib, or Abu Hamzah, was martyred in a regime raid on Daraa on Monday. Hdeib was Al-Nusra's mufti in Daraa," Abed Shehadeh, known as Abu Mohammad Tahawi, told AFP.
Hdeib, a 32-year-old father of six, worked as a teacher in Amman before going to Syria for jihad seven months ago, according to Tahawi.
"He also fought US-led forces in Iraq, where his brother Adel was killed three years ago," Tahawi said without elaborating.
Tahawi told AFP in November that at least 250 Jordanian jihadists were in Syria to fight and more than 13 others had been killed there.
Jordan arrested more than a dozen jihadists in April and June as they tried to infiltrate Syria.