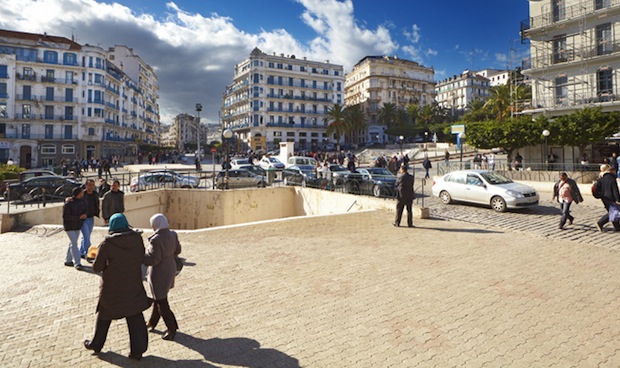 Last updated: 16 January, 2013
Algeria: the future looks bright… or does it?
While Algeria has managed to stop the first tremors of what could have been its Jasmine revolution, will the country live up to what is still shaking the Muslim world? And what will it take for Algeria to get pass it?
It all started very quickly. People demonstrated their hunger and anger in the streets of the Tunisian capital and other parts of the country… and then a young man immolated himself. If the following hadn't happened, his name would have disappeared with the wind of his ashes. And yet, that was the last drop for Tunisians. Or so it seems. Mohammed Bouazizi was only 26 when he decided that enough was enough and the Tunisian crowd followed. It was December 2010 and no one was then sure of what was going to happen. The Tunisian revolt happened like never before. We all watched it up to the news on the January 14, when it was announced that President Zine El Abidine Ben Ali had fled to Saudi Arabia. And that was that. Tunisia was now on the long path towards democracy… Things could have stopped right there. But they didn't.
READ MORE – Watch the thrones: the Arab Spring's third wave
Inspirational, the Dignity Revolution turned into Jasmine and spread to Egypt, Morocco, Bahrain and Syria. Years of corruption, unemployment, lack of freedom of speech and liberties in general had ignited the spark Mohammed Bouazizi gave the Arab world.
So what about Algeria? With their first demonstrations of 10,000 protesters in the streets of Algiers and other minor protests in other cities, one could have thought that the Jasmine movement was underway here too. But are 10,000 rioters enough to oust the military government in place since 1991? Of course not, but it was enough for them to send three times the amount of riot police in the capital city. A key moment, which showed how determined leaders were to tackle any sign of protest. The government was swift to announce a stack of new reforms – tackling youth unemployment, subsidizing basic food products and softening bureaucratic procedures – which would help the country to further develop and above all avoid an insurrection.
The first act was nevertheless the most important as it affected the state of emergency put in place in 1991 when the Islamist Salvation Front had won local election and which the President suggested to lift after 19 years in place. And yet the ban on protest marches would remain.
"And there were loads of job creations indeed," underlines Hocine Messadek, a press adviser. "I'm not saying people had work, people were simply given jobs with nothing to do; jobs in the police force or teachers for example."
The increase of civil servants estimates Messadek could be around 300% – "if not 500%!" Though no official numbers could confirm it. Anyhow, this was certainly one way for the government to buy social peace. A solution the power in place can afford thanks to the high priced hydrocarbons, counting for 30% of the GDP, around 65% of the budget revenues and 98% of export earnings in Algeria (which is the sixth largest gas exporter in the world).
READ MORE – Post-Arab Spring economies: where is the growth?
"A serious drop in petrol prices would create a real stir," adds Messadek. And indeed, with a barrel under $30 and the raging unemployment situation (though official numbers show a brow-raising 10% of the population and 21% among young graduates), Mr Abdelaziz Bouteflika's administration wouldn't be able to afford their current public sector policy of high spending; and that could lead to serious anger among the population.
But would this really be enough for the Algerian people to take the streets and ask for freedom and democracy?
"Let's not forget the Algerians have already had their revolution," underlines Pouria Amirshahi, Member of French Foreign Secretary of the Commission of Foreign Affairs. "They've already paid with their lives their thirst of freedom and I don't think they will ever want to get back to those horrific years."
And those years are certainly still very fresh in Algerian minds with the mention of the 1988 revolts and the ensuing 1991-2000 Civil War and its 200 000 official deaths – some say it's more likely to be around 500 000 – casting an instant shadow on faces when uttered. The very same Civil War is the origin of the State of Emergency, which now has been lifted. Does that mean Algerians will carry on enduring hard lives with no real prospect of a bright future ahead?
"The Algerian revolution will be an economic one and nothing else," assures Pouria Amirshahi. According to the young MP, the Algerian government is doing a lot to help private initiatives to blossom in a country where industrialisation goes along with state-controlled economy.
Will that be enough to feed people's hope?
Nobody can predict what the future will bring to Algeria or, as a matter of fact, to any other country, but one can however trust facts and factors. And the fact is Algeria is a naturally rich country, which leaders in place have depended on for years. Too many years confirms a report of the IMF published in December 2011, advising the country to carry out social and structural reforms to push the country forward: "a more ambitious structural reform agenda should be implemented, stronger measures will for diversification of the economy, improvement of competitiveness, and boosting growth and employment, advances in financial sector reform should continue, access to financing for the private sector" and so points the IMF advisers. Then the economic revolution that Mr Pouria Amishahi wished for could maybe happen.
Maybe.
Unless the oil barrel price dropped drastically that is.
BY THE SAME AUTHOR – Istanbul – portrait of an ever-changing city