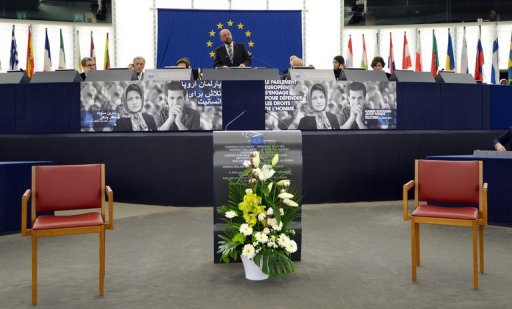 Last updated: 17 January, 2013
Iranian Sakharov winner given three-day jail leave
Prominent Iranian human rights lawyer Nasrin Sotoudeh was temporarily released on Thursday for three days after more than two years in prison, opposition website Kaleme.com reported.
Sotoudeh, who won the European parliament's prestigious Sakharov rights prize last year, left Tehran's notorious Evin prison after posting a bail of three billion rials ($90,000), Kaleme said.
It did not say why she was allowed to leave Evin, where most inmates are political prisoners.
Detained since August 2010, Sotoudeh is serving an 11-year prison sentence for defending political prisoners and aiding the human rights work of Nobel peace prize winner Shirin Ebadi.
The official charge against her is "conspiring against state security".
The mother of two young children went on a hunger strike for 49 days in October to protest against her conditions in Evin prison, limits placed on family visits and official harassment of her relatives.
Her husband and 12-year-old daughter were slapped with a travel ban, among other punishments.
The United Nations, the European Union and the world's main international human rights groups have called for Sotoudeh to be freed, calling her a prisoner of conscience.