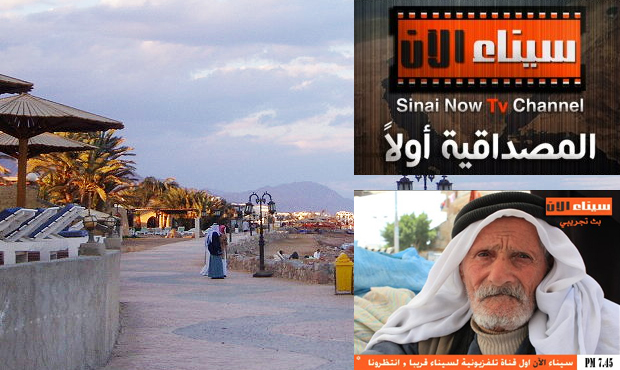 Last updated: 24 January, 2013
A new media for Egypt's remote Sinai
On Friday, as Egypt commemorates the second anniversary of its January 25 revolution, a new media channel opens up a window on Sinai. Sinai Now is the first online TV channel to broadcast live from the "forgotten" peninsula.
The aim is to tell stories of regular life in Sinai, showing the world that there's more to this part of Egypt than weapons, terrorism, smuggling, tunnels, desert and the Bedouin life. Five weekly programs will introduce Sinai to Egyptians in the rest of the country.
ALSO READ – Egyptian filmmaker Amr Salama confronts attitudes to HIV and AIDS
Founded by Ayman Mohsen, a young reporter and documentary filmmaker who studied media and journalism at Sinai University, the channel is part of a company called Sinai Media Production, which aims to become the peninsula's leading media company.
"National media largely lacks credibility when it comes to covering events in Sinai, because they are picky; they choose the negative aspects to focus on, leaving a distorted image of the peninsula", Mohsen said.
Local but global is the concept – Sinai Now is not targeting the population of the peninsula, where Internet is not widespread and often comes with a weak connection. Mohsen says he plans an English website and wishes to "broadcast Sinai to the world," showcasing its language, heritage and fashion.
Sinai Now kicks off with an Internet TV channel offering five weekly programs of 10 to 15 minutes each and a news website with the potential of launching online radio later. A team of nearly fifteen reporters and activists has produced a series of shows that include the historical "Huna Sinaa" (Here is Sinai), "Sinai, man and heritage," which reveals the society's customs and traditions, the political "Kalashnikov," the sarcastic comedy "Tokh fil Khroo" and "Muslim… But" about moderate Islam.
But Mohsen's dream of building a local media network had its trials and tribulations, including administrative issues. Companies normally take one day to be officially listed in the commercial register in Cairo, but here in Egypt's most remote corner the registration process can take as long as four months.
EDITOR'S PICK – 10 influential young Egyptians
Funding primarily come from the team who works on a voluntary basis and from Mohsen's own personal investments and studio. These expenses will increase as the project grows to include south Sinai, extending its geographic coverage to nearly 61,000 square kilometers.
The aim is to generate revenue through advertising. Mohsen envisions promoting local products of the peninsula such as olive oil, clementines and Sinai clothing.