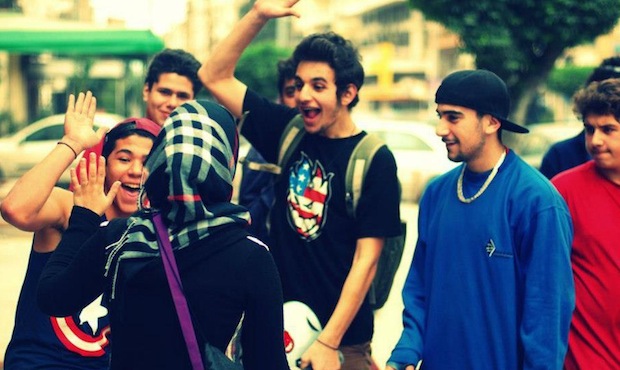 Last updated: 29 January, 2013
The art of skateboarding in Lebanon
Ladies and gentlemen, meet Ameena Barakeh, the young graphic designer from Saida, whose dream was to create a community of skaters around Lebanon.
In my view, Ameena is a champion. Is being a veiled skater enough to earn that title? Or coaching a huge number of teenage boys in skateboarding? Or putting all her efforts and savings into making an old dream come true, and waking up one day to find the dream is indeed happening? Isn't it all enough to call her a champion?
At 7:30am on a Sunday morning, a message on my phone was telling me that Ameena, along with a few others, were coming to spend the day in Tripoli to team up with some local guys around town. Sunday being my only friend among weekdays, I didn't see the message until it was 10:30am. The skaters had already been in Azmi Street, but their loud noise led me in the right direction. Ameena was the coach, but also the director, photographer and videographer. I found out later that she was setting up a documentary about the skaters in Lebanon.
ALSO READ – Young Lebanese wine becomes supermarket staple
Such a loud noise on a Sunday morning wasn't welcome between the tight districts of the city, and certainly not on the premises of the official Tripoli Exhibition Center (Maarad). Skaters were constantly on the move to avoid the repetitive dismissal, and to find stairs that pleased their taste.
I learned that five to seven steps is the golden number for these skaters, a height that is probably enough to ollie (jump) and perform backflips. A rail on the side is also preferable; in the end, a skater that can't grind is no skater at all. Manuals are also a masterpiece: the longer the manual, the better the skater.
Keep in mind that there is no such thing as a perfect skater. To Ameena and the others, if you don't mess up and fall down, you're still not ready to be called a skater. Scars and blood are their daily bread. A broken bone to them is your bi-annual visit to your older aunt. It's all part of the fun, all part of being called a skater.
Hassan, Robby, Hadi, Wael, Wassim, and Omar were all fascinating. They come just with their boards and one GoPro camera that's passed among them in order to record as much action footage as possible. I thank every single one of them – and of course Ameena – for giving such an outrageous performance in the streets of our dear Tripoli.
Check out Ameena's page Sk8 961 (Lebanese Skateboarders) on Facebook.
Engineer by day, blogger and photography hobbyist by night, Natheer Halawani is an ambitious Lebanese guy who dreams of a better tomorrow for his country. Follow him on Twitter @Nathhalawani.
EDITOR'S PICK – Meeting Tripoli – Lebanon's lost city