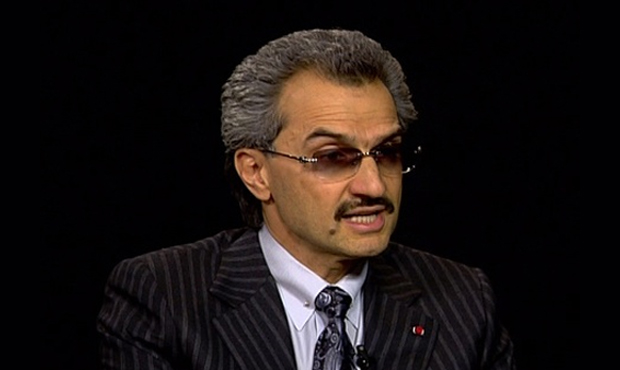 Last updated: 30 January, 2013
The 10 richest in the Middle East
There is no lack of billionaires in the Middle East. Here are the ten most affluent in the region, a list dominated by owners of family conglomerates.
1. HRH Prince Alwaleed Bin Talal Al Saud ($25.9 billion)
The Saudi prince's share of the Kingdom Holding Company along with other private holdings such as Rotana brings his total wealth to $25.90 billion.
2. The Olayan Family ($12.9 billion)
Founded as a trucking company in 1947, Saudi Arabia's Olayan Group now has a stake in numerous multinationals, including a 3.6 percent share of Credit Suisse. Controlled by the four children of the founder.
3. Mohammed Al Amoudi ($11.5 billion)
Saudi/Ethiopian with a portfolio of businesses in oil, mining, agriculture, hotels, hospitals, finance, operations and maintenance. Named the richest black person in the world by Forbes.
4. The Sawiris Family ($11.2 billion)
Coptic Egyptian family that controls the Orascom conglomerate, with interests in telecommunications, construction, real estate, hotel and development business.
5. Issam Al Zahid ($11 billion)
The chairman of the Alzahid Group of Companies, a conglomerate with 41,000 employees and stakes in fields such as mining, logistics, oil and gas, manufacturing, information technology, foodstuffs and retail.
6. The Kharafi Family ($8.6 billion)
Another diversified conglomerate, this one of Kuwait origin with 100,000 employees in 25 countries. The holdings include exclusive franchise rights in the Middle East for a large number of fast food brands such as KFC, TGI Friday's and Pizza Hut.
7. The Binladin Family ($8.1 billion)
Closely connected with the Saudi Royal family, the Saudi Binladin Group is considered the largest construction company in the world. Thirteen of the late founder Mohammed Binladin's sons sit on the board.
8. The Bukhamseen Family ($7.2 billion)
The Kuwaiti Jawad Bukhamseen Commercial Corporation was founded in 1957 and today has interests in tourism, industry, media, urban planning, civil engineering as well as major development projects in Kuwait. The founder's four sons occupy key positions in the company.
9. Said Khoury ($7.2 billion)
The Palestinian born co-founder of the Consolidated Contractors International Company (CCC) is also the governor of the Arab Monetary Fund and a large shareholder in the Arab Palestinian Investment Company. Since its founding, CCC has built a large number of well-known buildings throughout the world, including Iraq's Abu Ghraib prison (before Saddam Hussein came to power) and the Ronald Reagan National Airport in Washington, DC.
10. The Bugshan Family ($6.9 billion)
What started with steel manufacturing in 1923 has now developed into one of the big Saudi family conglomerates with a hand in just about any sector imaginable – from cars to cosmetics. The Ahmed Salem Bugshan Group is large thanks to its ability to form partnerships with leading global brands like Dior and Bridgestone.
Source: Arabian Business Rich List 2012