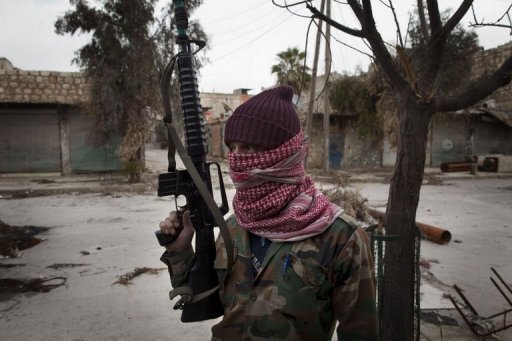 Last updated: 31 January, 2013
Turkmen in joint battle for Syria democracy
Members of Syria's Turkmen minority have joined forces with rebels fighting President Bashar al-Assad's regime in a struggle they say is for democracy and revenge for years of oppression.
"We've been fighting since 1963 (when a coup brought the Baath party to power), first with the word and, ever since the start of the revolution, with arms," said a Turkmen rebel chief in northern Syria's embattled Aleppo province.
"We want to overthrow Assad's regime and set up a democracy in Syria, where all ethnic and religious groups can live together in peace," Mahmoud Suleiman told AFP.
Around 750 men have joined Suleiman's Turkmen battalion in the city of Aleppo, Syria's one-time commercial hub, he said, adding that more than 3,000 others are fighting in the rest of the northern province.
Most members of the Sunni Muslim Turkmen community, which numbers about 200,000 across Syria, live in the north, near the Turkish border. Others live in central Hama and Homs, coastal Latakia and Tartus, and Raqa in the northeast.
Syria is home to a patchwork of ethnic and religious groups, and analysts have warned of the rise of communal tensions in the country's conflict that in almost two years has left more than 60,000 people dead, according to UN figures.
In the north, Islamist-led rebels have been pitted against Kurdish militiamen in several rounds of fighting in Aleppo and Hasake in northeastern Syria since last November.
The clashes have raised suspicions among rebels that Kurdish fighters have joined ranks with Assad's forces, although the Kurds have repeatedly claimed neutrality in Syria's conflict.
"We are not fighting the regime to create a state only for the Turkmens…and we will not allow the Kurds to expel us from our homes and our land," said Suleiman.
The rebel commander said Turkmens have suffered for 40 years under Syria's dictatorship, first under former president Hafez al-Assad, and since 2000 under his son Bashar.
"Hafez took our lands to give them to members of (his minority) Alawite community in Latakia," Suleiman charged.
"He banned our language and stopped us from learning about our history and culture. He stripped us of our rights and changed our villages' names into Arabic names," he said.
"The authorities believed they had the right to detain us, interrogate us and take away our land," said Tareq Sulo, who commands a battalion in Hanano, a majority Turkmen district of Aleppo city.
"Now, we are fighting to avenge years of oppression."
The Turkmens of Syria originate from Turkey, which the Turkmen fighters see as their protector. Most of them today speak Arabic, although their original language was Turkish.
According to Paris-based Syria expert Fabrice Balanche, some Turkmens, like other landowners in Syria, had their lands confiscated and redistributed among the peasantry under a land reform initiated by Hafez al-Assad.
"But there was never an expropriation of Turkmen-owned land to benefit the Alawites," said Balanche.
But the regime has pushed the Turkmens, who constitute one percent of the total population, to settle in the cities in order to "Arabise" them.
The researcher also pointed out that three members of key opposition group, the Syrian National Council, are Turkmen, the same number as the Kurds, who constitute 15 percent of Syria's population.
In Aleppo city, Turkmen fighters limit contacts with the most extremist anti-Assad groups, such as Al-Nusra Front which the United States has listed as a "terrorist" organisation.
"We're working for the same goal — to defeat Assad. If they need support in the city, we send men to provide backup," Sulo told AFP. "But their ideology is different from ours, so our relationship only goes as far as it needs."
"We are part of the (mainstream rebel) Free Syrian Army … We want a new country … for all Syrians."